After two days of great qualifying with a stunning 6.98 seconds for Kalle Lyrén in Pro Stock Motorcycle and a Finnish top three in Super Twin Motorcycle led by Samu Kemppainen with 6.62 seconds, everybody was looking forward to an action packed elimination day. But the thus far perfect Finnish weather had other plans and so, after the first round of Super Street Bike, a thunderstorm and rain showers brought an early end to the eliminations of the FHRA Nitro Nationals, round two of the EDRS Pro Nordic Motorcycle Championship.  Continue reading →
After an interesting qualifying and surprising first round of eliminations, the Top Fuel semi-finals of the FHRA Nitro Nationals promised to be even more exiting. The reigning champion Micke Kågered was out of competition and the numbers one and two in the championship, Stig Neergaard and Anita Mäkelä, had to face each other for a place in the final. But mother nature had other ideas and a thunderstorm and rain showers brought an early end to the third round of the FIA European Drag Racing Championship at Alastaro, Finland.  Continue reading →
Michael Gullqvist out with a red light in the first round of eliminations and his five main pursuers all winning and advancing to the quarter finals! The best possible scenario to catch up with the leader in the championship. But the reigning FIA European Pro Modified champion was saved by the thunderstorm and rain and as the eliminations had to be cancelled, the rest of the pack could only make up at most twenty points.  Continue reading →
Johnny Oksa reset his personal best in qualifying at Alastaro to a great 5.66 seconds at 407.54 km/h and was on his way to his second consecutive victory in the FIA European Top Methanol Funny Car Championship. But as he already said at Tierp, 'only rain can stop me from winning' , and that's exactly what happened at his home track, and so Oksa's FHRA Nitro Nationals ended in the semi-finals.  Continue reading →
Jr Dragster winner William Svensson RU Pontus Södergren
Hagfors Open has closed the gate for this time and the event was a good event as expected. And it went as smooth as always at the  1/8-mile track that have a breakout at 4.50.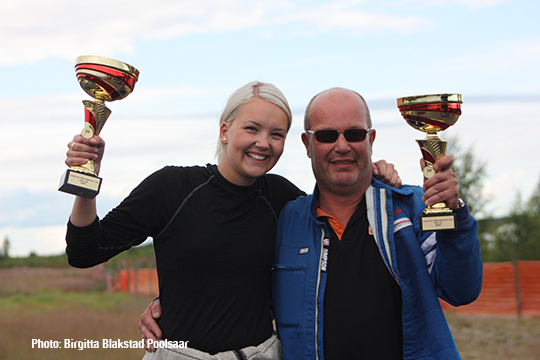 Maja Udtian  and Per-Erik Lindgren was two of the winner of the Goldtown Summer Nats last weekend. Per-Erik won over last years champion Jens Eklund. And Per-Erik was very satisfied with the weekend.
Midnight sun race is over and it was a late night race, as the last final was run at 9 pm on Sunday and the price giving ceremony was held at 10 pm.
Islands Race Car sponsored Pro Stock and Pro Modified at Alastaro and the winners of the 500 € checks was in Pro Stock Bengt Ljungdahl who qualified at 6,61 sec/336 km/h and Michael Gullqvist at 6,05 sec/388 km/h.