Team Asylum, a strong combination of two worlds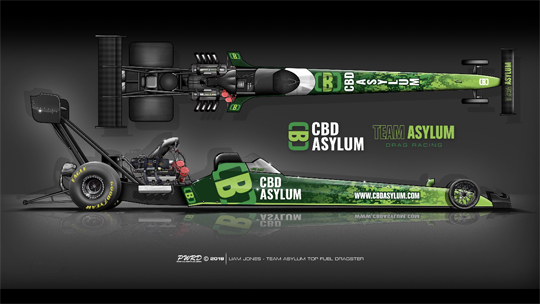 TFJ Motorsport and Hope Racing are two familiar team names in Top Fuel (car) and Pro Stock Motorcycle respectively. With immediate effect the two teams join forces under the new umbrella Team Asylum and will fly the flag for CBD Asylum in FIA Top Fuel and Pro Stock Motorcycle. The best of two worlds joined in one team!
TFJ Motorsport is of course the well know team around Liam Jones, who successfully competed in the FIA European Top Fuel Championship in recent years. Hope Racing has a long and successful history in motorcycle categories like Super Street Bike and Pro Stock Motorcycle. In 2017 Alex Hope was runner-up in the FIM Europe European Pro Stock Bike Championship and finished the EDRS Pro Nordic MC Pro Stock Motorcycle championship in third position.
Longtime friends and business partners Liam Jones and Alex Hope have decided to join forces and merge TFJ Motorsport and Hope Racing. Team Asylum is the name of the new team that bring together a Top Fuel car and a Pro Stock Motorcycle, a not so common combination in European drag racing. Jones about the new team: "We are flying the flag for our company, CBD Asylum. Cbdasylum.com manufactures and supplies CBD products derived from Hemp around the world and is continuously developing exciting ways to administer CBD. We are at the forefront of CBD innovation in Europe, having the only fitness industry aimed CBD products in Europe and sponsoring athletes such as professional cage fighter Alex Montagnani and the World's Strongest man, Eddie 'The Beast' Hall! Alex and I will be doing the full European tour again. It's going to be a really exciting year and we are expecting good things. I'm not going to tempt fate by predicting figures and standings, but it should be good!"
To keep all the knowledge on board, the teams around the two drivers will stay as they were last year. "Alex's crew chief remains as his dad and ex Pro Stock Bike rider Chris Hope and I have got the same guys on board, including the illustrious Mr. Gary Page again, who we're buzzing about having back on board as bottom end guy!" said Jones, who will make his first runs of the season at the Festival of Power at Santa Pod Raceway.