Remco Scheelings
The 2023 European SFI re-certification tour kicked off this morning, March 16, in Badhoevedorp, The Netherlands. Racers and team members from Germany, Switzerland, Belgium and of course The Netherlands, travelled to Hotel Ibis, located almost at Schiphol Airport, to re-certify parts to be race ready when the new season kicks off in a few weeks. The SFI crew had a busy morning and re-certified numerous bell housings and clutches, but as all teams arrived early, they were ready in time to catch their flight to Helsinki for the second stop on the European tour.
Continue reading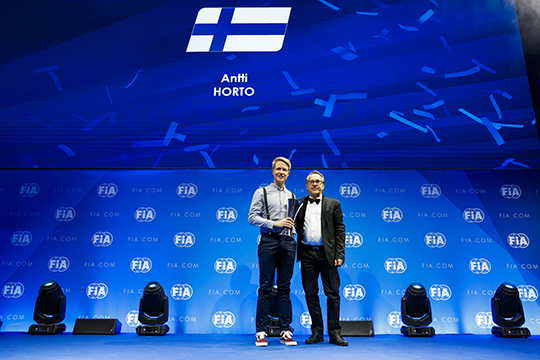 Last week the FIA World Motor Sport Council gathered in Bologna, Italy, for the final 2022 FIA Annual General Assembly. Highlight of the meeting was of course the official FIA Prize Giving Ceremony on the Friday evening. During this annual gala all FIA champions received their FIA trophies. One of them was 2022 FIA European Top Fuel champion Antti Horto.
Continue reading
David Vegter and his team Vegter Pro Mod Racing can look back on an excellent season. Claiming the runner-up position in the 2022 FIA European Pro Modified Championship, the Dutchman scored his best ever result. In the most competitive and most international category of the FIA European Drag Racing Championship, Vegter finished as the runner-up at The Main Event at Santa Pod Raceway, claimed the number one qualifying position at the famous NitrOlympX at Hockenheim, and recorded at least one run in the 5.8 or 5.9-second zone at every race.
Continue reading
The following FIA sporting calendar for 2023 has been approved by the World Motor Sport Council when it convened in London, Wednesday October 19.
2023 FIA European Drag Racing Championship
26-29 May 2023 Santa Pod Raceway
15-18 June 2023 Tierp Arena
10-13 August 2023 Tierp Arena
25-27 August 2023 HockenheimRing
07-10 September 2023 Santa Pod Raceway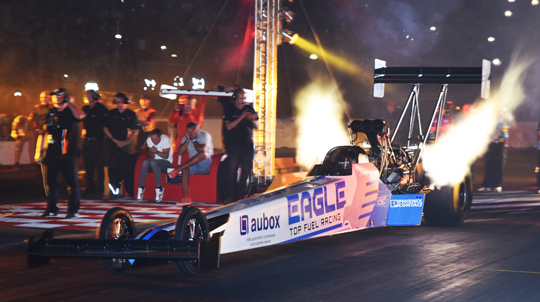 It's about three weeks since the 2022 FIA European Drag Racing Championship came to an end with The European Finals at Santa Pod Raceway. After a 2-year coronavirus break, finally new champions could be crowned, although three of them, Sandro Bellio, Jan Ericsson and Jimmy Ålund retained their titles as they were the reigning champions from 2019. Only Antti Horto in the Top Fuel category was crowned a new champion. Time for a final review of The European Finals and the 2022 title race.
Continue reading
The 2022 edition of the European Finals came to a close late on Sunday remarkably with all eliminators completed, which, given the long delayed start in the morning thanks to overnight fog and moisture taking an age to clear and some on track incidents, was some testament to the hard work put in by the SPRC track crew. A couple of European speed records were thrown into the mix as well as a barrier busting World best that, well, you had to be there to see it.
Continue reading
Antti Horto (Top Fuel), Sandro Bellio (Top Methanol), Jan Ericsson (Pro Modified) and Jimmy Ålund (Pro Stock) claimed the 2022 FIA European Drag Racing Championship titles in their respective category at the European Finals at Santa Pod Raceway. Bellio and Ericsson won their titles in style by claiming the victory in the final round of the 2022 FIA European Drag Racing Championship as well. Horto and Ålund also advanced to the final, but in Top Fuel Susanne Callin claimed the win, while in Pro Stock Michael Malmgren proved his great form of the weekend by defeating the 12-time Pro Stock champion.
Continue reading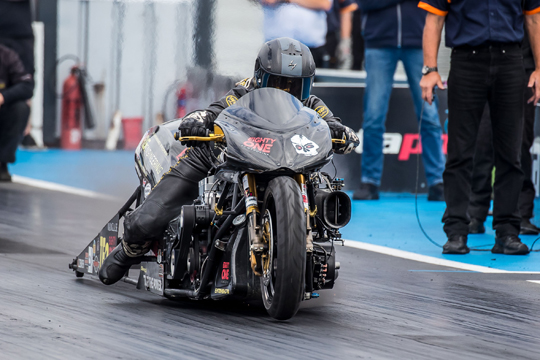 We could almost cut and paste our daily preface from yesterday here as it was very much a repeat with rain delays and cleanups heading towards a late finish for the FIM-E classes until a substantial downpour curtailed activities with only Pro Stock Bike getting their third session in and the rest high tailing it back to the pits after only two qualifiers over Friday and Saturday. Nonetheless today saw a number of PBs and also a World Record which we'll come to at the end of this update.
Continue reading