A busy and successful SFI Tour 2018
Last Sunday the SFI Tour 2018 left Persakers Speedshop and headed of to Santa Pod for the last pieces to inspect for this time. A new generation have grown in to the challenging work and Jen Faye from the SFI commission in US is the only US citizen nowadays.
Jen has taken over Arnie Kuhns role, who has been running the SFI Tour over many years together with Tim Hyatt and Murph McKinney. Jen works now very tight together with Luke Robinson from UK and Lars Göran "LG" Eriksson from Sweden. The veterans in the group are so far Luke's and LG's daddies Andy and Mats. Both very well known in the SFI drag racing commission, as well as drivers in Pro Modified. This year was one of the busiest years for the group, at all stops. Already before the opening hour of registration at Persåkers Speedshop people were on site queuing.
-It was a record in the number of units at all stops this year, says Lars Göran "LG" Eriksson from ME Racing Service who organize the Swedish part of the tour. So, it seems that drag racing is increasing, which is good.
This is a good opportunity for racers to have a chat about the upcoming season and get some news, or just have a coffee. Among others Robin Norén and his team showed up. They are upgrading the car and is also going to present a new sponsor, but that´s so far not official. We also noticed a couple of other well-known drivers, like Åke "Bagarn" Persson and he´s armour-bearer Peter "Strumpan" Ström, Roger Johansson and Michael Gullqvist showed up and Gullqvists former crew member Peter Kunc, who's this season starting his own team together with his two sons Acke and Simon. Top Fuel drivers Björn "Nitro-Bear" Mårtensson and Patrik Pers did also show up for an inspection and a chat and of course many more racers.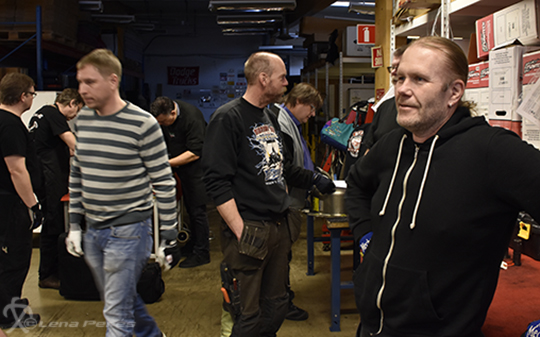 The crew behind the scenes had a busy couple of days at Persakers Speed Shop. Well, they took time off for a chat as well between hard work.
Roger Johansson was one of the visitors (middle), here having a chat with Speedgroups Janne Sjöberg.
Pro Stock Team Robin Norén on site updating their gears.