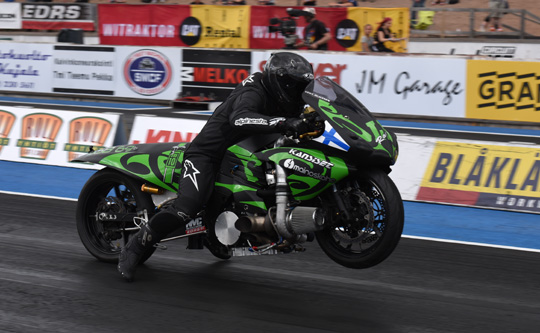 When a rider could earn bonus points for being the first to enter the championship, Vesa Ruhanen would now be the leader, as the Finn was one of the first riders to register for the 2016 EDRS Pro Nordic Motorcycle Championship in Super Street Bike, and not without reason. After a season with only two races, Ruhanen can't wait to start racing again and is looking for a bit more of everything; more races, more wins and a first 6-second time slip.  Continue reading →
Summit Racing Equipment has joined the EDRS Speedgroup contingency program for 2016. The program is in effect for five races in the EDRS car classes. The winner of each Sportsman class will get a $200 USD Summit Racing gift certificate, and the runner-up will get a $100 USD certificate. The only condition is that the cars must have Summit Racing decals on both sides of the car. No previous purchase is needed. Continue reading →

On wednesday March 9th at 19.00 (CET) Speedgroup will be guests at Motorsoffan live web-TV broadcast shown at www.nitroz.se
Continue reading →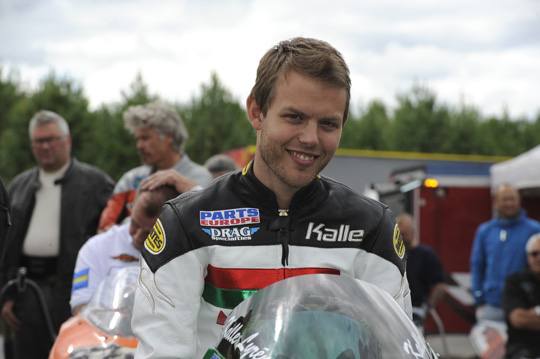 Kalle Lyrén will kick off his 2016 season where he left off in 2015: in the United States! The 2014 EDRS Pro Nordic Pro Stock Motorcycle champion will compete in the NHRA Gatornationals at Gainesville Raceway in Florida, the season's first of 16 races for Pro Stock Motorcycle in the NHRA Mello Yello Drag Racing Series. The American dream part two!  Continue reading →
The EDRS and EDRS Pro Class Calendars have been published on the EDRS Race Calendar Page.
In the documents, teams can see which classes are run at the different events.
The EDRS 2016 include 18 events in Sweden, Finland, Norway, Denmark and Estonia.
In 2015 more than 800 teams from 10 countries took part in the EDRS European Drag Racing Series, which is operated by Speedgroup.

On Friday March 11th Speedgroup´s Åsa Kinnemar invites teams and stewards to an information meeting in Helsinki, Finland.

The location is FHRA:s office at Malmin Lentoasema (same day and location as the SFI certification)
The meeting is scheduled to 11.00 and last approximately one hour.

The meeting will include information about the FIA European Drag Racing Championship, EDRS, EDRS Pro Nordic and general Speedgroup matters. Sign up is not needed for this meeting.
Any questions please email asa.kinnemar@speedgroup.eu and very welcome to attend the meeting!
Per Bengtsson and his 'The Beast Dragbike team' will compete in the full 2016 EDRS Pro Nordic Motorcycle Championship tour and only have one ambition: 'to take home the title for our main sponsor Red Line Oil'. And when the season goes as planned and The Beast is as competitive as the team know it can be, England and The USA are the next targets for the most aggressive and noisiest Super Twin in Europe. Continue reading →
The Circle K NHRA Winternationals kicked off the 2016 American drag racing season. With Jonnie Lindberg and Ulf Leanders in Top Alcohol Funny Car, and Jimmy Ålund and Markus Svensson in Stock Eliminator, four Swedes entered the tradition-rich first race of the season at the historic Auto Club Raceway at Pomona. Lindberg, the 2015 NHRA Lucas Oil Top Alcohol Funny Car champion and defending Winternationals winner, had the best possible start of the season by bringing another Wally to the winners circle. Leanders was defeated in the quarter finals when he was hit by tire shake, while Ålund and Svensson both pulled red lights in early rounds of eliminations. Continue reading →