Gardermoen Raceway welcomes round three of the EDRS Pro Nordic MC
The EDRS Pro Nordic Motorcycle Championship is at the half way point in the season and with Gardermoen Raceway, Norway, the teams and riders visit the third track and third country in the series. Samu Kemppainen, Mogens Lund and home favourites Thomas Lysebraaten Olsen and Jan Sturla Hegre are the leaders in their respective categories after two races, but just like at Tierp and Alastaro they will meet tough competition.
What a difference a year makes! One year ago Norwegian drag racing was on the eve of the Grand Opening of the completely renewed Gardermoen Raceway. Now it already feels quite normal to visit a modern drag racing venue where so many volunteers put so much effort in. A lot of work has been done since the Grand Opening to make Gardermoen an even better place to stay. But there is also a big difference for the EDRS Pro Nordic Motorcycle Championship compared to last year. In 2016, the first two races didn't have the best weather conditions and not all eliminations could be completed. This year the weather was perfect at Tierp and Alastaro as well. Let's hope that change for the better is also the case for Gardermoen and last year's rain out can be erased from the memory and replaced by a perfect 2017 Drag Challenge.
Super Twin Motorcycle
There are no fewer than 16 entrants in Super Twin Motorcycle, and with all of the title contenders at present, the Gardermoen race is one to look forward to. Samu Kemppainen is leading the championship with the surprise Alastaro winner Teemu Kettula in second position, only one point short of the reigning champion. Kemppainen had some unexpected problems at Tierp, and although the Finn's start at Alastaro was also far from perfect, he bounced back with a runner-up finish to take the lead in the title race.
With his Alastaro victory, Kettula's first EDRS Pro Nordic MC win, the Finn proved that consistency is maybe even more important in this category than being the quickest and fastest.
Greger Johansson scored in both races and is in third position, only eight points behind Kemppainen, but also only one point ahead of Roman Sixta from the Czech Republic.
In fifth position, Svein Olaf Rolfstad is the first rider from Norway, but if he can repeat his Alastaro qualifying elapsed times, Rolfstad can give the home crowd something to cheer for.
Tommy Grimes suffered a severe engine explosion at Alastaro, but the American rider is still sixth in the championship, only 31 points behind leader Kemppainen. With Grimes is sixth position, the EDRS Pro Nordic MC has six riders from five countries in the top of the championship table.
The man to watch at Gardermoen is Anders Hörnström. The Swede won his first outing with his new bike at Tierp, but couldn't attend the Alastaro race. With only one result out of two races, Hörnström is still the number eight in the championship and could jump into the top three if he can come close to his Tierp performance.
Vidar Ravnsborg, Erling Opheim and Trond Høiberget are looking for success in their home race, while Kristin Hegre, mother of Top Fuel Motorcycle star Jan Sturla Hegre, will make her EDRS Pro Nordic MC Super Twin Motorcycle debut at Gardermoen. Jaska Salakari surprised at Alastaro with his new bike, and with a bit more consistency, the always spectacular Finn can disturb the championship dreams of some riders. Lasse Leponiemi, Ismo Mäenpää and Torsti Kettula take the number of Finnish riders in Norway to six. Marcus Christiansen from Denmark will have his first EDRS Pro Nordic MC race of this season at Gardermoen.
Pro Stock Motorcycle
Maybe even to his own surprise, Thomas Lysebraaten Olsen is the man to beat in Pro Stock Motorcycle at the moment. The young Norwegian rider won at Tierp and Alastaro and will definitely do everything he can to win his home race as well. It would be the highlight of the season for the popular rider.
Olsen leads the championship with 256 points, with Alastaro runner-up Timo Savolainen in second position with 182 points. Alex Hope is third, but the British rider will not be at Gardermoen as the team want to test in their home country to find some more speed. Kenneth Holmberg is the number four in the championship, taking the number of different nationalities in the top four to four. But so far, the name of the Swecomposite rider is missing on the Gardermoen entry list.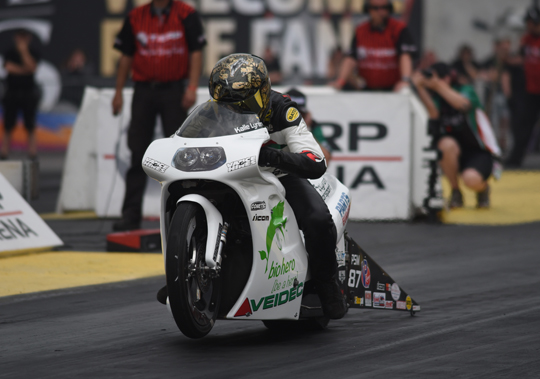 It's good to see the name of reigning champion Kalle Lyrén back on the entry list after his bad crash in the opening race at Tierp. The Veidec Lyrén Motorsports team did a great job by rebuilding the bike, but they are still missing a few parts, so they will know on Thursday if it is possible to race in Norway. Bo Thorselius is always present at the EDRS Pro Nordic MC Gardermoen race, while Tobias Steen from Norway is a new name in EDRS Pro Stock Motorcycle.
Top Fuel Motorcycle
In Top Fuel Motorcycle Jan Sturla Hegre is leading the championship, with reigning champion Thomas Pettersson in second position, only seven points short of the home favourite.
Hegre will meet tough competition from two other extremely quick Top Fuel Motorcycle riders, Sverre Dahl and Rikard Gustavsson.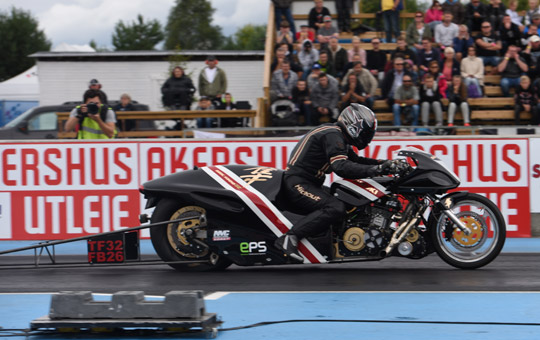 It's great to see Shaun Branch back in the EDRS Pro Nordic MC and with Pettersson, the British rider will need the consistency of his Funny Bike to beat the quicker and faster Top Fuel Motorcycles.
Super Street Bike
Super Street Bike has 13 entrants at Gardermoen. Mogens Lund has so far been in a class of his own in this always spectacular non-wheelie-bar category. The Dane won both races, was quickest and fastest and came close to the 7.00 seconds, so far the elapsed times only a few British Super Street Bike riders could manage. It will be interesting to see what numbers Lund can run at Gardermoen. But also the riders behind Lund stepped up to the next level and were dramatically quicker than last year.
Best of the rest is Anders Blanck, the runner-up at Tierp and Alastaro. But Blanck is already 54 points behind Lund. Vesa Ruhanen is third in the championship, with Kim Hilander in fourth position. Reigning champion Henri Kolehmainen is fifth, and as it looks right now, a second consecutive title is out of reach for the Finn.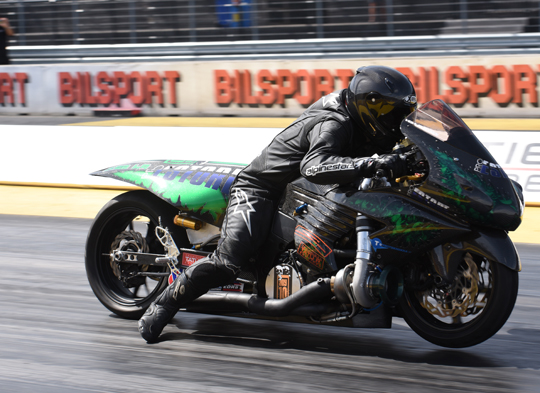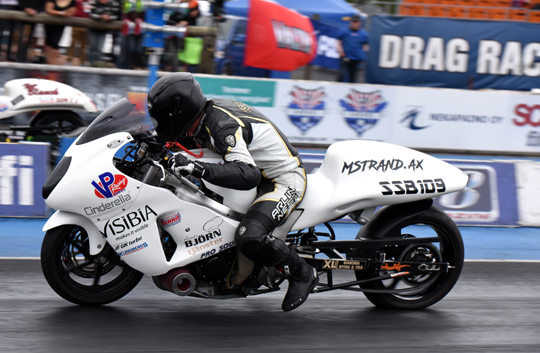 Roberth Häggblom is sixth in the championship and scored valuable points in Tierp and Alastaro. Robert Nilsson is one of the quickest SSB riders, but as the Swede was not at Alastaro, he is only 12th in the championship.
At Gardermoen Nilsson can show his speed again, and the same can be said about Emil Östlund, former champion Björn Friström and home favourite Dag Wagenius. Also from Norway comes Svein Ove Braendhagen, who has his first outing in the EDRS Pro Nordic MC this season. Ida Johansson and Ida Zetterström are the two female Super Street Bike riders in the field and will do their very best to go some rounds in eliminations.
Zetterström already made a name as the wheelie queen as she had some problems keeping her front wheel on the ground at Tierp and Alastaro as well.
Super Comp Bike
Super Comp Bike has 12 entrants at Gardermoen, six riders are from Sweden, one from Finland, one from Denmark and four from Norway. Kimmo Rantala from Finland has been the most successful rider so far this season with a win at Tierp and a runner-up position at Alastaro.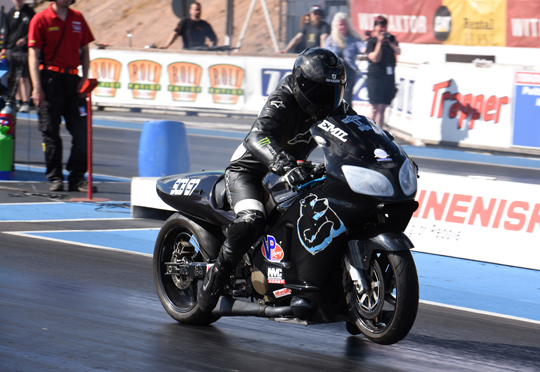 Emil Östlund is second, 36 points behind the leading Finn, and Alastaro winner Toni Suokas is third. Suokas is not on the Gardermoen entry list, and that gives Tomas Jonsson, Ramus Östlund, Peter Östlund and crowd and home favourite Kathrine Wagenius the chance to make up some ground and climb a few spots in the championship standing. And always keep an eye on Bianca Nilsson, as the reigning champion is out for revenge after her early exit at Tierp.
Super Gas Bike
Super Gas Bike has fourteen entrants, and like in Super Comp Bike, with seven riders from Norway, four from Finland and three from Denmark, a good mix of nationalities. Three Finns are leading the championship, with Iiro Reinola in first position, Alastaro winner Jari Malinen second, and Alastaro runner-up Heikki Koskinen in third position.
All three riders will also be at Gardermoen to strengthen or improve their position. But in this 9.5-second index category everything is possible, so nobody will be surprised to see a new winner on Sunday evening after eliminations.
Qualifying for the EDRS Pro Nordic Motorcycle Championship in Top Fuel Motorcycle, Super Twin Motorcycle, Pro Stock Motorcycle and Super Street Bike will start Friday July 28.
For the Drag Challenge Gardermoen Raceway, entry list see:
http://ndrg.no/entry-list-drag-challenge-2017/
The EDRS Pro Nordic Motorcycle Championship points standings after two races:
www.edrspro.com, points standings