Pärnu – holidaytown with dragracing
Blåkläder EDRA Nationals 2017 offered a good weather and good racing wiht a well trained crew from EDRA (Estonia Drag Racing Assosiation). But even if there isn't any rain, the winners get all very wet here at Pärnu Dragway. 
It's amazing to see the EDRA crew build a fully functional raceway in just one day, and then go to full racing one day and then in just a few hours everything will be gone again until next time. The preparation work began a few days before the start of the event. Pärnu is a holiday town for the Estonian people and here you will find kilometer long of beaches and a track for circuit racing and drag racing. The track is a former airfield built during World War II.
Grandstand is unloaded and built up in just a couple of hours
It is completely concrete and about 2.5 km long. Most cars that compete here are European streetcars. So if you want to combine a beach vacation with some nice drag racing, you can bring whatever car you have and test it on the strip.
Cabels is rolled out
This weekend was offered to run in the Summit Racing EDRS Series Super Gas Class. Hopefully, more will attend this special event and take the opportunity to make a combined vacation and dragracing trip to Estonia next year. The award ceremony is similar to Alastaro but with more than a dip in the oil barrel. A lots of laughter and a lots of fun is to expect for those who come here. 
Ivo Soldan took the win in Super Gas wiht his Audi Quattro vs Kaido Reisser in his Audi A4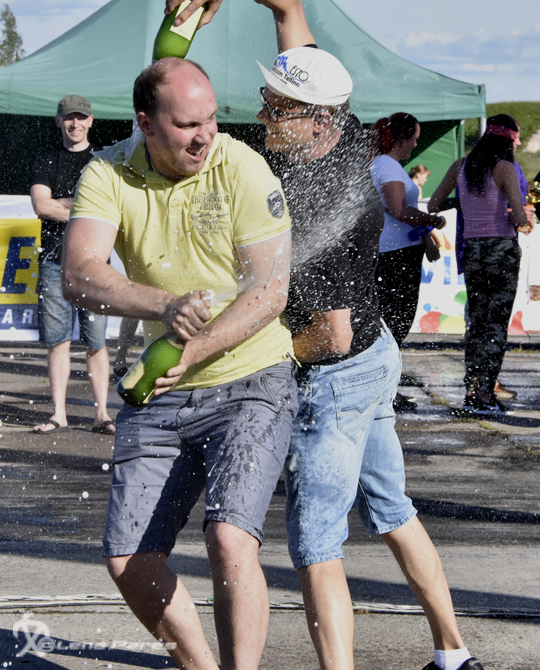 A champagne shower is to expect when you got all the way to the podium. 
And after the champagne shower a bath in the oil barrel is a need.