Goldtown Summernats 2017 increased with racers since last year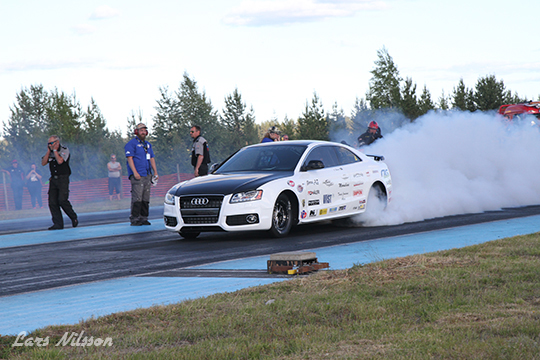 Goldtown Summernats 2017, the 11th Summit Racing EDRS Series event, did a great weekend where the participators increased this year comparing for last year. Qualifications all friday and two more rounds on saturday, before the elimination started.
All classes and the whole event was able to be finished early evening so the crew, racers and everyone else that wanted to paritcipate, could enjoy the celebration in the evening. Jens Eklund in Comptetition did his first race of the season and took the win here in Fällfors. He is taking it easy with racing this season as he have some other duties. But maybe we will se him and his beatuifull Audi at Tierp Arena in August.
In Jr Dragster Stine Aune Hasselvold qualified as no 1 and had a bye-run in first elimination, but didn´t show up in second round. that gave her opponent Pontus Söderlund a bye run. Pontus had a tuff time before the finals as he had to borrow Vilma Anderssons engine, due to some damage on his own. He got to the final vs Atle Poolssar who finaly took the win. Atle had 20th position in qualifying list when elimination started on Sunday. He went all the way to final and in the semifinal he also beat serie leader Tindra Christensen.
The F.U.N.N. Project, with Yasmine Bengtsson at the helm, was on site and had invited Svenska Bilsportsförbundet Dagracing Committees Jonas Staflund to informe about good behavior at a racetrack.
-Its very important that the children learn from start to be polite and have a good behavior at the track, both before and after a race, says Jonas. Just to show each other respect at a racetrack is very important for all competitors.
In Stock/Super Stock Uffe Edwardsson was Q1 but was taken out by Thomas Strand in semi. He meet Christer Lidberg in the finals who took the win.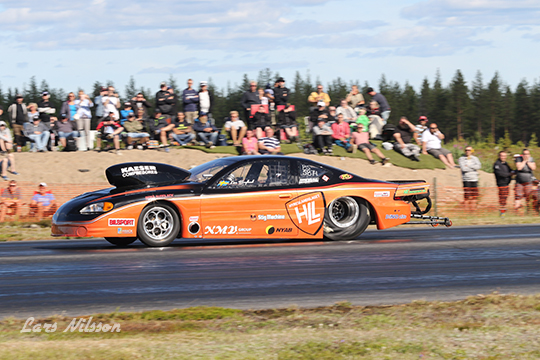 Pro Street Winner Lars Berglund
Super Comp Winner Amanda Sjöström Andersson
Super Gas Winner Annica Larsson
For more results, check out SHRA Skellefteas website. http://www.shraskelleftea.se/resultat.ph
Classes:                                       Q1:                                               Winners: 
Competition                                  Jens Eklund                                  Jens Eklund
Stock/Super Stock                       Uffe Edwardsson                          Christer Lidberg
Pro ET                                            Daniel Alfredsson                        Daniel Alfredsson
Street                                              Mikael Nilsson                              Anders Brännström
Super Comp                                  Albin Frank                                    Amanda Sjöström Andersson
Super Gas                                      Christer Uhlin                                Annica Larsson
Pro Street                                      Lars Berglund                                Lars Berglund
Jr Dragster                                    Stine Aune Hasselvold                Atle Poolsaar
Super Gas Bike                             Kurt Andersson                           Kurt Andersson
Super Comp Bike                         Rasmus Östlund                          Emil Östlund
Jr Drag Bike                                  Rosa Paaso                                   Moa Nilsson