Saturday leaders Stig Neergaard (Top Fuel), Chris Polidano (Top Methanol Dragster), Bruno Bader (Pro Modified) and Jimmy Alund (Pro Stock) claimed number one qualifying positions at The Main Event at Santa Pod Raceway and will lead their classes into Monday's eliminations at the opening round of the FIA European Drag Racing Championship. Continue reading →
Stig Neergaard raced to the number one qualifying position in Top Fuel at the first day of qualifying for The Main Event, the first race of the FIA European Drag Racing Championship. In Pro Modified Bruno Bader leads in a new personal best of 5.94 seconds at 234 mph. In Pro Stock Jimmy Alund is the provisional leader and in Top Methanol Dragster 2014 champion Chris Polidano from Malta is the leader after day one. Continue reading →
It's high time to sign up for the spectacular race between the mountains, Thunder Valle, 27th  May is the closing date for entries.
Sweden's Stefan Gunnarsson is leaving his injected-nitro Top Methanol Dragster in the workshop for the foreseeable future. Tuner Peter Lantz said that running both a Top Fuel Dragster and a Top Methanol Dragster was a crazy idea and that this season's goal is to get Stefan's Top Fueler into the threes – the sooner the better.  Continue reading →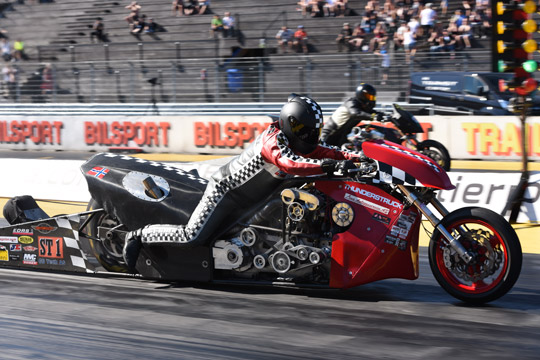 Reigning EDRS Pro Nordic MC Super Twin Motorcycle champion Samu Kemppainen from Finland and his Norwegian Super Twin colleague Hans Olav Olstad are heading towards a busy season as they will race in the EDRS Pro Nordic Motorcycle Championship and the FIM European Championship.  Continue reading →
Less than a week to go and the 2016 FIA European Drag Racing Championship kicks off with The Main Event at Santa Pod Raceway. All drivers will have to start from zero again and will do their very best to get their names on top of the championship standings after race one. In  Top Fuel, reigning champion Micke Kågered will face some strong competition, but the same can be said about champions Thomas Lindström and Michael Gullqvist in Pro Stock and Pro Modified. Santa Pod's 50th Anniversary will be celebrated in style with a fantastic opening of the 2016 FIA European Championship. Continue reading →
Contingency is the easiest possible way for the sponsoring suppliers to expose their brands in the EDRS, European Drag Racing Series. The Speedgroup contingency program supports brands and racers all the way.
After the last racingweekend at Frøya Raceway we can congratulate Maja Udtian on her win at her own event Midt-Norsk Dragracing Weekend.