Per Bengtsson and his 'The Beast Dragbike team' will compete in the full 2016 EDRS Pro Nordic Motorcycle Championship tour and only have one ambition: 'to take home the title for our main sponsor Red Line Oil'. And when the season goes as planned and The Beast is as competitive as the team know it can be, England and The USA are the next targets for the most aggressive and noisiest Super Twin in Europe. Continue reading →
The Circle K NHRA Winternationals kicked off the 2016 American drag racing season. With Jonnie Lindberg and Ulf Leanders in Top Alcohol Funny Car, and Jimmy Ålund and Markus Svensson in Stock Eliminator, four Swedes entered the tradition-rich first race of the season at the historic Auto Club Raceway at Pomona. Lindberg, the 2015 NHRA Lucas Oil Top Alcohol Funny Car champion and defending Winternationals winner, had the best possible start of the season by bringing another Wally to the winners circle. Leanders was defeated in the quarter finals when he was hit by tire shake, while Ålund and Svensson both pulled red lights in early rounds of eliminations. Continue reading →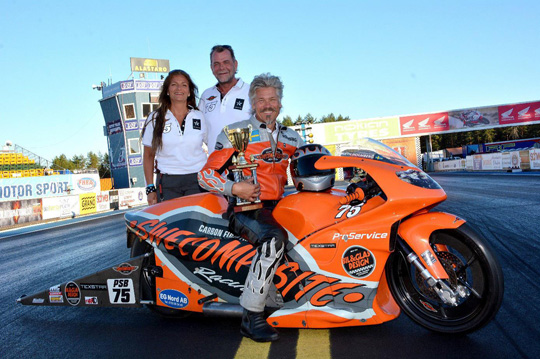 Kenneth Holmberg and his Swecomposite Pro Stock Motorcycle team are working hard on their preparations for a busy 2016 season.  "We are working hard on updating the bike and on appearing at some partners/company events during the spring. There is a lot of planning to be done for 20,000 kilometers of travel during the race season", said Kenneth Holmberg.  Continue reading →
As the 2016 FIA European Drag Racing season approaches, kicking off at Santa Pod, England in May, there is much news in the class to relate.
For the 2016 season, NHRA have mandated the use of Electronic Fuel Injection (EFI) engines. The familiar hood scoops of Pro-Stock cars are no more, at least for the American racers of the NHRA. In Europe, the teams will be allowed to continue with naturally aspirated, carburettor power plants for the 2016 season. An EFI team would be allowed in to competition this year, however there are no such equipped teams therefore it is a largely irrelevant point. Continue reading →
On Saturday February 13th it is time for the annual swap meet Åby Motormarknad, held in Åby just outside Norrköping Sweden. The event attracts hundreds of vendors of racing parts and thousands or visitors all connected to drag racing.
Speedgroup has a stand at Åby Motormarknad and our staff will be happy to discuss anything connected to the EDRS, EDRS Pro Nordic, FIA Championship or Dragracing SM. Stop by and visit us if you are on site!
For more information about Åby Motormarknad please visit www.abymotorklubb.se
---
EDRS PRO MC  –  NORDIC CHAMPIONSHIP GUIDELINES 2016
---
A "must read document" for everyone planning to be involved in the EDRS Pro Nordic Drag Racing MC Championship!
Filled with information about the championship;
– Speedgroups´thoughts and work with the championship
– Competition Classes
– Race Calendar
– Development plans
– Championship registration
– Prize funds levels
– Points calculations
– Media
– Contact persons.. and much more!
Check it out! A link to the document can be found on the "Racers Page" at www.edrspro.com or click the front cover image. 
Please note the document is specific for this championship. The general EDRS Guidelines 2016 document is published at EDRS website www.dragracingeurope.eu/edrs 
---
Speedgroup´s board member and EDRS marketing director Roger Lyrén sends a brief update from the MC show in Helsinki Finland which is open until Sunday. Continue reading →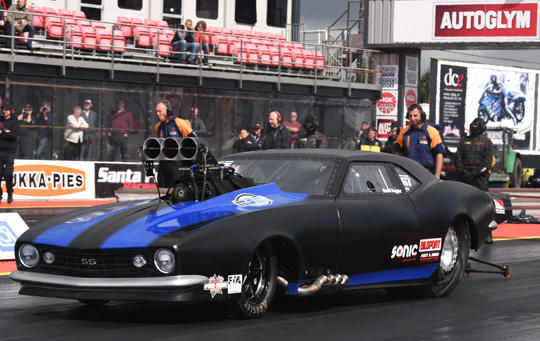 Vegter Pro Mod Racing get an extra energy injection, as the Dutch drag racing team is proud to announce Playboy Energy Drink as a new partner. The world famous logo will be seen on the Vegter Pro Mod Racing '67 Camaro in their 2016 FIA European Pro Modified Championship campaign. "A great name and a world famous logo, of course I'm very proud and happy to represent them", said David Vegter. After last week's announcement that Sonic Equipment and WVB Holland extended their partnership with the team, there is even more good news, as longtime partner HKR Techniek will also support the Dutch Pro Modified team again in 2016.  Continue reading →