The "Fordever family" steps up – meet them at Tierp Internationals
The Larsson family based in Färnäs, Sweden, is a genuine Ford family and of course also deeply involved in drag racing. Mother Annica has been racing for ages and her husband Lollo has always been there as a crew chief. And when daughter Angelica turned in to the right age for racing Jr Dragsters, the third family member was hooked to the sport.
Mother Annica has been racing in the Super Gas class for many years will stay there. However, Angelica, who also been in that class, has now decided to step up to Street and turn her beautiful red Ford Fairlane into a nitrous car.
"I decided last year to upgrade to a faster class," says Angelica. "And a new car was the plan if my Fairlane was sold. But that didn't happen, so instead we rebuilt this one in to a nitrous car instead, so I could step up to the Street class this year. There's a lot of new knowledge we need to get a handle on, and a lots of new things to think about behind the wheel."
Angelica is not just a drag racing driver. She also drives trucks, busses and all sorts of other vehicles, for example a 1961 Ford Country Sedan, one of three in Sweden. Is she the coolest girl, or?
It doesn't stop there with this girl power. At the moment she is studying to be a preschool teacher at the same time as she is working full time at the same company where her dad is working, Mora Knifes. On top of that she is entering the Street class this season. First event was at the home track Tallhed Raceway a couple of weeks ago and next up is Tierp Arena. Angelica is of course very excited about entering that big arena but this is just one step on the path she has planned.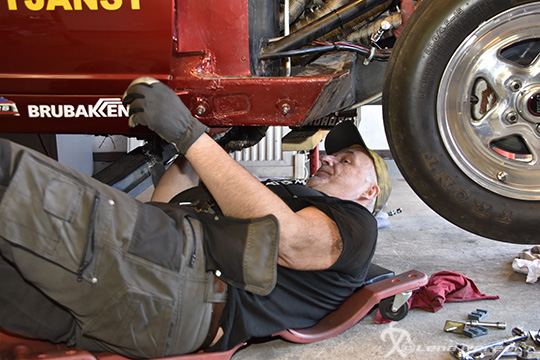 "I have plans to drive this class for a couple of years, then I hope for Pro Street and the final goal is Pro Modified," she says and smiles. "I have a certain car in mind as well. Arne "Lapp-Arne" Lindkvist 's old Chevrolet. Its about time that car comes to live again. But we will se how things goes."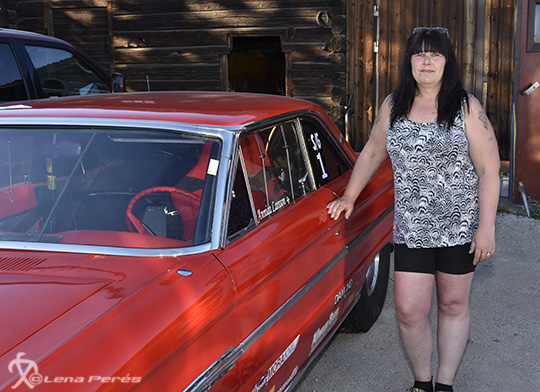 So, keep an eye on this young girl. She has big plans and doesn't hesitate to follow them up. Mother Annica continues in the Super Gas class for a while more, but don't be too sure. She might turn up in another class some time in the future. As long as Lollo is the crew chief, this family team continues the life they love the most. But, if or when that part don't take all time, there are a lot more projects waiting in the garage back home.