Rikard Gustafsson, Vesa Lipponen, Thomas Olsen and Mogens Lund number one qualifiers at EDRS Pro Nordic MC season-opener
Rikard Gustafsson (Top Fuel Motorcycle), Vesa Lipponen (Super Twin Motorcycle), Mogens Lund (Super Street Bike) and Thomas Lysebraate Olsen (Pro Stock Motorcycle) claimed the number one qualifying positions at the Tierp Internationals at Tierp Arena and will lead their respective categories into Sunday's eliminations at the season-opening round of the EDRS Pro Nordic Motorcycle Championship.
Sunny and great weather conditions at the second day of qualifying for the Tierp Internationals, round one of the EDRS Pro Nordic Motorcycle Championship at Tierp Arena. Just like yesterday, several personal best were reset, while qualifying was close and exciting.
Rikard Gustafsson stormed to a stunning 5.81 seconds to claim the number one qualifying position in Top Fuel Motorcycle after the Swede already recorded 5.84 seconds in Friday qualifying. Sverre Dahl couldn't improve on his Friday performance, but the 5.92 seconds was enough to claim the second qualifying position. Jan Sturla Hegre impressed as well with a great 6.15 seconds and is the number three qualifier after five runs.
Super Twin Motorcycle qualifying was stunning with once again many personal bests and exciting runs. Vesa Lipponen surprised with a great 6.315 seconds to jump into the number one qualifying position. Yesterday's leader Hans Olav Olstad couldn't improve and dropped to second position. Marcus Christiansen improved to 6.39 seconds and finished qualifying in the number three position, with Anders Hörnström (6.48 seconds) fourth and Lasse Leponiemi (6.62 seconds) fifth. Last year's runner up in the championship Roman Sixta qualified in eight position with 6.96 seconds, making the whole elimination ladder qualify in the 6-second zone.
In Super Street Bike Mogens Lund from Denmark was again in a class of his own and will lead the field into eliminations with his stunning 6.98 seconds from Friday qualifying. Vesa Ruhanen from Finland remained in second position, but behind the top two there were many changes. Mathias Bohlin improved to 7.17 seconds and jumped into the number three position, with Anders Blanck (7.30 seconds) fourth and Robert Nilsson (7.34 seconds) fifth.
In Pro Stock Motorcycle reigning champion Thomas Lysebraate Olsen claimed the number one spot in 7.12 seconds, with Kenneth Holmberg in second position.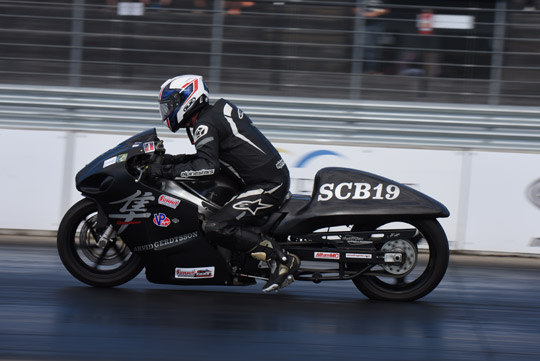 In Super Comp Bike and Super Gas Bike there were no changes in the top two qualifiers. In Super Comp Bike Anders Gerdtsson is the leader with Peter Svensson in second position and in Super Gas Bike Jani Blom will lead the field into eliminations, with reigning champion Iiro Reinola in second position.
Eliminations for the Tierp Internationals will start tomorrow morning.
Qualifying results: http://www.dragracing.eu/results.asp
More photos from the Tierp Internationals can be found at: http://www.edrspro.com/