Anita Mäkelä, Timo Habermann, Jimmy Ålund and Bengt Ljungdahl number one qualifiers at Tierp Internationals
Anita Mäkelä (Top Fuel), Timo Habermann (Top Methanol), Jimmy Ålund (Pro Modified) and Bengt Ljungdahl (Pro Stock) claimed the number one qualifying positions at the Tierp Internationals at Tierp Arena and will lead their respective categories into Sunday's eliminations at the second round of the 2018 FIA European Drag Racing Championship.
For the second consecutive day the weather and track conditions at Tierp Arena were excellent and record setting. On the second and final day of qualifying numerous personal bests were reset and the qualifying order in almost all categories changed several times. But in three classes the number one qualifier remained unchanged and only Jimmy Ålund could improve enough on his Friday performance to take over the lead in Pro Modified.
In Top Fuel Anita Mäkelä from Finland was also the quickest driver on day two, but although she couldn't improve on her Friday performance, the 3.90 seconds was enough to claim the number one qualifying position after four runs. Mikael Kågered, yesterday's number three qualifier, improved to 4.07 seconds to take over the second qualifying position from Timo Lehtimäki. Antti Horto improved in his final run to 4.20 seconds and jumped from sixth to fourth in the qualifying order. Reigning champion Duncan Micallef finished in fifth position. Mäkelä will face Liam Jones in the first round of eliminations.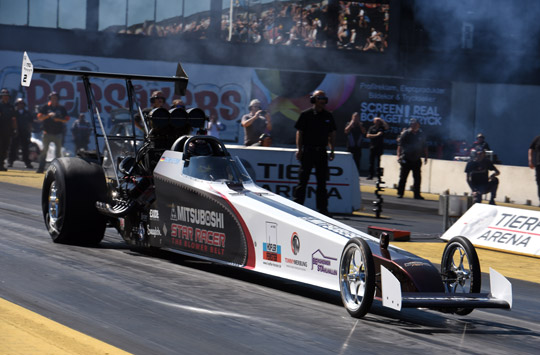 In Top Methanol Friday's top three remained unchanged. The number one and two qualifiers Timo and Dennis Habermann couldn't improve on their earlier performance and the two brothers will lead the field into tomorrow's eliminations. Jonny Lagg, yesterday's number three qualifier, reset his personal best to 5.35 seconds and finished qualifying in third position. Johnny Oksa jumped into fourth position, but as the Finnish Funny Car driver crashed at the end of the track and damaged his car, he will not be able to take part in eliminations.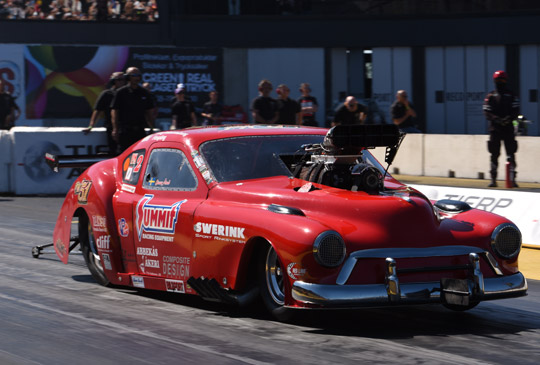 Pro Modified qualifying was absolutely stunning with numerous excellent runs and great elapsed times. With the top seven qualifiers in the 5-second zone and the number sixteen qualifier still recording 6.23 seconds, records were reset. On the second day of qualifying Jimmy Ålund stormed to a stunning 5.84 seconds to take over the lead from Andreas Arthursson. Reigning champion Michael Gullqvist improved to 5.88 second and jumped from sixth into the third qualifying position. Jan Ericsson and David Vegter couldn't improve on their Friday performance and finished qualifying in fourth and fifth position. Kim Kristiansen and Michael Joneskog were the last two drivers to break the 6-second barrier.
In Pro Stock Bengt Ljungdahl, last year's FIA European champion, remained in the number one position with 6.531 seconds, although Jimmy Ålund came extremely close with 6.532 seconds. Stefan Ernryd improved to 6.54 seconds to take over the number three position, while yesterday's number two, Thomas Lindström, dropped to fourth. Magnus Petersson was the eight and last driver to qualify for eliminations. The Swede recorded 6.67 seconds, making the Pro Stock field also record setting and with eight drivers within 0.14 seconds of each other, extremely close.
Eliminations for the Tierp Internationals will start tomorrow morning.
Qualifying results: http://www.dragracing.eu/results.asp
More photos from the Tierp Internationals can be found at:
https://www.dragracingeurope.eu/fiaedc/tierp-internationals-tierp-arena-june-7-10-2018/
For pit notes and live report see eurodragster.com:
http://www.eurodragstereventcoverage.com/live/2018tierpinternationals/pitnotes/saturday.asp