Lena Perés
The race is canceled due to low participation. Refund is given to teams that already signed in. Contact to SHRA-Sundsvall.
One of the oldest tracks in Sweden is having their 33rd Linde Open event 20-21 of August and its crayfish time here in Sweden. What is something, at least the Junior drivers, highlights this weekend. That means long tables are set in the pit and all racers, crew and spectators bring crayfish for dinner.
It's time for the second and third event in the Russian Drag Racing Championship 2016. And the interest by European drag racers to go est is growing. At this two events, for the first time, a European drag racing team participates. David Vegter from Holland have taken the opportunity to try the Russian drag racing track in Nizhny Novgorod, about 400 km east of Moscow.
In just about a week Gardermoen raceway is opening up the gates to the first race event, Drag Challenge Gran Opening. The brand new EDRS track. A fantastic job has been done by the members of the NDRG (Norsk Drag Racing Gardermoen) since the first thought of this renewing of Gardermoen Raceway.
During the past weekend Speedgroup participated at Halmstad Car Sport Event to show what Jr Dragster competition is all about.
Records of the participating teams, in this event at the Nitro Nationals, made the organizers very pleased with the numbers. More than 260 teams came to the track with its own sandy tooth in the middle of the Finnish forest.
Jr Dragster winner William Svensson RU Pontus Södergren
Hagfors Open has closed the gate for this time and the event was a good event as expected. And it went as smooth as always at the  1/8-mile track that have a breakout at 4.50.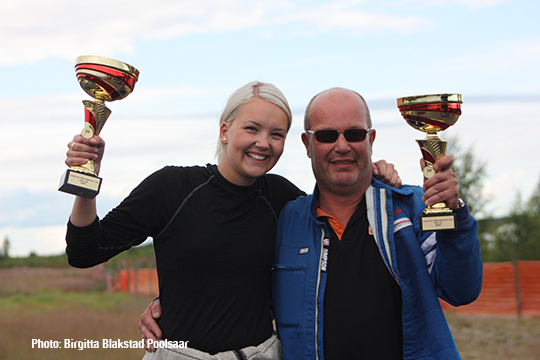 Maja Udtian  and Per-Erik Lindgren was two of the winner of the Goldtown Summer Nats last weekend. Per-Erik won over last years champion Jens Eklund. And Per-Erik was very satisfied with the weekend.