Sunday and eliminations day marked the culmination of the second stop and halfway point in the 2022 championships with rounds in Germany and England to come in the next month. Before we get ahead of ourselves we'd better focus on today's happenings in a continuing warm and sunny Sweden.
Continue reading
A fantastic weekend is over at Tierp Arena and we can now present the
winners of Summit Racing Internationals 2022.
Continue reading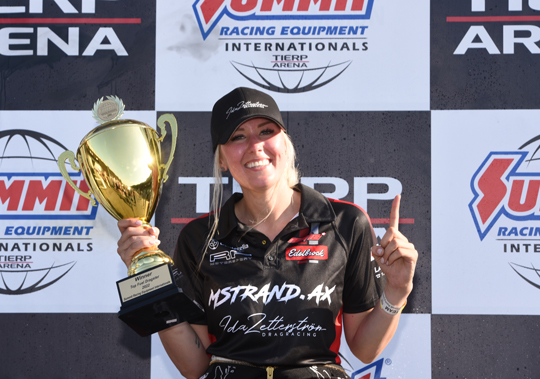 Ida Zetterström raced to victory in the Top Fuel final of the Summit Racing Equipment Internationals, round two of the FIA European Drag Racing Championship at Tierp Arena in Sweden. It was the first win for Zetterström in only her second race of her rookie season in Top Fuel. In a close Pro Modified final Michael Gullqvist claimed the victory over Marck Harteveld. In Top Methanol in an all Swedish final Daniel Jedborn won over Jonny Lagg. In Pro Stock Robin Norén surprised with a win in the semifinal over Jimmy Ålund and then took the win in the final as well.
Continue reading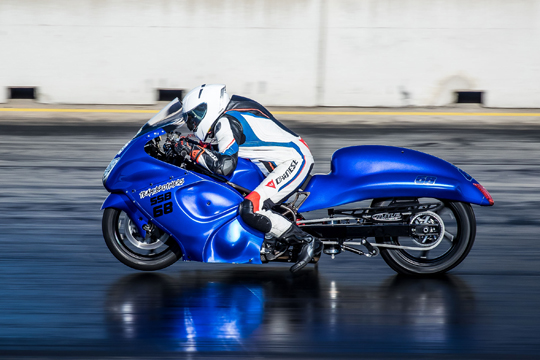 If yesterday was warm, today was a tad hot with three rounds of qualifying for the FIM-E teams to work their way through and quite a bit of shuffling of the pack in three of the four classes.
Continue reading
In his last run of the day Antti Horto stormed to the lead in Top Fuel qualifying for the Summit Racing Equipment Internationals at Tierp Arena, round two of the FIA European Drag Racing Championship. In Top Methanol, Pro Modified and Pro Stock there were also numerous improvements, but Friday leaders Daniel Jedborn (Top Methanol), Mats Eriksson (Pro Modified) and Jimmy Ålund (Pro Stock) remained the number one qualifiers and will lead their respective categories into Sunday's eliminations.
Continue reading
A warm day at what was proving to be a tricky track for the opening day of FIM-E qualifying at the Summit Racing Internationals saw some solid if not record breaking runs as the racing collective came to terms with a surface that was causing some headaches beyond the 60 foot mark. A brief daily synopsis (as for some reason the qualifying sheets have vanished from their usual place, hopefully they will reappear before too long!) follows.
Continue reading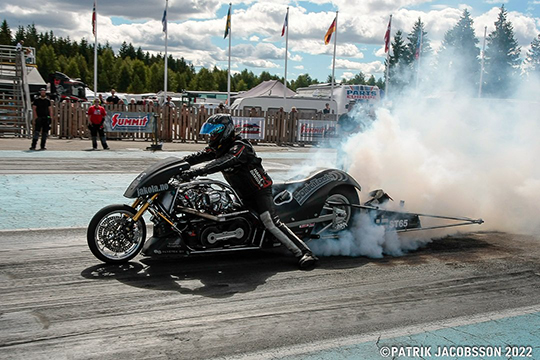 After far too long a break, the FIM-E Dragbike championship resumes this weekend in Sweden with the Summit Racing Internationals at the always quick Tierp Arena just north of Stockholm. With the weather set fair for the whole weekend (peering out of our hotel window there isn't a single cloud in the sky) it could be a bit of a barnstormer.
Continue reading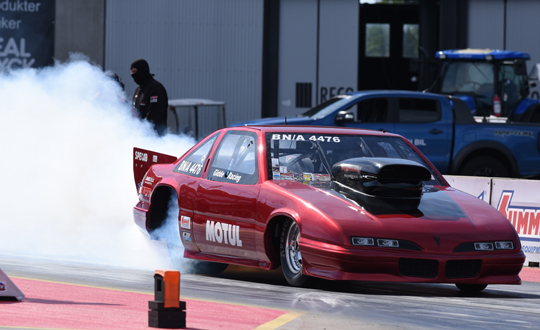 Competition Eliminator, Pro Street and Stock Super Stock kicked off qualifying in EDRS Pro Cars at the Summit Racing Equipment International at Tierp Arena. Gideon Liljegren is the leader after the first day in Competition Eliminator, while Christer Åberg took the provisional number one spot in Pro Street. In Stock Super Stock Timo Eronen is the number one qualifier after four runs.
Continue reading