Drag Challenge 2022 at Gardermoen Raceway in Norway was held this last weekend. The year 2022 marks the 25th anniversary of the organizing club NDRG and racing at Gardermoen Raceway. It was great event with record breaking all over including attendance. And a trackside wedding.
Continue reading
Sverre Dahl from Norway raced to victory in Top Fuel Motorcycle at the Drag Challenge at Gardermoen Raceway, the second round of the EDRS Pro Nordic Motorcycle Championship. In Super Twin Motorcycle Ismo Mäenpää recorded great numbers and won the final from the number one qualifying position. In Pro Stock Motorcycle Kalle Lyrén was in a class of his own and took the win, while in Super Street Bike Kenneth S. Laget claimed the victory after number one qualifier Anders Blanck ran into problems in the final.
Continue reading
Next weekend is the time of the year in terms of European drag racing. Tierp Arena is finally opening for major competition again, where pretty much every FIA, FIM, EDRS Pro and Summit Racing EDRS Series class will compete. Don't miss Summit Racing Internationals 2022!
Continue reading
The FIA European Drag Racing Championship kicks off the second part of the season with the Summit Racing Equipment Internationals at Tierp Arena, Sweden. After the opening round at Santa Pod Raceway it was quiet for a while, but with three races in the span of four weeks, the drivers and teams of the most prestigious drag racing championship in Europe will have no time to relax. Antti Horto (Top Fuel), Sandro Bellio (Top Methanol) and Jan Ericsson (Pro Modified) were the winners in England and are the leaders in their respective categories. At Tierp Arena the frontrunners will meet even tougher competition then they had at Santa Pod, and they will have to perform at their very best to remain their leading positions.
Continue reading
There is a lot going on at the race tracks around Scandinavia right now. But that doesn't mean you can relax an just go racing. There is more to come.
Continue reading
After a perfect race weekend at Sundsvall Raceway we can now present all winners and runner ups of the Mid Sweden Nats 2022.
Continue reading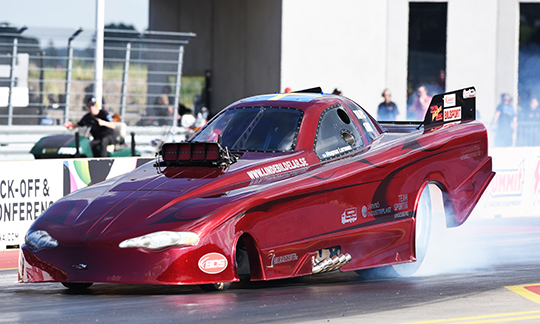 Magnus Larsson is the latest addition to the Top Methanol ranks. The driver from Lindesberg, Sweden, showed up at Tierp Arena with his beautiful shiny red Chevrolet Monte Carlo for the EDRS Sweden Nationals, his first race after he completed his licensing procedure last year.
Continue reading
Three days left of the regular registration dates of Drag Challenge 2022, where Gardermoen Raceway and norwegian drag racing celebrates 25 years.
Continue reading