Lena Perés
Sorry to tell, but Piteå also had to step back from Summit Racing EDRS Series 2021.
Continue reading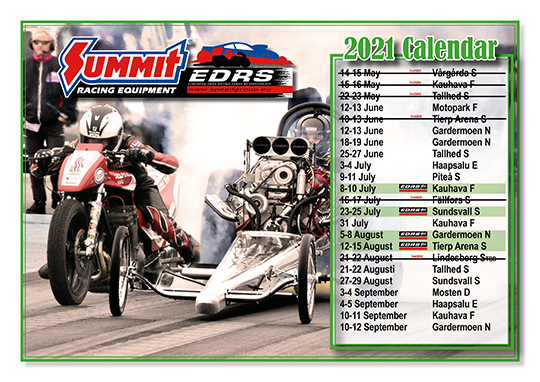 This year's edition of drag racing competitions Gold Town Summer Nats at Drivecenter Arena in Fällfors is canceled due to the continued uncertain Covid-19 situation.
Continue reading
We are happy to announce a new date for Gardermoen and Spring Nat´s 2021.
Continue reading
Dates and place of SFI Inspection in Europe are now set. A delay of the inspection due to Covide-19 a reorganisation of the European tour is made. Jennifer Faye CEO of SFI is now announcing the new information.
Continue reading
In 2021 season, publishing house Albinson & Sjöberg and Bilsport Magazine will sponsor the Jr Dragster drivers in Summit Racing EDRS Series with a total of SEK 29,500, which is distributed over the top-10 in the class
Continue reading