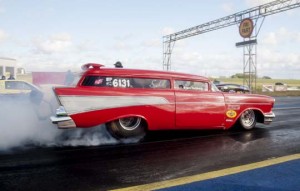 Vårgårda Dragway's third event of the year is the first event of the 2016 EDRS. The renewed track will host this event as a Swedish Championship round for Jr dragsters and all classes up to Pro Street in EDRS.
Three new persons were voted to be part of the board at the Annual shareholders meeting for Speedgroup Aktiebolag, held in Stockholm on April 23rd. Continue reading →
Jr Dragster driver Patrik Lind from Borlange, who came third in the Swedish Drag racing Championship and fifth in the EDRS, is keen to get out on the track again. Dad Micke Lind hashelped Patrik with some off season love and attention to the Junior dragster.
Good news for the fans of Urs Erbacher! The multiple FIA European champion will do the full FIA European Top Fuel Championship Tour in 2016! As expected, the very popular Top Fuel driver only has one goal, and that's to bring back the FIA Championship to Switzerland. At the NitrOlympX Urs will be accompanied by his 21-year old daughter Jndia. She will be driving in the Top Methanol Dragster category with Anthony Dicerio's Nitro University A/Fuel Dragster which she recently drove in Las Vegas. Continue reading →
In his fourth year in Top Methanol Funny Car, Johnny Oksa will chase an important goal: a race win in the FIA European Championship. After several round wins, semifinal finishes, and even a runner-up position in last year's home race at Alastaro, it's time for the Finnish driver and his OK Racing Team to win a trophy. Continue reading →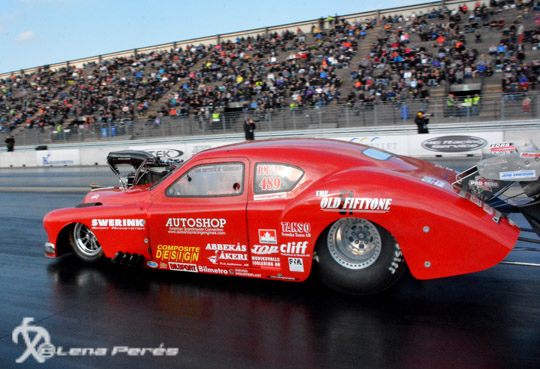 Malmö, Sweden (April 9, 2016) – A change to the driver's seat has been announced from The Old 51 Drag Racing Team. Magnus Petersson, owner and crew chief of The Old 51 Chevy Coupe Pro Mod, and driver Niclas Andersson had to make a tough decision this past week with Andersson's back problems preventing him from competing on the FIA European Drag Racing Championship series.
Continue reading →
Ida Johansson loves motorcycles, and she can't help it – it must have been genetically determined. The Swedish student from Hofors got her first bike when she was only 3 years old, joined the Junior Drag Bikes when she was 14, and took over her dad's ride in Super Gas Bike at the age of 16. Now, at 19 years old, it's time for the next step, as Ida Johansson will follow in the footsteps of her father Niclas by taking over his Super Street Bike and make her entrance in the 'no slick no wheelie bar' class for the brave. Continue reading →
With Ari Pietilä as their driver, Woodstock Racing compete in the Top Methanol Funny Car (TMFC) class of the FIA European Drag Racing Championship.  For this season the team have recruited top level motorsport knowledge in the form of former F1 engineer and Technical Director of Audi Sport Team Rosberg, Ossi Oikarinen who has joined the team. Continue reading →