It´s time to make that visit to Estonia and Haapsalu racetrack. EDRS have included Estonia in to the calendar this year. 2-3 of July is the first EDRS event ever in Estonia. 

As last time there will be a well prepared track and the Jæren Dragraceklubb will host the second EDRS events in 2016. The week before the event the track team will be on site preparing the track.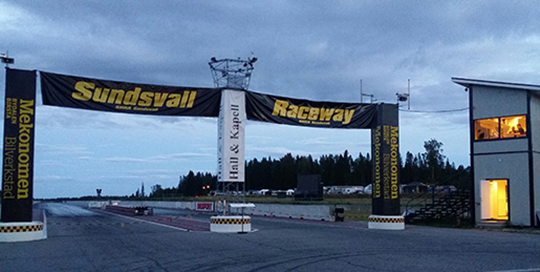 Sundsvall Raceway is one of few racetracks in Sweden that host almost all classes from Jr Dragster up to Pro Modified. 
Orsa Raceway is a historic drag race track which was very famous in the 1980s. Probably most of the well-known drivers in the top of the FIA Championship today began their career at this track.
Reigning EDRS Pro Nordic MC Super Twin Motorcycle champion Samu Kemppainen impressed at the season-opening Tierp Internationals with another great win. In the final the Finn defeated Greger Johansson. As impressive was the Pro Stock Motorcycle win of Kalle Lyrén at Tierp Arena. Rikard Gustafsson and Henri Kolehmainen were the winners in Top Fuel Motorcycle and Super Street Bike at the first round of the EDRS Pro Nordic Motorcycle Championship.  Continue reading →
Anita Mäkelä from Finland raced to victory by defeating Birgitte Bremnes from Norway in the first-ever all-female Top Fuel final in the history of the FIA European Drag Racing Championship. Mäkelä was the only driver to record 3.9-second runs in the semi-final and final at the Tierp Internationals. Reigning champion Micke Gullqvist was the winner in Pro Modified while Magnus Petersson defeated Bengt Ljungdahl in the Pro Stock final. Chris Polidano from Malta and Johnny Oksa from Finland were winners in Top Methanol Dragster and Top Methanol Funny Car in the second round of the FIA European Drag Racing Championship at Tierp Arena, Sweden.  Continue reading →
A wet weekend ended in a sunny Sunday finals in the FIA classes. Unfortunately the rain came back just in time to stop the finals for almost all EDRS classes.
After a rainy weekend the sun is showing its face on elimination day. Saturday was counseled due to the rain.