It´s time for Final race in the Summit Racing EDRS Series
Another season have soon has passed and we are heading towards the Finals of the Summit Racing EDRS Series. This year Gardermoen Raceway north of Oslo is hosting the event. 138 teams are showing up to fight for the last points of the season at Drag Finals .
Krister Adeen is comming to Gardermoen Raceway and Drag Finals with his nice Volvo.
In the Competition class, we find just Krister Adeen and Björn Johansen. Krister is currently number eight in the total point standing and has not a chance to end up number three or better. Björn are right now number two but is too far behind Daniel Jedborn in the total point chase.
A little bit more uncertain is Pro Street where Johan Källberg is only 23 points ahead of Mats Lusth. No one of them will be entering this event, but Lars Berglund, currently number 3 will be there. This race represents a great opportunity for him to become the 2017 Pro Street Champion.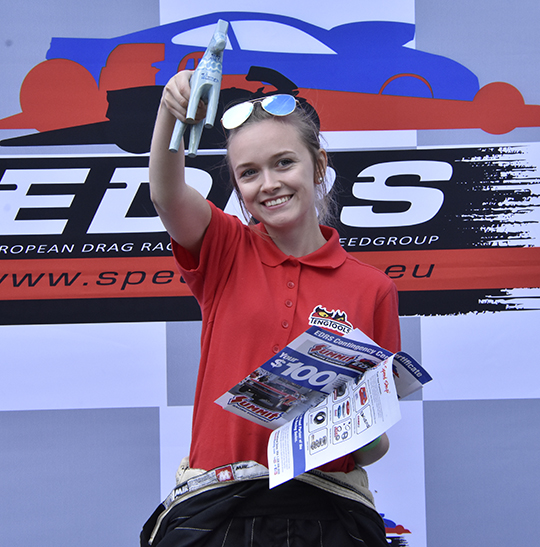 Siri Johansen is going to be at the track and try to reach the number two spot. 
In Super Comp, we already have a champ namely Mikael Nilsson. This event is going to be a fight between two Norwegian girls Siri Johansen and Elin Aarvik. Siri is currently on the third place and have the number two spot within reach. Elin is in the 4th place also have a chance to advance a step or two. We need to follow closely and count the points thoroughly.
Annica Larsson, is going to Norway to defend her lead
The leader in Super Gas, Annica Larsson, is going to Norway to defend her lead against Patric Wickman and Christer Uhlin, the number two and three in the series. Annica has her 66 points lead over Patrik and his chances to gain points enough to beat her in the final points standings is small. But it´s not over until it´s over. Keep the series alive until the last event that is exactly how it should be.
Christer Gustafsson entering the class
In Super Street, it´s just Christer Gustafsson and Isak Lagg entering the class. No one of them will be a threat to the point leader Uffe Lundgren, who we now can announce as the 2017th Champion.
In Pro ET, Central we got two Daniel, Daniel Alfredsson and Daniel Johansson. But as, for now, none of them are on the entry list for this event. Currently number three Henning Kalsvik is too far behind to make any big different. Henning could advance to second spot, but that´s about the only change between the top three that could be made. In Pro ET North, we don´t find any of the top three drivers on the entry list.
Tommy Abrahamsson is still in the lead of Super Pro ET and he will be at Gardermoen to defend that position. Even number two and three in the series, Björn Hultberg and Anders Back will be there. They are maybe too far behind Tommy to be able to catch up, but everything is ready for a fight between them for the second place in the championship.
Jr Dragster Central we can expect an exciting weekend. As we can´t find point leader Tindra Christensen entered, but Atle Poolsaar is and he is just 33 points behind Tindra. If Atle just does what he is good at, he might be able to bring home a winner trophy.
In Jr Dragster North there´s a little bit of the same situation as we can´t find of the point leader Oscar Norling on the entry list. But we can see number two in the series, Felicia Olsson on the entry list. She has a good chance to bring down Oscar from the top.
In Super Street Bike, we can find Anders Blank but not Mogens Lund on site. Mogens actually have a good chance to take over the leading position. But for the time being Anders is sitting safe on the throne.
Super Comp Bike leader Tomas Jonssons will stay safe as nor Emil Östlund or Peter Rundström has entered this event.
In Super Gas Bike, there´s no changes in the top as none of the top three riders won´ be showing up at Gardermoen. Micke Öhlén is the winner and Niclas Sedergren as Runner up.
Jr Drag Bike also have a fresh 2017 Champion in Tim Christensen, we won´t be able to see him at Gardermoen as he´s not at the entry list. But Trygve Kjärstad Helgerud will show up and he have a tiny chance to end up as number three or even as runner up this weekend. Nothing is set until everyone has reach the finish line.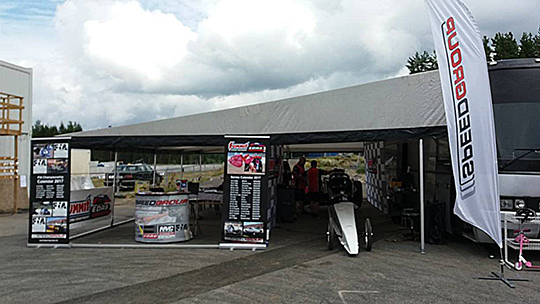 Speedgroup Center will also be at the event. Be very welcome to see us in the pitarea for a chat and a swedish fika.
Whatever you do, don´t miss this final event of the Summit Racing EDRS Series season and the Drag Finals 2017 at Gardermoen Raceway next weekend. See you all there, folks.
Classes at Gardermoen Raceways Drag Finals:
Competition, Pro Street, Super Com, Super Gas, Super Street, Super Pro ET, Pro ET, Jr Dragster, Super Street Bike, super Comp Bike, Super Gas Bike, Jr Drag Bike.
Check out: www.dragracing.eu and/or www.ndrg.no for more information and results.