We are very happy to announce that Summit Racing Equipment now are event sponsor for Summit Racing Internationals 2022 at Tierp Arena in August.
Continue reading
Congratulations and well done all racers who participated in 2022 Nitro Nationals! Kauhava did a great event last weekend and we got winnerphotos from Pasi and Lotta Uponen who couvered the event very nicely.
Continue reading
After claiming the runner-up position at The Main Event, David Vegter continued his impressive start of the season with a semi-final finish and best ET of the season at the EDRS Sweden Nationals at Tierp Arena. The Dutchman's 5.847 seconds was not far from his personal best. The EDRS Sweden Nationals  was round one of the Bilsport EDRS Pro Modified Series and Swedish Pro Modified Championship and with almost all of the Scandinavian top teams at present, the race had an extremely competitive line-up.    
Continue reading
New sign-up date for Midnight Sun Dragfestival is July 7th, if you want to do it at www.dragracing.eu. But there´s also another alternative!
Continue reading
Just another week to go before last registration date is up for Mid Sweden Nats at Sundsvalls Raceway! July 11th is a date to remember if you want to race at this great facility at July 22-24th!
Continue reading
Just about a week left to last registration day for this fantastic event. Don't miss the date, July 9th!
Continue reading
If you can´t be at the track in Haapsalu, you have the opportunity to stream Estonian Drag Racing this weekend
Continue reading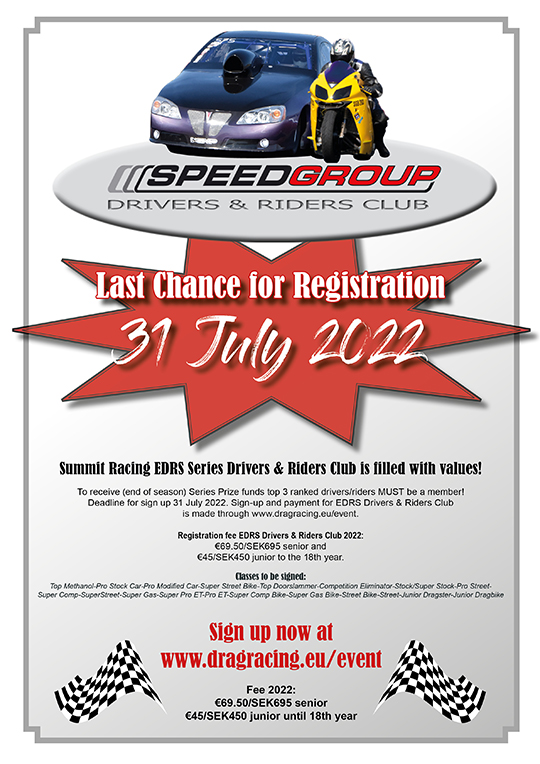 If You participate in the Summit Racing EDRS Series and want to get a chance for price money and other good stuff, You must be a member of Drivers & Riders Club!
Continue reading