Magnus Larsson, new player in Top Methanol Funny Car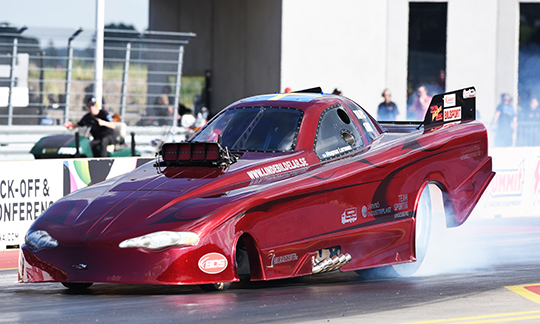 Magnus Larsson is the latest addition to the Top Methanol ranks. The driver from Lindesberg, Sweden, showed up at Tierp Arena with his beautiful shiny red Chevrolet Monte Carlo for the EDRS Sweden Nationals, his first race after he completed his licensing procedure last year.
Magnus Larsson prepared his operation and competition debut quietly and step by step. "I did my licensing runs at Sundsvall Raceway and Gardermoen. Now it's time to have my first race with the car," said Larsson. The Chevrolet Monte Carlo was originally owned and run by Martin Lundqvist in the days when he formed a team with the Leanders Brothers. Then the car went to Kjell Sjöblom, who repaired it after a crash but never returned to competition with it.
Now, in the hands of Larsson, the Monte Carlo has a special glittering metallic red paint job. "I made my licensing runs with the car with my old engine in it from the Nostalgia Dragster I ran the last couple of years. Now there is a new engine in the Monte Carlo." And looking at the injector on top of the blower, the three letters JLM make loud and clear where the engine is coming from. "Yes, it's from Jonnie Lindberg, and he will also be here at Tierp this weekend to help us with the tuning and set-up." And as he did with the whole operation, Larsson will do it step by step. "We will start this year with races in Sweden, Norway and probably Finland, and then we will see what happens next," said Larsson, who ran his Nostalgia Dragster at Santa Pod Raceway a couple of years ago.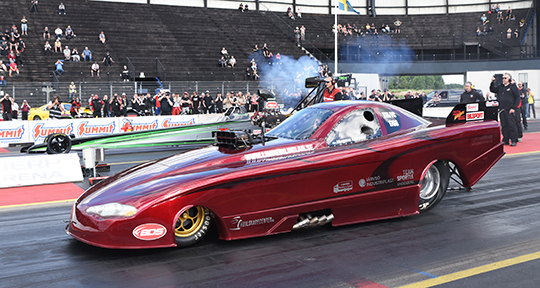 Larsson had a great maiden race with the Monte Carlo at the EDRS Sweden Nationals at Tierp Arena. In qualifying Larsson recorded 5.87 seconds and was the number four qualifier. In the first round of eliminations he improved to a winning 5.78 seconds, a new personal best. In the semi-finals Larsson had to face Jonnie Lagg. As the experienced Swede pulled a red light, Larsson advanced to the final in his first Top Methanol competition outing. In the final the Monte Carlo suffered severe tyre shake immediately after the start, so Daniel Jedborn took an easy win. But with a runner-up position in his first race, Larsson could still be happy.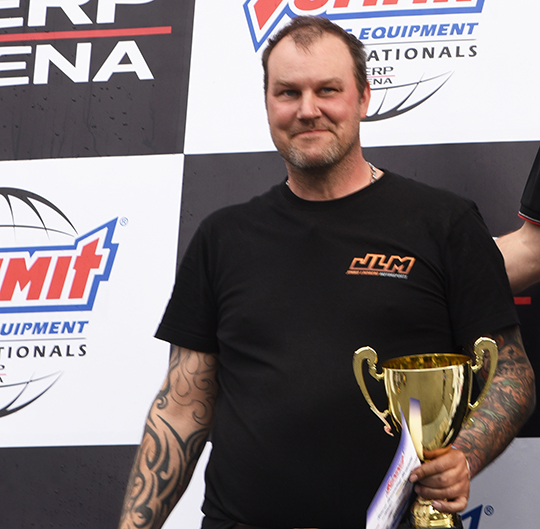 Things will get really serious for Larsson and his team in August. After the Drag Challenge at Gardermoen, the Swedish Top Methanol Funny Car rookie will have his maiden FIA race with the Summit Racing Equipment Internationals at Tierp Arena, round two of the FIA European Drag Racing Championship.
Text and photos; Remco Scheelings