Racers Page – FIA Championship
FIA Championship Racers page
Information relevant for participants  in the FIA European Drag Racing Championship.
In case you have questions to which you don´t find answers on this page, please contact the coordinator (see below)
---
FIA is the sanctioning body for the FIA European Drag Racing Championship www.fia.com

From 2o2o DRE Drag Racing Europe is assigned by FIA as promoter for the Championship. Emailadress news@dragracingeurope.org
Championship administration contact person:
Micke Gullqvist mg@speedgroup.eu (based in Sweden)
---
TECHNICAL REGULATIONS & CHAMPIONSHIP SPORTING REGULATIONS
Link to the page on the FIA:s website where the Sporting & Technical Regulations are published.
Please note it is every driver´s responsibility to seek information and to comply with the FIA Regulations when participating in the FIA European Drag Racing Championship. See the events calendar on a separate page at this website.
---
FIA CHAMPIONSHIP CATEGORIES  & REGISTRATION
Included categories:
FIA Top Fuel Dragster (TF)
FIA Top Methanol Dragster & Funny Car (TM)
FIA Pro Modified (PM)  
FIA Pro Stock Car (PRO)
To be eligible for any awards in the FIA European Drag Racing Championships (series or event) a FIA European Drag Racing Championship registration fee has to be paid each year to the Championship administration at the latest 30 days before taking part in any Championship round. This single fee is in the sum of €800 plus value added tax (VAT) if applicable*. The amount covers all rounds of the Championship (there are no options currently to pay for registration for part of the championship events). The FIA European registration fee is in addition to all normal race entry fees. A driver may compete in more than one FIA category paying one championship fee.
* Specification of registration fees:
FIA – Swedish VAT registered company – 1000€
FIA – VAT registered company within the EU –  800€
FIA – Company outside the EU – 800€
FIA – Private person incl 200VAT – 1000€
Registration and payment of the entry fee for the FIA European Drag Racing Championship is administered by Speedgroup.
Championship registration is handled via www.dragracing.eu  (opens in February)
Create a drivers profile, log in and select the "FIA European Championship" Registration in the list of events. Technical support for dragracing.eu can be reached by emailing support@dragracing.eu
Non-registered championship drivers may enter FIA Championship events but are not eligible for pay out of any event prize funds nor travel funds.
---
EVENT ENTRY FEE
The Event Entry Fee for the FIA categories is set to €260/event.
The fee is paid to each organizer. Entry procedure currently differs between organizers. Speedgroup is happy to provide information. Ticket allocation for each entry in the FIA categories is set to 10.
---
FIA COMPETITION LICENSE
Drivers must hold a FIA International Competition license valid for drag racing and specifically for the category of vehicle to be driven. It is applied for via the National ASN (motorsports federation).
---
ANTI-DOPING
Each driver is personally responsible for keeping updated and complying with the anti-doping regulations at all times. If you are a driver or rider active in the FIA championship or just interested to learn more, please take a moment to study the information provided at the FIA website to make sure You are not using any substances that are prohibited or need to be notified to FIA by the use of a Therapheutic Use Exemption Application Form (referred to as TUE).
You will find all you need to know incl the TUE Application Form here: http://www.fia.com/anti-doping
---
NAME & NATIONALITY DISPLAY ON VEHICLE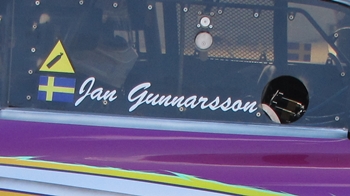 Each driver shall display his/her name together with a decal of his national flag on each side of the drivers' compartment on his racing vehicle (example shown below)
---
FIA LOGO DISPLAY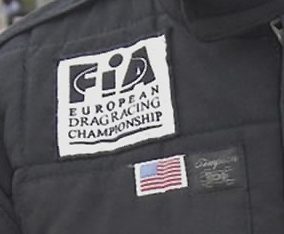 On the drivers suit: Each driver must display the FIA European Drag Racing Championship logotype in chest height on the right hand front side of his driver's suit. Minimum size 80 x 80 millimeter
All registered FIA Drivers is provided an embroidered FIA-logo patch free of charge by Speedgroup. Also available to collect from Speedgroup staff at any championship events.
FIA LOGO FOR EMBROIDERY DIRECT ON THE DRIVERS SUIT
If You wish to embroid the FIA logo onto your drivers suit,
Speedgroup can provide an embroidery file free of charge (normally cost around €80-100 to produce one). The file can be used direct in most type of embroidery machines – the file provided is Tajima format (.dst)
FIA LOGO DISPLAY ON VEHICLE


Each driver must display the FIA European Drag Racing Championship logotype each side of his racing vehicle.
Minimum size 120 x 120 millimeter
Placement:
– for Dragsters on the outside bottom rear corner of the rear wings spill plates
– for Funny Cars on the outside upper rear corner of the rear wings spill plates
– for Pro Stock and Pro Modified Cars on the rear quarter panel.
All registered FIA Drivers are provided FIA-stickers for the race cars free of charge by the FIA Championship administrator Speedgroup. Request stickers from  mg@speedgroup.eu
For high resolute FIA Logos that can be used for print in big formats (for display on transportation vehicles etc.) please request a file via email to the above adress.
---
FIA COMPETITION NUMBERS
Each driver must have a current FIA European Drag Racing Championship competition number and  display it on the car car. To indicate which class an FIA race car belongs to the competition number is accompanied by an abbreviation code for the class (see top of this page after the class name)
HOW TO REQUEST AN FIA COMPETITION NUMBER (NON TOP10)
Please, contact Speedgroup via email for information and assistance. mg@speedgroup.eu
RACE NUMBERS 1-10 in the FIA European Drag Racing Championship 
The race numbers 1-10 is on loan to drivers based on the final ranking based on championship Points the previous season. Riders who was ranked top 10 shall display their ranking number on their car (well visible) when participating in any FIA European Drag Racing Championship events 2020, instead of their regular race/start number.
Drivers not ranked 1-10 or who did not participate in the 2019 championship shall use their regular race number.
---
FERRY DISCOUNTS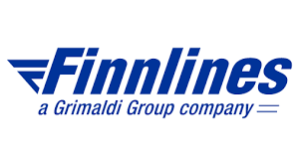 SPEEDGROUP have an agreement with Finnlines for discounted transportation between Finland-Sweden (Kapellskär-Nådendal both directions) and also on the route Germany-Sweden (Malmö-Travemünde both directions)
For bookings and rates inquiries for any of the contracts – Contact Finnlines!
Call center telephone: Finland +358(0)9-23143100  within Sweden 0771-340900
email: passenger@finnlines.com
Times schedules can be found at:  www.finnlines.com

Teams active in the Championship can request the contract code from Speedgroup:  mg@speedgroup.eu
---
For info on  discounts for crossings over the British Channel with DFDS, please check the website of the organising club Santa Pod Racers Club
---
CONTACT THE ORGANISERS – SWEDEN
Tierp Arena/NDRS Motorclub:
Kjell Pettersson kjell@kazock.com
Event entry to be made via www.dragracing.eu
---
CONTACT THE ORGANISERS – GREAT BRITAIN

Santa Pod Racers Club – Ian Marshall Santa Pod Racers Club
Contact: ir.marshall@btconnect.com Tel SPRC office: +44 (0)1933 – 313625
Event entry forms for download on Santa Pod Racers Club´s website:
Link to website Santa Pod Racers Club
---
CONTACT THE ORGANISERS – GERMANY

HockenheimRing/Badischer Motorsport club (BMC):
bmc@hockenheimring.de
Contact: Sabine Tesseraux Tel BMC office: +49 (0) 6205 – 950 170
Event entry forms to be sent by regular mail. Forms to be published at www.nitrolympx.com Racers Pages
---
DO YOU HAVE NEWS TO SHARE?
If your team have official news to share, Speedgroup will be happy to publish it on the FIA Championship website and Facebook group. Remco Scheelings is Speedgroup´s assigned media officer for the FIA European Drag Racing Championship. email remco.scheelings@speedgroup.eu
---
FIA EUROPEAN DRAG RACING CHAMPIONSHIP ON FACEBOOK
Facebook: https://www.facebook.com/FIAdragracingchampionship
---
TEAM SHIRTS
Speedgroup´s preferred supplier for team apparel is US based Classic Graphix (the shirts are produced in the US).
Price example: Artwork and set up: $150.00 6-12 shirts: $85.00 each, 13 or more: $75.00 each. + $3.00/pc for 2X and 3X.
(different options materials and models)
website: www.classicgraphix.com
Contact person for inquiries and orders: Scott Bathurst (owner) scott@classicgraphix.com
---