Swedish adventure for Vegter Pro Mod Racing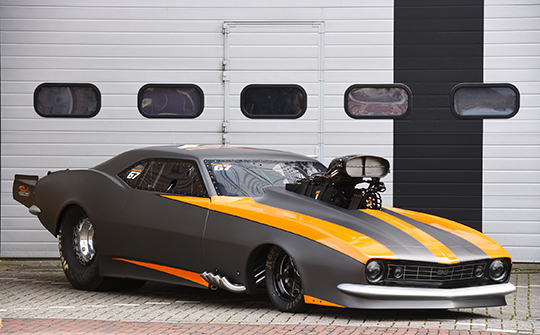 They have been well prepared and ready to go for quite some time, but now it's finally time for action. In two weeks Vegter Pro Mod Racing will travel to Sweden to make their first runs of the season at the Summit Racing Scandinavian Nationals at Tierp Arena. The new coloured and updated Vegter Pro Mod Racing '67 Chevrolet Camaro is ready to go for some quick elapsed times at the Swedish track. "Finally, after 23 months it's time for some action again. We've really missed this," said a happy David Vegter.
After the 2020 FIA European Drag Racing Championship had to be cancelled as a result of the coronavirus pandemic, Vegter Pro Mod Racing focussed on the 2021 season. But due to the travel restrictions and the uncertain situation with the pandamic, four promoters of the scheduled six FIA European Championship races cancelled their events, with the result that once again the most important championship in European drag racing was called off. Although without an official European championship status, the Summit Racing Scandinavian Nationals at Tierp Arena, Sweden, and the European Finals at Santa Pod Raceway, England, were the only two events that remained on the calendar.
David Vegter and his team will seize this opportunity with both hands as it is the only way to make some runs this season. In two weeks Vegter Pro Mod Racing will travel to Sweden to compete with several European top Pro Modified teams. At this moment there are almost 15 Pro Mods entered at Tierp. Although it's not a championship race, it's a great opportunity to make some runs on a well prepared and great track and a perfect preparation for the 2022 FIA European Championship. "We also want to go to the European Finals at Santa Pod, but that all depends on the COVID-19 travel restrictions at that moment," said Vegter.
The Summit Racing Scandinavian Nationals will be held from August 12th to August 15th, but Vegter Pro Mod Racing will leave for Sweden a week before the start of the event. Prior to the race the team will pay a visit to European Pro Modified record holder Andreas Arthursson's company PPF Racing. "PPF have a test facility capable of simulating the whole run over the quarter mile, including shifting through all the gears. "It's a great way to collect data and to find a good set-up without having to make many expensive runs at the track," said Vegter, who is looking forward to his stay at the test facility that has been visited by many extreme European drag racing cars. "At Tierp we want to test some more things and record some great numbers."
It's loud and clear that Vegter Pro Mod Racing want to test their 3,000 hp '67 Chevrolet Camaro in race conditions. At the end of 2020 the team revealed their new design, but maybe even more important, inside the Camaro so many parts have been updated that it is essential to test the car in preparation for a busy 2022 FIA European Championship. And after two years without a run, Vegter will also have to get used to driving the 3,000 hp Camaro down the track. Vegter claimed the third position in the 2017 FIA European Championship, his best result so far, and finished in fourth position in 2019. With his personal bests of 5.804 seconds at 398.8 km/h, Vegter is one of the quickest and fastest Pro Modified drivers in Europe. Vegter is also the track record holder at Alastaro and Kauhava.
For many years, Vegter Pro Mod Racing have worked with the Dutch, Dronten based, company Post & Dros Performance Parts, the European distributor for leading brands like Racepak. Vegter Pro Mod Racing will take a wide range of Racepak parts with them to Tierp Arena. For teams that ordered parts with Post & Dros, it's also possible for Vegter to take these parts with him to Tierp. Teams can contact Post & Dros for this service. Vegter Pro Mod Racing are also on Instagram as vegterpromodracing and Facebook as Vegter Pro Mod Racing.