Dragracingdrivers awarded at Swedish Bilsportsgalan 2017
The annual Bilsport gala for achievements, this year held in Gothenburg, was gathered to award winners and runner ups in the National and FIA 2017. A lot of prices was handed out during the great gala dinner, where many well-known faces from our dragracing family was present for a fun and nice evening.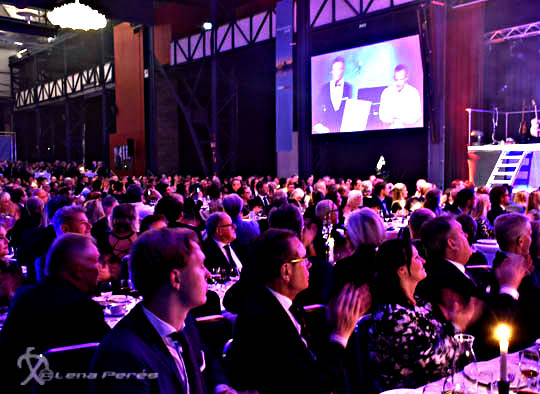 During the big gala, with over 900 dinner guests, the FIA dragracing drivers as well as Junior Dragster driver Oskar Norling was awarded. Oskar was 2017 Bilsport Award Dragracing Junior driver and FIA Pro Stock Champion Bengt Ljungdahl was elected 2017 Bilsport Award Dragracing Senior driver.
The winner of the FIA Dragracing Championship in the Pro Modified class, Michael Gullqvist and Bengt Ljungdahl in Pro Stock was given their respective Winner trophies. On top of that and as a tribute to the growing number of top entries more drivers were asked to join the winners on stage to receive cheers and ovations for their achievements during the 2017 racing season from all guests.
Mikael Kågered, third in the Top Fuel series after runner up Anti Horto from Finland and Duncan Micallef from Malta, the 2017 Top Fuel Champion.Jonny Lagg also ended up on third spot but in the Top Methanol class, after the winner Timo Habermann and Timo's brother and Runner Up Dennis Habermann.
Jimmy "Jimma" Ålund, joined the group on stage together with team owner Magnus Petersson. The "Old 51" – 2017 Runner Up after the close to impossible Michael Gullqvist in the Pro Mod class. But for the upcoming season Jimma tells us they're going chase Gullqvist harder than ever to take the title from him. But look out – there are more racers to watch out for, 2018 season will be an exciting one to follow.
Well known guests at the gala dinner. From left FIA clerk Helene Rapp, Speedgroup CEO Åsa Kinnemar, Speedgroup board member Kjell Pettersson and Janet Svensson from Bilsport Magazine
During the day activities and price giving ceremony, the top three drivers in the 2017 Swedish Championship of Pro Modified, Competition, Stock/Super Stock and Jr Dragster got their gold-, silver- and bronze medals.