Top Fuel Dragster
The FIA European Top Fuel Championship will have a new champion this season. The bad news is that reigning champion Antti Horto will not defend his title, but the good news is that the Finn will be at both Tierp Arena events with two goals, to win and break ET records!
Continue reading
Duncan Micallef made headlines in 2017 by claiming the FIA European Top Fuel Championship, being the first driver from Malta to achieve this great sporting goal. For his great achievements in the sport, Micallef was crowned 'sportsperson of the year' in Malta for both 2016 and 2017 as well. After the 2018 season, Micallef, Rune Fjeld Motorsport driver for many years, took a break from the championship. This season the popular Maltese Lion is back. Micallef will make his comeback at The Main Event and will compete in three of the five FIA European Championship rounds.
Continue reading
Great news from Denmark! After a 3-year break, Stig Neergaard is back in the FIA European Drag Racing Championship. The veteran Top Fuel racer, who finished in the top five of the title race so many times, wants to have some fun again. "We still have an awful lot of work to do on the car, but we will do everything we can to be ready in time for The Main Event," said Stig Neergaard about his comeback.
Continue reading
Today, European Top Fuel Record Holder Ida Zetterström announced a new global partnership between Edelbrock Group and KW Parts (Klintberg & Way Group) to support her efforts in winning the FIA Championship driving for RF Motorsport. Edelbrock Group helped Zetterström in her successful first FIA Top Fuel season in 2022, where the team became the first to clock a 3.7-second pass in Europe and picked up their first FIA event win together at Tierp Arena in Sweden.
Continue reading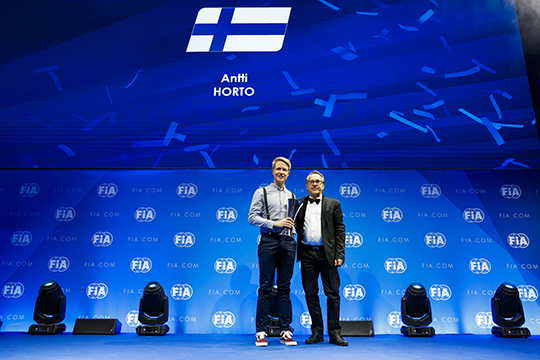 Last week the FIA World Motor Sport Council gathered in Bologna, Italy, for the final 2022 FIA Annual General Assembly. Highlight of the meeting was of course the official FIA Prize Giving Ceremony on the Friday evening. During this annual gala all FIA champions received their FIA trophies. One of them was 2022 FIA European Top Fuel champion Antti Horto.
Continue reading
The Maltese Lion is ready to rumble again! After a one year break, Duncan Micallef will be back in action in the FIA European Top Fuel Championship this season. The 2017 FIA European champion will not be able to do the full tour, but will definitely be at The Main Event, the NitrOlympX and the European Finals. Micallef will get his first taste of nitro at the Festival of Power. The Maltese Lion will feel comfortable very soon as he will run his familiar red 2017 championship winning RF Motorsport car again. Continue reading →
After a 14-year break from the FIA European Top Fuel Championship, Susanne Callin made her comeback last season to see if the feeling was still there and if driving a Top Fuel car was really what she missed so much in all those years. Everybody knew the answer in advance and as expected, after only two runs there was the confirmation. As a result, the comeback is definite and Callin will do the full FIA European Top Fuel Championship in 2020! "Testing days are over and I am all in!" said a determined Susanne Callin. Continue reading →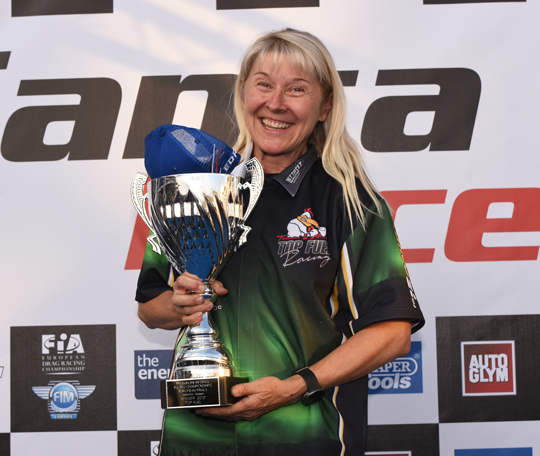 As the reigning champion, Anita Mäkelä was challenged several times this season. But with four race wins, one runner-up position, numerous 3-second runs and only losing two elimination runs out of six events, Mäkelä claimed her second consecutive FIA European Top Fuel title and her fourth in total. The Tommi & Anita Top Fuel Racing dragster will bear that number 1 with pride again in 2020 and the team will do everything they can to repel all the attacks of the up-and-coming competition. Continue reading →