Top Fuel Dragster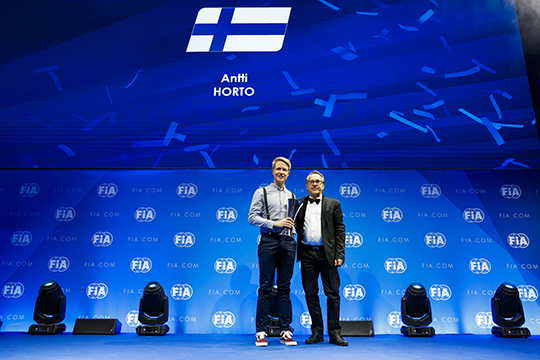 Last week the FIA World Motor Sport Council gathered in Bologna, Italy, for the final 2022 FIA Annual General Assembly. Highlight of the meeting was of course the official FIA Prize Giving Ceremony on the Friday evening. During this annual gala all FIA champions received their FIA trophies. One of them was 2022 FIA European Top Fuel champion Antti Horto.
Continue reading
The Maltese Lion is ready to rumble again! After a one year break, Duncan Micallef will be back in action in the FIA European Top Fuel Championship this season. The 2017 FIA European champion will not be able to do the full tour, but will definitely be at The Main Event, the NitrOlympX and the European Finals. Micallef will get his first taste of nitro at the Festival of Power. The Maltese Lion will feel comfortable very soon as he will run his familiar red 2017 championship winning RF Motorsport car again. Continue reading →
After a 14-year break from the FIA European Top Fuel Championship, Susanne Callin made her comeback last season to see if the feeling was still there and if driving a Top Fuel car was really what she missed so much in all those years. Everybody knew the answer in advance and as expected, after only two runs there was the confirmation. As a result, the comeback is definite and Callin will do the full FIA European Top Fuel Championship in 2020! "Testing days are over and I am all in!" said a determined Susanne Callin. Continue reading →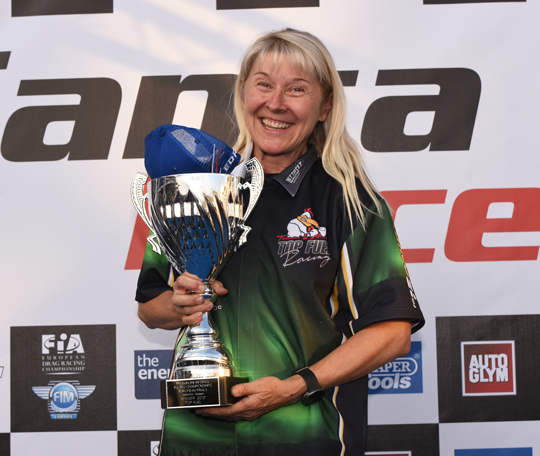 As the reigning champion, Anita Mäkelä was challenged several times this season. But with four race wins, one runner-up position, numerous 3-second runs and only losing two elimination runs out of six events, Mäkelä claimed her second consecutive FIA European Top Fuel title and her fourth in total. The Tommi & Anita Top Fuel Racing dragster will bear that number 1 with pride again in 2020 and the team will do everything they can to repel all the attacks of the up-and-coming competition. Continue reading →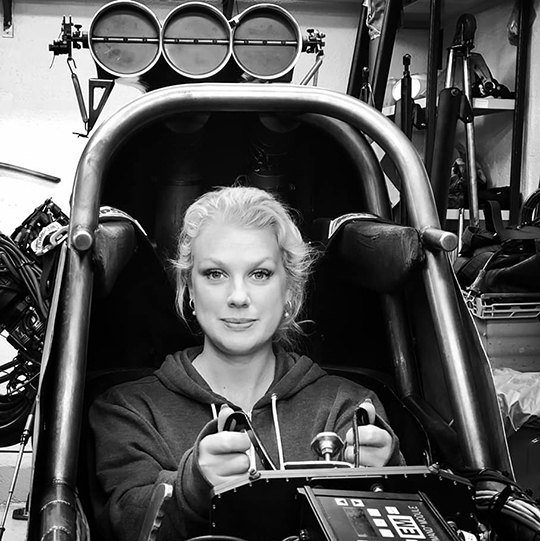 Veronica Olderin is the latest and more than welcome asset to the FIA European Top Fuel ranks. The name of this Swedish racer will not immediately ring a bell for most of the European drag racing followers, but for the fans of powerboat racing, that will be totally different. Olderin won several titles and the 2015 World Championship in the 3B category of powerboat racing, and if Olderin and her team have their way, the drag racing world will soon know her as well. Continue reading →
Seventeen years after her debut in the Top Fuel category and fourteen years after she had her last race in the FIA European Drag Racing Championship, Susanne Callin is back where she wants to be, behind the wheel of a Top Fuel car. At the Festival of Power, Callin made the first test runs to get used to the power again and to be well prepared when the lights turn green at The Main Event, round one of the FIA European Drag Racing Championship. "There is nothing that is even close to the feeling of being in one of those storming cars, which is something I definitely have missed!" said Callin about her fast approaching comeback. Continue reading →
"The last time I made a public announcement about my racing, it was to say that I had cancer, which had forced me to take a step back. While I'm not completely out of the woods yet, I'm fortunate that my health is currently good, at the moment I'm cancer free and can get on with life again," said Tethys about his comeback in the Top Fuel category of the FIA European Drag Racing Championship. Continue reading →
The 2019 drag racing season is very close and Team Mäkelä is preparing their gear. Tommi and Anita made a quick visit to Borlänge and ME Racing Service for updating wings and a chassis.