The dream season of Ida Zetterström
The 2023 FIA European Drag Racing Championship is in the books and it's time to look back with the champions, to start with FIA European Top Fuel champion Ida Zetterström. And what a dream season it was for the popular driver from Åland, Finland.
Ida Zetterström, driving with a Swedish licence, got off to a flying start of the 2023 FIA European Drag Racing Championship with a win at the season opening Main Event, resetting both sides of the European record with 3.773 seconds at 321.01 mph, taking the lead in the championship and what we can say now, never looked back.
Driving the no 94 RF Motorsport car Zetterström claimed the win at the NitrOlympX and the European Finals, thus won all three of the five races that were completed to the end this season. At the Tierp Internationals Zetterström was still in the race when rain brought an early end to the event, and the only round she lost was at the Summit Racing Equipment Internationals at Tierp Arena when she was defeated by outgoing FIA European champion Antti Horto. As a result, with one race to go, Zetterström's first FIA European title in what was only her second season in the quickest and fastest category of the sport, was 99% safe. One qualifying pass at the European Finals and the mission was completed.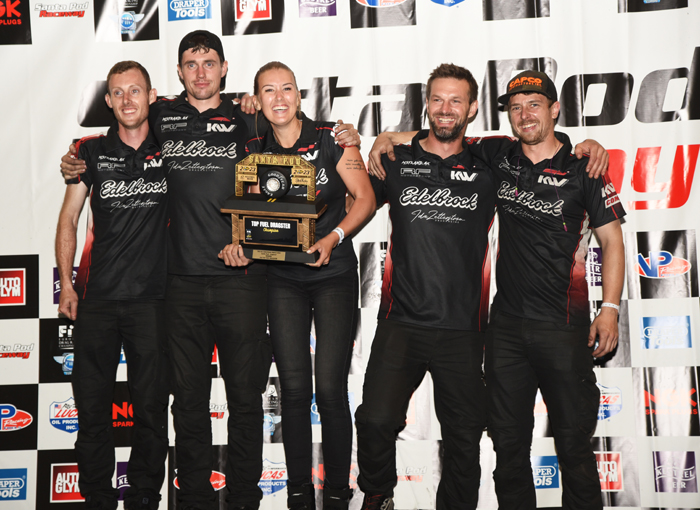 You won your first championship. How do you look back at last season?
I definitely look back with pride and a lot of happy memories. I feel incredibly proud of my RF Motorsport team the season we pulled off. The performance we have shown this year; losing only one round all year, numerous No. 1 qualifiers, running consistently, taking home the European records for both speed and ET and the overall championship victory have been more than I had ever expected in my second season, but it just shows how hard we all have been working and how strong our teamwork is.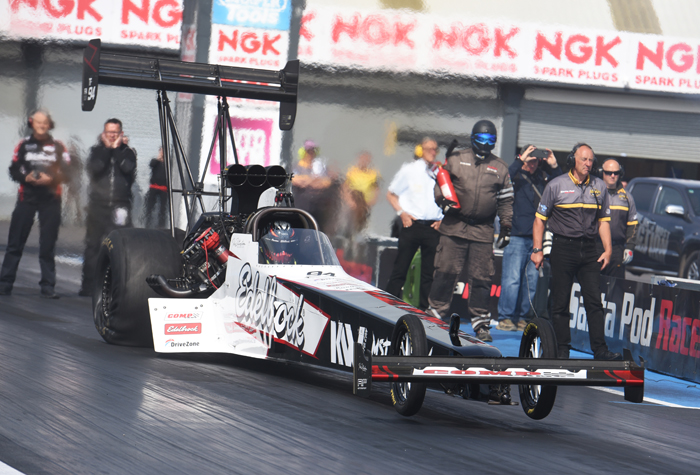 What was your best race?
For me the best race was The Main Event at Santa Pod, not only since we set both European Speed & ET records in the semifinals, and then went on to win the event, but also for two other reasons;
The first being that we came into that event having struggled getting down track at the last race in 2022 and also in pre season testing 2023. Starting of The Main Event we continued to struggle all day Friday, but no one in our team ever doubted our program, tried to put blame on anyone, or in any way lost hope. We all knew it was just a matter of time before we got it right. I just remember saying to anyone that asked "just wait, we will get it and when we do, it will be really fast" – and that's exactly what happened.
The second reason was the "comeback" performance we showed on raceday winning E1 with a new PB in speed of 317.75 mph and a 3.805 ET, winning the semifinals with two new European records of 3.773 at 321.01 mph and then taking home the final with a 3.803 ET. The special thing with this was that all these 3 ETs are 3 of the quickest ever in Europe, together with our 3.78 from 2022 we then held the 4 quickest times in history. This was pointed out to me after the event and in my opinion it really showed what form we where in and it felt like an incredible start of the season.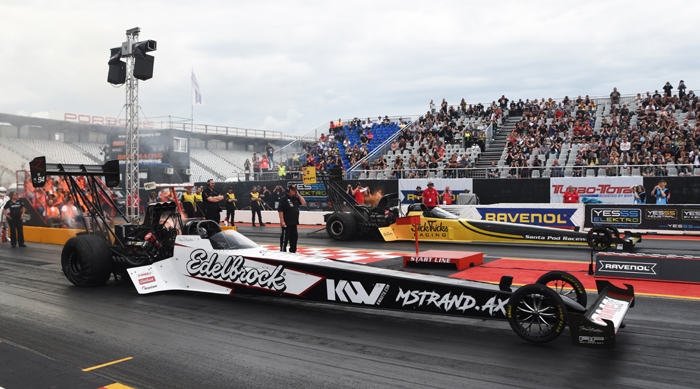 What was the most important race for winning the title?
The NitrOlympX for sure! Before the semi finals at this event I was probably the most nervous I've ever been in Top Fuel competition. We where racing Susanne Callin and the Slick Tricks team, who were second in the point standings. I knew that if we would win that round, we would create a gap that would be hard to beat going into the last event of the season. We got it done, leaving the line first and staying ahead all the way to the stripe.
The final round of the event was a huge round too as we had the opportunity to secure a 100 points lead for the finals and that would give us a really comfortable lead that in theory would be pretty much unbeatable. We did the same thing as in the semis in a real tight race – leaving the line first and keeping in front all the way, running low ET of the event with a 3.92 against Jndia Erbacher's 3.93. This was a huge team effort and a huge win!
Most proud of in 2023?
My team and the partners we have around us. I can't give enough credit to my team and the hard work they have put in all year. It is not only the work we all see at the track that makes this happen, it is all the hard work in the workshop and the teamwork of keeping together and looking out for each other that creates results like this.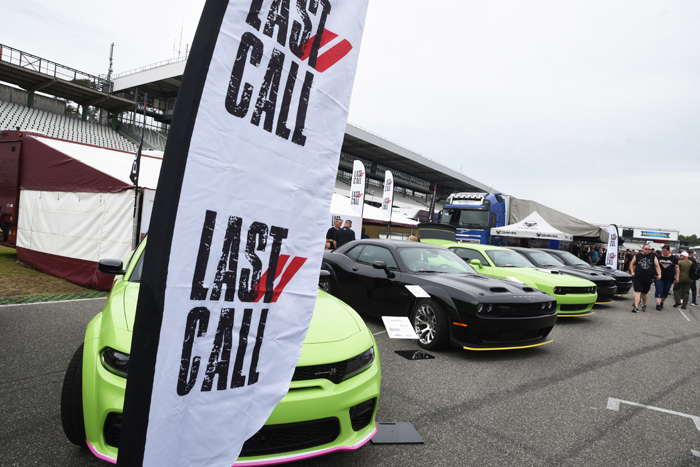 I have some really great partners around me, many of them for several years, but I've also been very proud to be working with new partners like Edelbrock Performance, Comp Cams, KW Group and Dodge this year. I feel like we have created so much together this year and the event at Hockenheim where we hosted a big meeting for KW customers and also displayed 6 impressive last call model Dodges in our pit was one of these special events that I felt extra proud of this year.
Toughest moment of the season?
Thoughest moment was probably pre season testing where we didn't get any clean runs down the track. Going into The Main Event I had basically not made a clean pass down the track in nine months. As a team we didn't change our mindset and everyone kept working towards the same goal, but as a driver I think I put some extra pressure on myself going into the first race of the year. But it seems like we work well under pressure.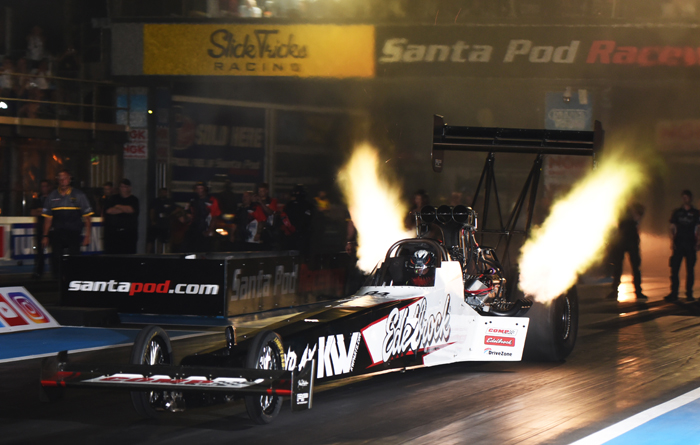 Toughest competitor in 2023?
Second in points was Susanne Callin, so of course her and her team were definitely up there, but we also had several tight races against Jndia Erbacher and her team, so that was some great racing. And then of course Antti Horto is always a tough competitor when he comes out and we did see our only round loss of the season against Antti at Tierp.
How where the reactions after winning the title?
Of course it was a dream come true, but I would say the initial reaction was a little delayed. The official title win came after Q1 at the European Finals and that was a round where we instantly spun the tires and coasted down the track. We knew we had sealed the championship win but we didn't really celebrate it or reflect much on it after that pass. We celebrated after we won the event Sunday night instead, then it felt like we really had "completed it" and had even more reason to celebrate.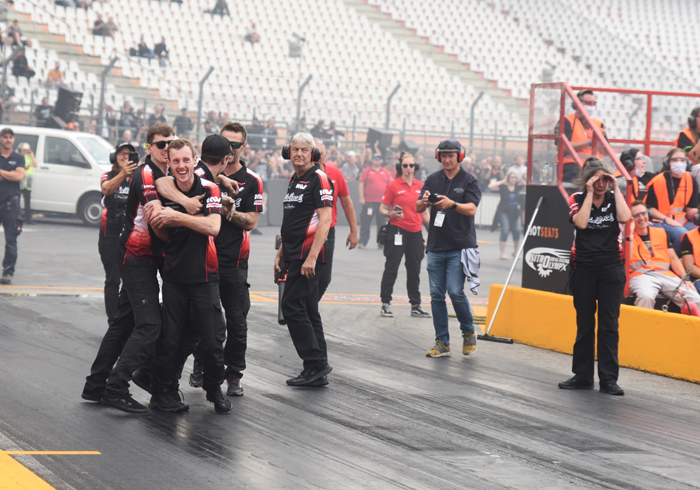 But the reactions from the team were obviously that we are really proud of our performance and also a feeling of relief to get to finally "seal the deal" after being the team the others had chased all season, it has definitely felt like we have had a target on our back most of the year, haha.
People/companies you want to thank?
Well, first of all my great team – Rune & Lindsey, Kim, Luke, Harry and Jon. But also my mom and dad and Åke & Susanne Granholm who helped out with my merch sale and the hospitality at many of the events. Then of course my great partners, Edelbrock Group have been a huge support this season and it has been an honor to work together with them. It was the first year we partnered up with Klintberg & Way group and this season has already been a great success together.
Working with Dodge, getting to represent them and my new 2023 last call Hellcat has been something of a dream come true for me and having different RAM trucks with us at every race has been great too. And of course Mstrand.ax, Mekonomen Åland, the DriveZone and Knegarn have all been a great part of our success and I'm very proud of working with them all.
Plans, goals and expectations for 2024?
To keep the momentum going and try to use this seasons performance as a stepping stone to even bigger things. I always wanna get better as a driver and the goal is to drive even more if we have the chance to. I can't say more than that and since we don't have a schedule for next season yet, it is hard to know what we are planning for yet, but what I can say is that the off season is definitely no time for sitting around and relaxing – I'm working really hard to make sure that next season is going to be a great one.
Photos: Remco Scheelings