Andres Arnover to unleash Mustang turbo power in FIA European Championship
If he can start the season with the numbers he recorded on his last run of the 2022 season, Andres Arnover will be a happy man when qualifying for The Main Event is over. But the driver from Estonia is looking for more and wants to improve on his number three position from last year in the FIA European Pro Modified Championship.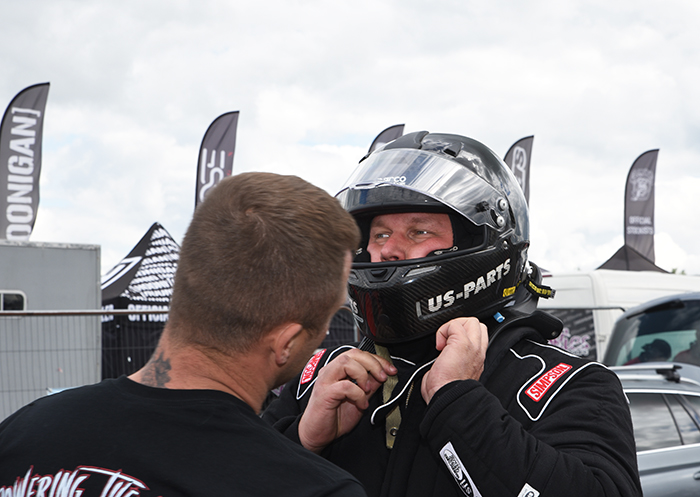 There are not so many dragracers from Estonia racing in European competitions. Andres Arnover is one of them and for many years has been a force to be reckoned with. He reset records with his turbo Ford in Competition Eliminator, before stepping up to the next and highest level in doorslammer racing, Pro Modified.
Due to the coronavirus pandemic, Arnover had to debut his new red turbo Mustang in a non FIA European Championship race at Tierp Arena in August 2021. Arnover stunned with a 5.88-second pass, but it was also a fiery entrance in the class as the car caught fire and suffered major damage.
But setbacks are there to be overcome and when the 2022 FIA European Championship kicked off with The Main Event, Arnover was back. The Mustang with Proline 520 ci AJPE Hemi engine, Precision turbos and M&M TH400 transmission and converter started the season with a semi-final finish. The runner-up finish at the NitrOlympX was Arnover's highlight of the 2022 season. That highs and lows can follow each other very quickly was proven once again on the Sunday of the European Finals. Arnover suffered problems in the first round and was out of competition, only to reset his personal bests to 5.84 seconds at 252 mph a few hours later in a test run. In the final points standing of the FIA European Pro Modified Championship Arnover finished in third position.
This season Arnover is back for a second full FIA European Pro Modified Championship tour. It will be a very busy season. "We will start the season with some test runs in Hudiksvall, Sweden, this weekend. Next up is The Doorslammers at Santa Pod, before the FIA European Championship kicks of a week later with The Main Event. There are no major changes to the car, we only refreshed everything. Last season was a learning year to find out what the car liked, and on that last run we found it. We ran 5.9 seconds numerous times last season, but that 5.84 seconds felt great, especially because it was with a soft setup. We hope to see a 5.7 second pass very soon," said Arnover. The Mustang will once again be tuned by Janis Piiritalo with assistance from Andreas Arthursson.
Drag racing is popular in Estonia, thus Arnover will also race a programme in his home country. "I have a second car, a 1989 Pontiac Trans Am with a 565 Shafiroff nitrous engine and FuelTech FT550 ecu. We compete in the Outlaw 7.5 index class and will do four races. It's a crazy schedule, but I like it."
Text and photos: Remco Scheelings