US racing business visited Stockholm in The SEMA Nordic program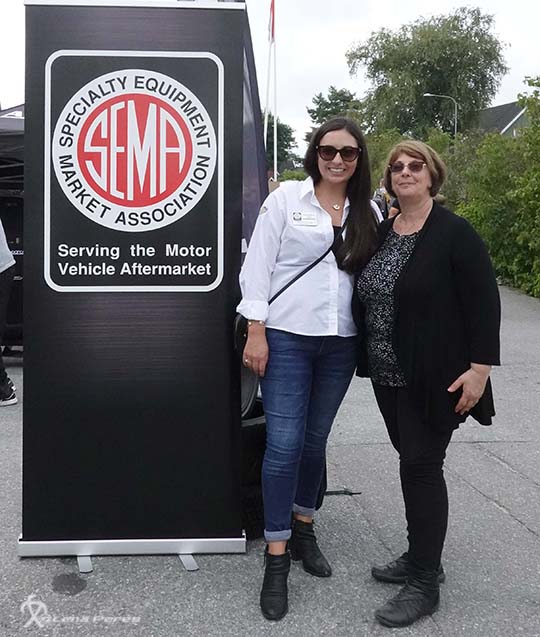 Five August days filled with activities, when SEMA Nordic program took place in Sweden. Wednesday began with opening dinner and trade buyer's panel. Then the days continued with meetings between American and Scandinavian racing companies. A successful arrangement in all matters organised by Linda Spencer, SEMA Senior Director of International and Government Affairs and her co-workers.
The following days was filled with numerous interesting visits to several racing companies close to Stockholm, as for example PPF Racing in Krylbo and Brinkens Garage in Hallstahammar. Friday evening dinner took place at Hard Rock Cafés veranda, where all guests had a great street view over the last Friday Cruising of the year in Stockholm. A great happening with lots of nice cars passing by during the dinner meeting.
Saturday offered the SEMA Nordic visitors a chance to exhibit their products at The Big Hansen Day, this year organized together with SEMA Show. The US companies got a good opportunity to present their products to all visitors and have a closer look to all nice vehicles that showed up at Hansen Racing in Spånga Stockholm.
-We are amazed about all the knowledge and high tec racing industry we have seen here, was one of all positive comments from the visitors. PPF (Pure Performance Factory) among others is an amazingly high-tech company that would be great to see at the SEMA/PRI shows.
This was the first meeting in Sweden of hopefully many to come. The exchange between Scandinavia and USA, when it comes to racing- hot-rod-and bike parts is big business. And this is a very good opportunity to make new contact and good business partner, as well as new friends.
– It has been a busy but great time to be here, said organiser Linda Spencer SEMA Senior Director of International and Government Affairs. And we hope to get back next year again.