FIM-E Dragbike championship, NitrOlympX, Sunday, Rico Anthes Quarter Mile, Hockenheim, Germany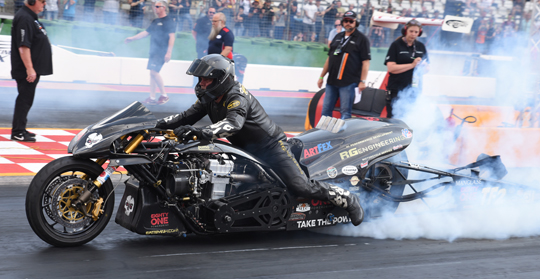 Despite a weekend presaged by some doom and gloom about the potential impact of the weather, the 35th edition of the NitrOlympX ran through to a successful conclusion on Sunday.
FIM-E Top Fuel Bike
Rikard Gustafsson prevailed over the four bike field continuing his low six second consistency over the weekend to the very last and easily covering final round opponent Rene van den Berg with a 6.089/246.53 to a wayward 6.586.
With the event win the Swede adds a fourth NitrOlympX title in a row to the expanding trophy cabinet at RG Engineering in Falkenberg and will be looking to head off van den Berg in the points chase at Santa Pod in a couple of weeks' time.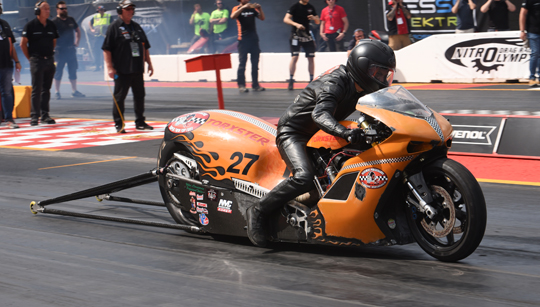 FIM-E Super Twin Bike
Like Gustafsson in Top Fuel, Marcus Christiansen dominated the Super Twin field and would have been odds on to set low ET of each round of eliminations had he not received a bye in the opening round of eliminations. With that out the way a 6.380/211.82 accounted for Roman Sixta (the Czech rider bouncing back from a hideous crash in Finland last year) and then Samu Kemppainen with a 6.352/205.41 in the trophy runoff.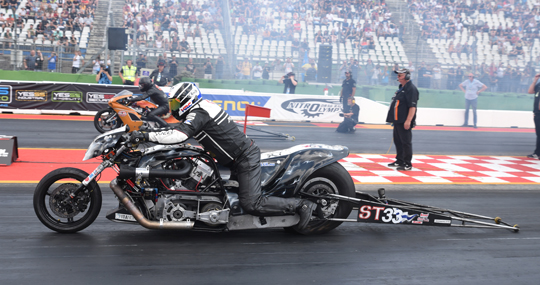 With Martijn de Haas falling to Kemppainen at the semi-final stage and a paucity of entries at the European Finals, we're pretty sure that Christiansen will have a firm grasp on his third FIM-E championship in a row.
FIM-E Pro Stock Bike
The Pro Stock Bike ladder saw some head scratching throughout, with Bertand Maurice going out from pole position when his mount died off the start-line allowing alternate Aswin le Noble to take his first FIM-E win light. On the bottom side of the ladder, Martin Newbury and Charalambos Bousinis synchronized their stumble off the line and started a push race to the finishline that saw overly zealous assistance from the track crew meaning Newbury's effort to there first came to naught.
Skipping over all of that, the trophy match up was between Pavlos Sidiropoulos and a rejuvenated Karl-Heinz Weikum with the latter adding his second FIM-E event win in front of his home crowd with a 7.323 low ET of eliminations.
FIM-E Super Street Bike
Jake Mechaell looked to be odds on to take his first NitrOlympX title when he hit a 6.964 and a 6.891 in the opening two rounds of eliminations to put him in the final against Mathias Bohlin who had qualified behind Mechaell yesterday.
Bohlin journey through the lower half of the ladder came with a 6.996 (over alternate Steve Wood, the British veteran in his last appearance at the NitrOlympX) and Dániel Donát Lencsés with a 7.1 over a spinning nine second pass from the Hungarian. Lencsés appeared to have overcome his repeated woes with class best numbers 6.796/219.40 to take out Mogens Lund's 7.012 in the match up of the opening round before the off the line slippage reappeared in the semis. The spinning blues then descended on Mechaell in the final who slowed to a 7.9 while Bohlin's 7.0 lit the win light.
The Swede will be at the Euro Finals and in with a championship shout despite being an event down on a lot of the field.
FIM-E Junior Drag Bike
Hollie King worked her way through the Junior field defeating a breaking out Geeuwke Siersema in the final to pick up her second event win in succession and looks to have a lock on her first Junior Drag Bike Cup title going into the final event at Santa Pod in a couple of weeks time.
Words Ivan Sansom, Photos Remco Scheelings
Qualifying sheets and eliminations ladders will be available here: https://www.dmsb-sport.de/35_Nitrolympx_2022_FIA_DMSB_12490/TW_ON_Virtueller_Aushang.php?AUSWAHL_AUSHANG_ART_ID=6&AUSWAHL_PRAEDIKAT_ID=