Antti Horto, Daniel Jedborn, Mats Eriksson and Jimmy Ålund number one qualifiers at Tierp Arena
In his last run of the day Antti Horto stormed to the lead in Top Fuel qualifying for the Summit Racing Equipment Internationals at Tierp Arena, round two of the FIA European Drag Racing Championship. In Top Methanol, Pro Modified and Pro Stock there were also numerous improvements, but Friday leaders Daniel Jedborn (Top Methanol), Mats Eriksson (Pro Modified) and Jimmy Ålund (Pro Stock) remained the number one qualifiers and will lead their respective categories into Sunday's eliminations.
It was loud and clear that the teams were used to the warm weather and great track conditions at the second day of qualifying for the Summit Racing Equipment Internationals at Tierp Arena. In almost all categories there were many improvements and changes in the positions, and as a bonus, in all categories there is hardly any difference in the ETs of the top four or five qualifiers. A guarantee for an action packed day of eliminations.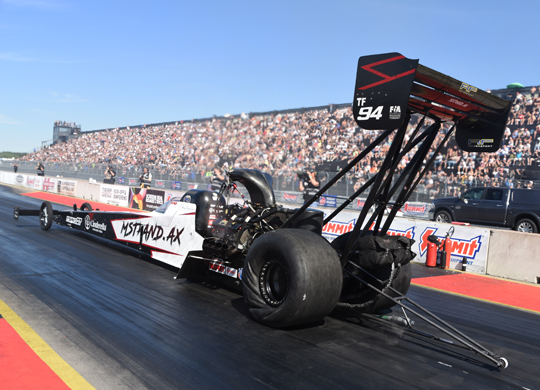 In his last run Antti Horto from Finland stormed to a great 3.88 seconds to claim the number one qualifying position. Friday leader Ida Zetterström was on a great run, but lost traction half-track. Zetterström's Friday ET of 3.89 seconds was enough to claim the second qualifying position, just ahead of Tommi Haapanen who improved to 3.93 seconds.
Susanne Callin also improved on her Friday performance and recorded 4.08 seconds. All four Top Fuel cars are separated by 0.2 seconds only.
The second day of qualifying in Pro Modified was exciting and extremely close. Friday leader Mats Eriksson improved to 5.85 seconds and remained in the number one position.
FIA European Championship leader Jan Ericsson, number sixteen on Friday, stormed to a great 5.89 seconds to jump into the number two position.
Michael Gullqvist improved as well and finished qualifying in third position with 5.90 seconds. Andres Arnover is the number four qualifier with 5.922 seconds. There were so many improvements, that Marck Harteveld, the number two qualifier on the Friday, finished qualifying in fifth position, while Friday's number three, Jere Rantaniemi was the number nine after five runs. There were no fewer than nine drivers who qualified with an ET in the 5-second zone. With all elapsed times so close together, eliminations will be exciting.
In Top Methanol Daniel Jedborn couldn't improve on his Friday stunning 5.28 seconds, but the Swede remained the number one qualifier, with Linn Fløysvik second and Sandro Bellio third.
Just as it was in Pro Modified, there were also many improvements in Pro Stock and in the factory hot rod category the field is also extremely close. Jimmy Ålund remained the number one qualifier with 6.544 seconds.
Friday's number two, Michael Malmgren improved to 6.567 seconds and remained in second position, with an also improving Stefan Ernryd third with 6.595 seconds.
Robin Norén improved as well and his 6.625 seconds handed him the number four position. Even the number nine qualifier recorded an ET in the 6.6-second zone.
Eliminations for the Summit Racing Equipment Internationals will start Sunday morning.
Qualifying results: https://www.dragracing.eu/results.asp?id=1&year=2022 For live reports and detailed results see eurodragster.com: http://www.eurodragstereventcoverage.com/live/2022scandinavianinternationals/default.asp