FIM-E Dragbike championship, Summit Racing Internationals, Friday, Tierp Arena, Sweden
A warm day at what was proving to be a tricky track for the opening day of FIM-E qualifying at the Summit Racing Internationals saw some solid if not record breaking runs as the racing collective came to terms with a surface that was causing some headaches beyond the 60 foot mark. A brief daily synopsis (as for some reason the qualifying sheets have vanished from their usual place, hopefully they will reappear before too long!) follows.
FIM-E Top Fuel Bike
The Norwegian Uggerud Bros Puma propelled Jan Sturla Hegre into the provisional number one spot with a 6.1268/225mph with the bike showing a degree of predictability in responding to adjustments that has Hegre optimistic about improving on the numbers tomorrow.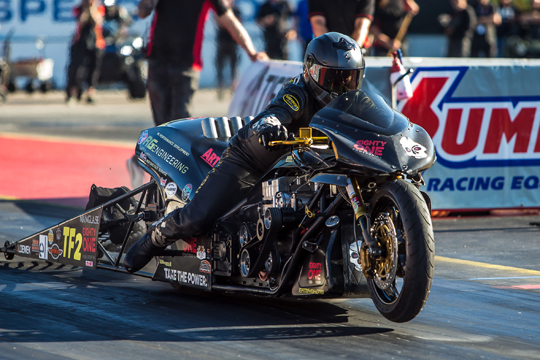 In second spot is Rikard Gustafsson with a 6.2171/201 that has plenty of room for improvement and the team were working on the drivetrain as we left the track. Of the rest, Rene van den Berg sustained some damage on a 6.7, Jaska Salakari was very happy after an incident free 6.7 for fourth spot and looking to gradually pick things up over the rest of the weekend. Mikko Rajaniemi and Thomas Pettersson will be looking to improve on a pair of eight second passes and in seventh Sverre Dahl is looking for a Yamaha cam sprocket after disassembling one off the startline on an ailing roll through.
FIM-E Super Twin Bike
Bouncing back after a bang and a DNQ at the opening round of the series, Marcus Christiansen eased to the top of the Super Twin charts with a smooth 6.4907 at only 183 mph in the second session.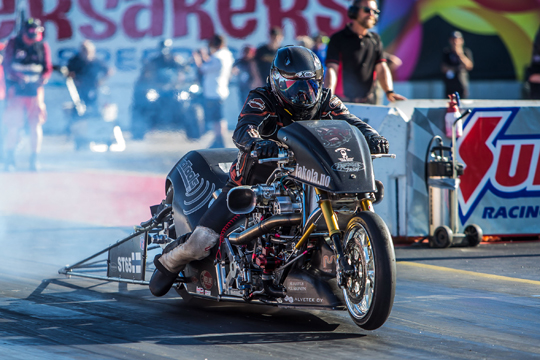 Ismo Mäenpää rocked into second spot with a 6.6597/207 best carrying over consistency from last weekend in Norway. Per Bengtsson and the Beast parallel twin dropped into third spot as the only other six second runner with a 6.7 while current points leader Martijn de Haas is on the outside looking in while also hoping to fix a torched head that could put the Dutch team out of competition for the rest of the weekend.
FIM-E Pro Stock Bike
Kalle Lyrén leads the way in PSB with the Parts Europe Suzuki with a 7.08/188.62 to comfortably pace the field with Martin Newbury the best of the rest at a distant 7.2239.
FIM-E Super Street Bike
Swede Mathias Bohlin heads the Super Street Bike field with a 6.9719/191 (so room for improvement there) with Vesa Ruhanen calming his Finnish Kwaka down to a 6.974/200 after an extreme launch in the first session.
Mogens Lund and Anders Blanck round out the top half of the field with championship leader Dániel Donát Lencsés only just in at a lowly seventh spot with a 7.7437 but at a class leading 205.60 mph suggesting the power is in there.
Words and photos Ivan Sansom & Rose Hughes