FIM-E Dragbike championship, Summit Racing Internationals, Saturday, Tierp Arena, Sweden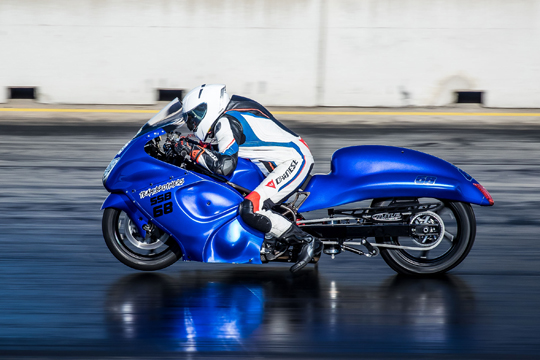 If yesterday was warm, today was a tad hot with three rounds of qualifying for the FIM-E teams to work their way through and quite a bit of shuffling of the pack in three of the four classes.
FIM-E Top Fuel Bike
Rikard Gustafsson improved to take over top spot with a 6.074/217 on a still very tricky track.
Jan Sturla Hegre remains at 2 with his best run (6.1268/225mph) from yesterday, but Finnish rookie Mikko Rajaniemi (near lane) pulled out a new PB at 6.1294/220 which we think is the best numbers ever from the heavily reconfigured former Norbert Kutzera & Kai Selkämaa steed, well done Sirpa!
The veterans Jaska Salakari (near lane) and Sverre Dahl (far) also improved with the latter picking up 4th spot on the ladder with a 6.2311/228 against Salakari's 6.4204/212 for 5th which will mean a head to head in the opening round of eliminations. Gustafsson will have a bye while Hegre will match up with the sole funnybike of Thomas Pettersson (a mid-seven being someway off the Swede's best) and Rajaniemi will lock horns with Rene van den Berg who is suffering a series of mechanical woes over the course of the weekend.
FIM-E Super Twin Bike
Marcus Christiansen improved to a 6.3858/217.74 to keep ahead of the rest in Super Twin while behind him Ismo Mäenpää (6.5896/210) and Per Bengtsson (6.5306) swapped places into 3rd and 2nd respectively. Greger Johansson nipped into the sixes with a 6.9935 to round out the top half of the field, with Samu Kemppainen, Marko Lantto, Julia Wagner (the only female competitor in the FIM-E classes this weekend) and Anders Hornstrom rounding out the eight bike field.
FIM-E Pro Stock Bike
Kalle Lyrén continued to lead the way in PSB with the Parts Europe Suzuki producing a consistent series of 7.0s improving with a 7.0506/190, while Martin Newbury dipped into the 7.1s on the tricky track for second spot.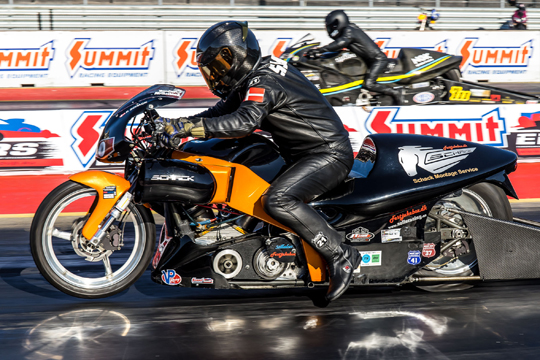 An all run ladder should see Frederik Schack (most improved today with a 7.9), Bertrand Maurice and Aswin Le Noble rounding out the ladder.
FIM-E Super Street Bike
We were anticipating improvements in Super Street Bike today and Mathias Bohlin did just that to a 6.8513 (new PB) but this looked a bit like standing still in comparison with Dániel Donát Lencsés's very clean 6.6497/224.14 for a leg up on a new FIM-E class record, which, needless to say, put the Hungarian on pole for what should be an eight bike ladder tomorrow.
Pay TV web stream available via the link here: https://www.svenskbilsporttv.se/schedule
Live ET slips can be obtained here:https://www.nitroz.se/tidskort.asp
Qualifying sheets and eliminations ladders will be available here: https://www.nitroz.se/results.asp
Words and photos Ivan Sansom & Rose Hughes