FIM-E Dragbike championship, Summit Racing Internationals Preview, Tierp Arena, Sweden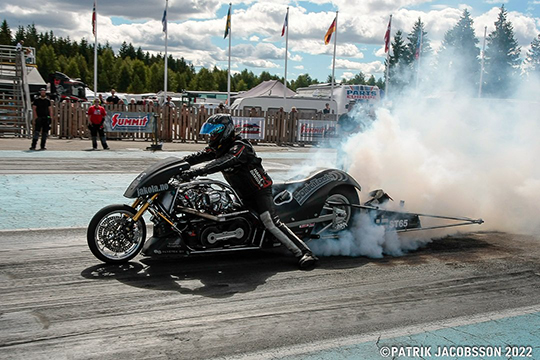 After far too long a break, the FIM-E Dragbike championship resumes this weekend in Sweden with the Summit Racing Internationals at the always quick Tierp Arena just north of Stockholm. With the weather set fair for the whole weekend (peering out of our hotel window there isn't a single cloud in the sky) it could be a bit of a barnstormer.
FIM-E Top Fuel Bike
Eight entries on the list for Top Fuel Bike suggests an all run field on Sunday, but there are quite a few scores to settle before we get there with current championship leader Rene van den Berg looking to keep ahead of the pack but there are three proven five second runners also on the list (Sverre Dahl, Rikard Gustafsson and Jaska Salakari) that are going to push the rest of the field for the top qualifying spots. Van den Berg and Jan Sturla Hegre will also be looking to join the five second club over the course of the weekend.
FIM-E Super Twin Bike
Twelve entries in Super Twin and it really is going to be a battle royal through qualifying to make the field and a very difficult pick for who could be contending for top spot with Marcus Christiansen looking to bounce back from a catastrophic engine explosion at the start of the season, points leader Martijn de Haas looking to maintain his championship lead and a returning Per Bengtsson on the blown parallel twin coming into the event after some nice consistent numbers at a domestic event at Mantorp last month. The Finnish threat isn't something to be discounted either as Ismo Mäenpää will be looking to pick up where he left off in Norway last weekend with a string of PBs leading to the event win, and then there is also Samu Kemppainen who is always in the trophy hunt with his V60 ride.
FIM-E Pro Stock Bike
Six stockers are on the event list with Martin Newbury probably the pick of the bunch for the championship points but Kalle Lyrén is always a major handful at his 'home' track and there isn't a lot to suggest anything different this time around from the Lyrén Motorsport/Vance & Hines Suzuki.
FIM-E Super Street Bike
A major change in the entry from the Main Event at England back in May has the same number of competitors but a very different accent with the Nordic teams coming out in force and only Mogens Lund and Dániel Donát Lencsés being repeat contenders. Lencsés is going to be ferociously quick on his DME prepped Suzuki, but there are a whole slew of racers who could pick up the pieces if the Hungarian slips up.
Words Ivan Sansom & Rose Hughes