FIA European Drag Racing Championship returns to action at Tierp Arena
The FIA European Drag Racing Championship kicks off the second part of the season with the Summit Racing Equipment Internationals at Tierp Arena, Sweden. After the opening round at Santa Pod Raceway it was quiet for a while, but with three races in the span of four weeks, the drivers and teams of the most prestigious drag racing championship in Europe will have no time to relax. Antti Horto (Top Fuel), Sandro Bellio (Top Methanol) and Jan Ericsson (Pro Modified) were the winners in England and are the leaders in their respective categories. At Tierp Arena the frontrunners will meet even tougher competition then they had at Santa Pod, and they will have to perform at their very best to remain their leading positions.
The FIA European Drag Racing Championship resumes with the Summit Racing Equipment Internationals, August 11th – 14th , at Tierp Arena, the state-of-the-art drag racing facility north of Stockholm. After a one weekend break, it's time for round number three of the title race, the NitrOlympX at the Rico Anthes Quartermile of the HockenheimRing, August 26th 28th , two weeks later followed by the grand finale, The European Finals at Santa Pod Raceway, September 8th – 11th . It's a busy schedule for the drivers and teams.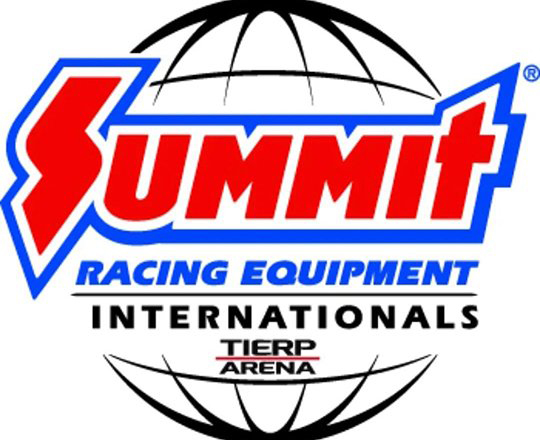 The Summit Racing Equipment Internationals at Tierp Arena has healthy fields in all four categories of the FIA European Championship with many new entrants compared to the opening round in England.
Top Fuel
In Top Fuel Antti Horto from Finland is the leader in the championship as the Eagle Top Fuel Racing/RFM driver defeated Ida Zetterström in the final at Santa Pod. Zetterström impressed as it was the first official race for the Top Fuel rookie from Åland, Finland. The Alandia Motorsport/RFM driver reset the FIA European Top Fuel ET record to 3.782 seconds, being the first 3.7-second run ever recorded in Europe.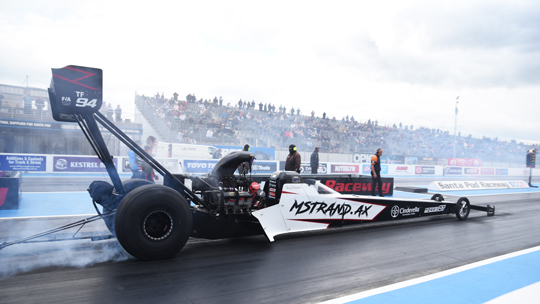 At Tierp Arena Zetterström will not only be out for revenge and to take her first race win, but as she always wants to go faster and quicker, she will also try to reset her own ET record and grab the speed record, currently held by Jndia Erbacher from Switzerland. Zetterström will gain extra seat time the week before Tierp as she will do some demo and test runs at Gardermoen's Drag Challenge, Norway, the home country of RF Motorsport owner Rune Fjeld.
Susanne Callin will field the third Rune Fjeld Motorsport car in the colours of Slick Tricks Racing. It was a long time ago that Callin last raced a Top Fueler in her home country and she will definitely do everything she can to defend the famous blue and yellow Swedish colours, collect some extra points and gain some positions in the championship.
The three RF Motorsport cars will get unexpected competition from Tommi Haapanen, husband of multiple and still reigning FIA European Top Fuel champion Anita Mäkelä. Mäkelä decided to take a sabbatical this season, but as the team also had Haapanen's 'blue car' almost race ready, they decided to do some test runs at a race in their home country at Kauhava. Once a Top Fuel racer, always a Top Fuel racer, and after Haapanen recorded some great 4.0 and 3.9-second runs, they decided to enter the car for the FIA race at Tierp Arena. It will be interesting to see if Haapanen can steal some points from the title contenders.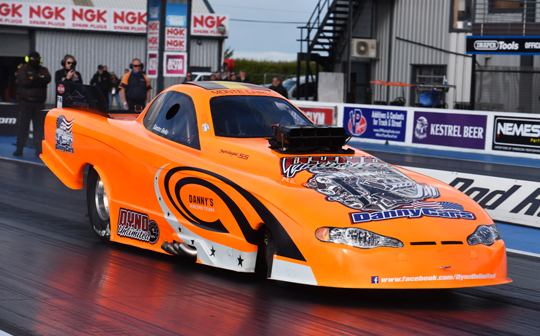 Top Methanol
In Top Methanol Sandro Bellio is leading the championship. The reigning FIA European champion impressed at The Main Event with some great numbers and Bellio took an easy win over Linn Fløysvik when the Norwegian racer had to skip the final as the Karlsen Motorsport team supposed that there were some issues with the Ford Mustang after a run earlier on that Sunday.
Bellio is looking for another win and he will try to go for new personal bests. As these personal bests are close to the European records, anything can happen. Fløysvik hopes to have a trouble free race weekend and that she can go for some good numbers.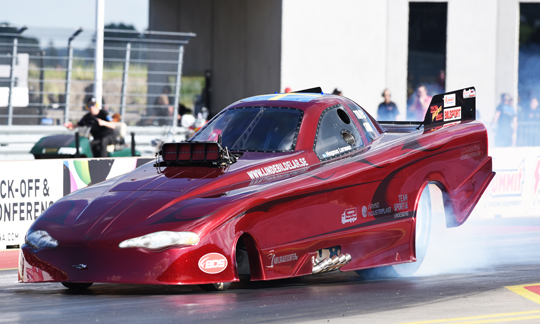 At Tierp Arena Bellio and Fløysvik will meet tough competition from anther Funny Car and three dragsters. Magnus Larsson will make his FIA European Championship debut in a great looking Chevrolet Monte Carlo. Larsson competed in the nostalgia dragster category the last couple of years, completed his licensing runs last year and raced with the Monte Carlo in some national events at the end of last year and in June 2022. With a Jonnie Lindberg Motorsport engine in the car, Larsson can surprise.
Jonny Lagg, Daniel Jedborn and Tony Bryntesson will represent the dragsters in the Top Methanol class. Lagg doesn't need any further introduction as this experienced Swede won the FIA European Top Methanol Dragster Championship in 2016.
Daniel Jedborn joined the Top Methanol ranks a few years ago and is a force to be reckoned with. Bryntesson is a former Top Fuel driver who switched to circuit racing, but planned a comeback in 2020.
In the two coronavirus years Bryntesson took part in several national races in Norway and Sweden and will now be able to make his comeback in the FIA European Championship.
Pro Modified
The Pro Modified category saw some fierce and tough competition at Santa Pod Raceway. Just like the Swedish competitors were sadly missed in England, due to the difficult Sweden/Brexit rules, the British competitors will not be at Tierp. But with twenty entrants from six countries, and with all the Swedish favourites present, the Pro Modified field is even more competitive than it was at the opening round of the championship.
At Santa Pod reigning champion Jan Ericsson claimed the victory and reset the FIA European Pro Modified ET record to 5.724 seconds. The Swede proved to be extremely quick and consistent as well again at a race at Tierp Arena in June. David Vegter was the runner-up at Santa Pod and will do everything he can to claim a win in his second home country.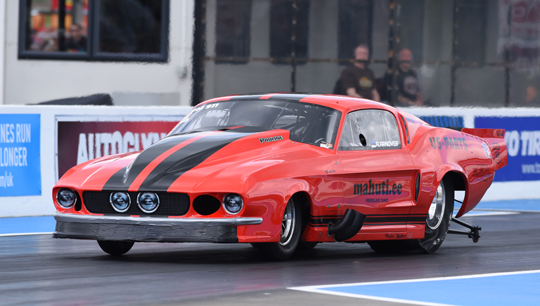 Bruno Bader, the Pro Mod veteran from Switzerland, and Andres Arnover from Estonia, who impressed with his turbo Mustang, were semi-finalists at Santa Pod and will try to make it to the final in Sweden.
Marck Harteveld and Michel Tooren, both from The Netherlands, scored their first points of the season at Santa Pod and as they will do the full FIA Championship tour, they will try to improve their positions as they were both eliminated in the first round at Santa Pod.
None of the other competitors at Tierp Arena were at The Main Event and they will try to score their first FIA points of the season. Favourites from Sweden are of course Michael Gullqvist, the multiple FIA European Pro Mod champion, Andreas Arthursson, who saw his European record go to Ericsson, and Mats Eriksson, the driver and chassis builder with his famous Green Goblin Ford Crown Victoria.
Roger Johansson, Fredrik Fagerström and Åke Persson are three of the other extremely quick competitors from Sweden. Also from Sweden come Olof Andersson, Jan Brännvall, Micke Johansson, Marcus Perman, Jesper Stenberg and Patrik Wikström, who returns to competition with the familiar Camaro he raced several years ago.
From Finland comes Jere Rantaniemi with his extremely quick turbo Camaro, propelled by the same engine combination as Arthursson has.
Last but not least there is Stian Rusånes from Norway, who surprised with a runner-up finish in June at Tierp during the EDRS Sweden Nationals.
Pro Stock
Due to the Sweden/Brexit rules, the Pro Stock category, dominated by drivers from Sweden, was not able to travel to England, thus the factory hot rods will have their first FIA Championship race at Tierp Arena. With no fewer than eleven entrants, Pro Stock will be close and because there are also some new names, very interesting. The number one favourite is of course multiple champion Jimmy Ålund, who once again impressed at Tierp Arena in June during the EDRS Sweden Nationals.
At that race Stefan Ernryd (Dodge) and Robin Norén with his new Pontiac GXP impressed with the progress they made and some good numbers.
Richard Sundblom from Finland proved to be a force to be reckoned with. Also from Sweden come Pro Stock veteran Michael Malmgren, Magnus Petersson, Christian Sagelv with the sole Ford Mustang, rookie Lasse Britsmar with the ex Norén Pontiac GTO and Simon Ekengren in the second Dodge Dart. From Finland comes Sampsa Palos, who competed in the championship before and Mika Knuuttila, who we haven't seen at an FIA Championship Pro Stock race so far.
Qualifying for the Summit Racing Equipment Internationals will start on Friday August 12th and will continue on Saturday August 13th . Eliminations will start on Sunday morning August 14th .
Text and photos Remco Scheelings