Results from Spring Nationals 2022 at Gardermoen Raceway is now published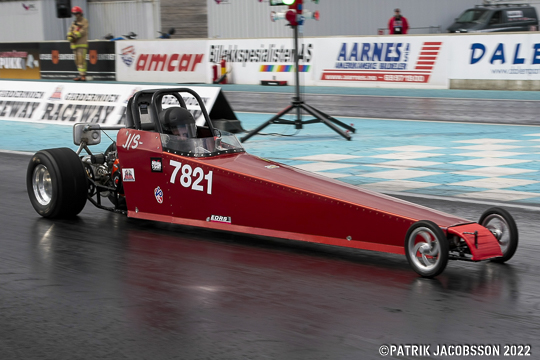 Three days of racing was the plan that NDRG crew had for Gardermoen's first event of the season, but the weather Gods was not on the organisers side. But there were a few rounds done anyway and points was delivered out of that. 
Anyway, there were 126 racers who produced 336 timeslips in a good mood. But as the rain decided to pour down most of the weekend and a couple of cleanings needed to be done, the event had to end way too early on Sunday, even though the crew worked hard to complete the event. Very well done eveyone! We wish the organizer all the best for the next event in the Summit Racing EDRS series at 4-7 August.
Next race is right now at Vårgårda, Sweden.
Results at:
www.dragracingeurope.eu/edrs/standings-2022 and
www.dragracing.eu
Number 1 and 2 in points after this event in Summit Racing EDRS Series
Pro Street: 1-Kjetil Hauge 2-Anette Birkenes
Super Comp: 1-Mats Arntzen Wanvik 2-Julie Andersen
Super Gas: 1-Christer Uhlin 2-Robby Sukkestad
Jr Dragster: 1-Victor Barstad 2-Linus Leander Grauphaugen
Pro ET: 1-Stein Jarle Tönnesen 2-Björn Nordin
Super Pro ET: 1-Even Rui 2- Siri Johansen
Street Bike: 1-Björnar Engeseth 2-Asgeir Hoel
Super Comp Bike: 1-Peter Lund 2-Kjell Ågnes
Super Gas Bike: 1-Sarah Nevra 2-Peter Lund            
Jr Drag Bike: 1-Ole Kristoffer Steen Aas 2-Theodor Vik