FIM-E Dragbike championship, Main Event Friday, Santa Pod Raceway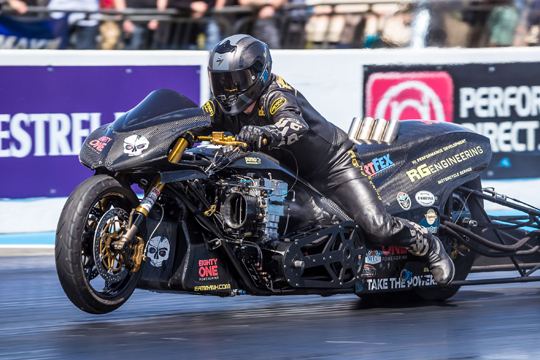 Resuming after over two years of deferral it was perhaps to be expected that the opening day of FIM-E qualifying at the Main Event would be something of a hit and miss affair and this wasn't exactly aided by a stiff cross breeze that will hopefully dissipate overnight.
FIM-E Top Fuel Bike
Rikard Gustafsson punted out an off the trailer 5.834/243.75 to comfortably lead the field at the end of two sessions. Fortunately an abrupt shutoff before the second pass was little more than a loose bolt so the RG Engineering team will head into tomorrow in fine fettle.
The Warpspeed Funnybike trio were always likely to be a threat when the nitro bikes were stumbling and a jubilant Mark Smith finally made it into the six second bracket (a necessary prerequisite for the funnies to make the race day ladder under FIM-E rules) with a 6.805/198.91 from the Draper Tools backed ride. Team leader Stuart Crane is currently in third spot with a wayward 6.815 at only 143mph as he took evasive action while threatening the blocks.
FIM-E Super Twin Bike
Only three of the five entries ended Friday with a time (pre-event favourite Marcus Christiansen having a catastrophic engine failure shortly off the start line). Of those that got to the finishing line Martijn de Haas was the only one with something approaching a respectable time (6.951/192) but Chris van Nimmen looks to be making great strides in his opening efforts as he learns how to ride a big tire twin.
FIM-E Pro Stock Bike
Not too sure what was going on in Pro Stock Bike but only Martin Newbury 7.255/181 and Martin Bishop (a troubled eleven second ticket) got to the finishline although there appeared to be a lot of swapping of motors and checking things over across the field as we were leaving the pits this evening so hopefully tomorrow will deliver better things.
FIM-E Super Street Bike
Jake Mechaell heads the SSB field after two sessions with a startling 6.813/207.23 ('I was hoping for a high six eighty at best') putting the JKE built bike ahead of Steve Venables in second spot with a 6.970/217.91 and Mark Hope slightly distant at a 7.192/199.76.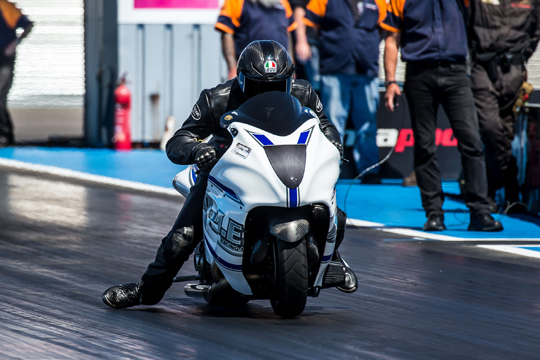 FIM-E Junior Dragbike Cup
Hollie King is currently on top of the Junior dial ins and we suspect she might hold onto the slot as it will take a very good run indeed to better a +0.0019 on a 10.95 dial-in.
Words and photos Ivan Sansom & Rose Hughes
Free web stream available via Santa Pod's Youtube Channel here: https://www.youtube.com/c/SantaPodTV and Facebook page here: https://www.facebook.com/santapodraceway
Live ET slips available here:http://etslips.co.uk/Home.html Qualifying sheets and eliminations ladders will be available here: https://santapodresults.com/2022/