Garages and workshops is awakening! Drag racing season is coming up!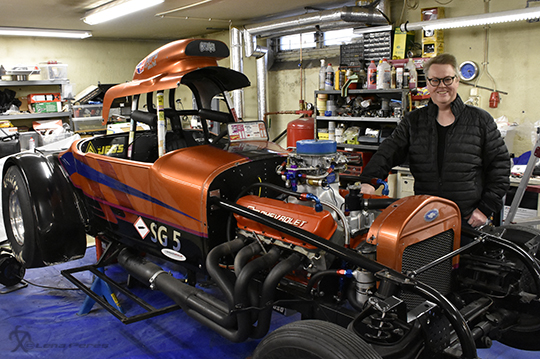 The drag racing season are slowly coming to live and soon we can see the beauties on tracks again – and the drivers of course. One who is eager to race again is Mats Karlsson from Umeå.
Most racers are now eager to get out and test their new settings, what probably been ready since long. One of those who waited patiently for the restrictions to be released is Mats P Karlsson in Umeå Sweden. He has been driving his copper-coloured Super Gas Roadster for many years, but now the car has been stored since the pandemic started.
-No major updates have been made, says Mats. Well, the fuel pump is updated, otherwise it has been ready to run for a couple of years now. I have put my own racing on the shelf during the pandemic, but teamed up for Ulf Zackrisson the event he participated in.
In Nailheads Rod & Rebuilt garage in Umeå, we find another racer, in addition to all the many other cool vehicles. Albin Frank has a well-known dark red Super Comp dragster, who is waiting to get out on the track.
In addition to the driveable dragster, Albin has a front-engine dragster project in the pipeline. So, there are objects for future speed experiences for Albin, what we are looking forward to. Right now, racing life is a bit on hold for Albin as the family have grown and that comes first.
If you have the opportunity to make a trip to Umeå in Sweden, don't miss out of this place. This is such a cool garage!
There are many other very nice items in the garage, except from the drag racing vehicles. One of them is the 2020 Hot Rod of the Year. During our visit, the car was off to be styled for this year's Motorsport Performance & Custom Motor Show at Elmia in Jönköping Sweden during Easter. At least we saw the vinner cup.
Anyway, this leads to urging you to come to the show this year, which had a break during the years of pandemic, to check out this Hot Rod. But also, dont miss out Speedgoup's own stand. We´re at the same spot as last time and we have some exciting things going on here, just like we did in 2019 or even more. More deatales about that later. We can at least tell that you will find a lot of friendly people in the stand. So, do not miss our updates regarding the show. But most of all, do not miss out of 2022 Motorsport Performance & Custom Motor Show!