Next up Glassdrive EDRA Finals 2020 – Extended registration Tallhed#2 and Drag Finals 2020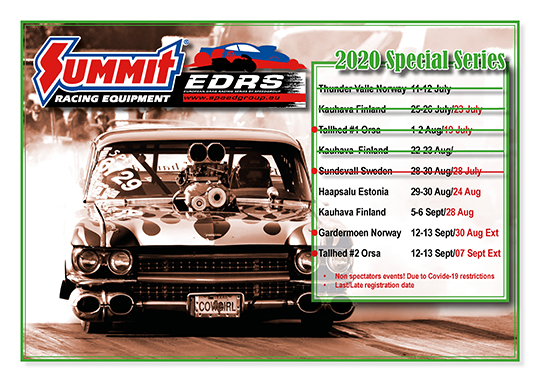 Half way thrue the Summit Racing EDRS Series. Hurry up and get registerd for the last events of the season. There is still a good chance to race your wehicles, before they have to be put away for a while.
This weekend, Haapsalu will take over the baton in the Summit Racing EDRS Series. 6th race in the series and the track crew in Estonia is working hard for all racers who appears at Haapsalu racetrack. It looks like its going to be a great weekend.
You need to get in at dragracing.eu and register for the last blast at Kauhava. August 28th is the last chanse to register for FHRA Finals 2020. Let´s get together and make this last Finnish event first weekend in September a great one!
You also got another chanse to register for Tallhed#2 and Gardermoen September 12th-13th! The crew at both track is eager to get out on the track and serve all racers who shows up.
Exendended registration:
Tallhed#2 September 7th,
Gardermoen August 30th.
Last chance to make some numbers this season!