Nils Lagerlöf – new CEO of Europe's largest series organizer in drag racing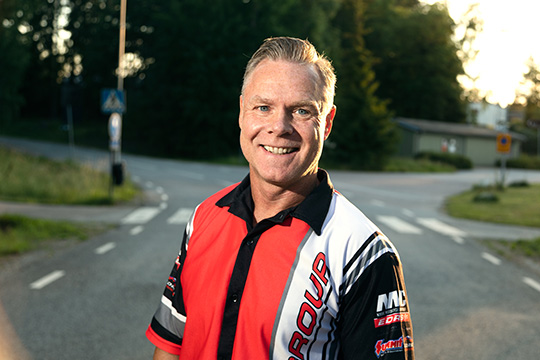 Speedgroup – Sweden's and Europe's largest series organizer for competitions in drag racing – gets a new CEO, Nils Lagerlöf. His goal is to make the world's fastest motorsport even more attractive to more people.
-Our goal is for our competition series to include professional competitions with great entertainment value for the audience, as well as increased added value for competitors, event organizers and partners. We will work hard with our EDRS and EDRS PRO series and develop our collaboration with FIA, says Nils.
Under the leadership of the former CEO, Åsa Kinnemar, Speedgroup has developed into a stable company with good values, skilled staff, and good partners.
-We are grateful that Åsa Kinnemar will continue to remain in the company. For several years, she has been an important part of Speedgroup's development and developed the concept on which the company works, says the company's chairperson Roger Lyrén.
Speedgroup is now increasing the pace to make the sport even more attractive. The goal is to raise the level of our series even more through better marketing, increased collaboration with event organizers and partners, and thereby contribute to the development of the sport. Already today, the sport has good growth with juniors, but there is great potential to grow significantly.
Nils, who will take over the CEO position during the summer, has a long professional experience in sales. Previous experience includes activities in the construction and real estate industry as a contractor, broker, and project manager. He has been a regular board member of Speedgroup since 2017 and is well acquainted with both the company's operations and the sport of drag racing in general.
Since the end of the 1990s, Nils competed in drag racing for motorcycles, as well as managed racing teams. He has in other words extensive experience in marketing as well as establishing and running business partnerships, something that is extremely important in motorsports.
Together with Speedgroup's board and task group, Nils has in recent years participated in the development of the company's concept.
-Taking the step to be responsible for the daily operation of the company feels both challenging and exciting, says Nils, who since January 2020 has already worked part-time for Speedgroup within project management, focusing on sales and marketing.
Contact: Nils Lagerlöf nils.lagerlof@speedgroup.eu Tel: +46 72 320 00 04