Veronica Olderin, from powerboat star to Top Fuel rookie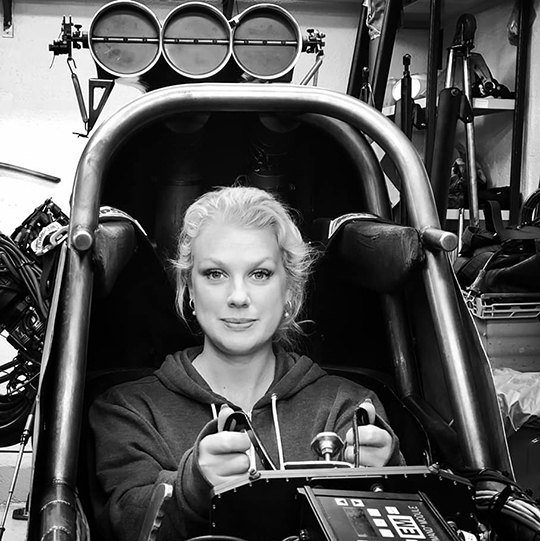 Veronica Olderin is the latest and more than welcome asset to the FIA European Top Fuel ranks. The name of this Swedish racer will not immediately ring a bell for most of the European drag racing followers, but for the fans of powerboat racing, that will be totally different. Olderin won several titles and the 2015 World Championship in the 3B category of powerboat racing, and if Olderin and her team have their way, the drag racing world will soon know her as well.
It was one of the best kept secrets, but suddenly there was a message on Facebook that Veronica Olderin Racing were happy to announce that they would add a new chapter to their racing book as Veronica Olderin would race in Top Fuel in 2020, together with a wonderful team with a lot of experience.
That wonderful team are the Nitrobear crew of the late Björn Mårtensson. Veronica Olderin Racing has bought the whole Nitrobear Racing operation and after completing her licencing procedure, she will make her first cautious steps in the FIA European Top Fuel Championship.
"I have been racing with powerboats since I was 17 years. I have competed in different classes, both in Sweden, the USA and in Dubai. But the class I liked most was 3B. You race with 21 feet catamaran hull and a 115 hp outboard engine. That doesn't sound that much, but the top speed is 92 mph on open water. During my years in this sport I have won several Swedish championships, was in the top 3 of the Nordic championship and won a World Champion Gold medal in 2015. I was the first woman to win that title since the beginning of 1980s," said the 32-year-old Veronica Olderin, who lives in Stockholm, is married, has two dogs and is Supply Chain Manager at Aritco Lift.
Despite all her successes, Olderin had to give up powerboat racing and found a new outlet for her need for speed and thrills in drag racing. "In 2017 I stopped racing with boats. Too many crashes and races in rough water had made my back hurt too much. I try to race once a year with my dad or friend now, but it is not the same to be a navigator. So I needed to find something new to do in my spare time. By mistake me and my husband got held up in traffic on our way home during a street race in Stockholm. I have always been interested, so we decided to step out of the car and watch. After the first race I said to him, this is my new hobby, this is what we are going to do, but at real race tracks. Within two weeks we had found my car, a Chevrolet Nova-62 with 1,500 hp, and that's how it started. I like everything in drag racing, the speed, the family feeling in the pits, but most of all the intense and explosive racing."
Olderin raced with the Nova in Pro ET and Street at a local track just outside Stockholm this season, with a 3rd place as her best result. Next year she will enter the Nova in the very competitive Pro Street category. But to step up from a Pro Street Nova to a Top Fueler is going into a totally different world. "Yes I know that it is a big step, but I will take small steps with my new car to get to know it. Top Fuel has always been a big dream, it's the most brutal thing you can do within racing and I have always said that someday I will race in one of those cars. And with a great team next to me supporting and helping me, it will be great. It's the former Nitrobear car that we have bought and we will have the old team coming with me, so we will have all their knowledge and support. We would not be able to do this without them."
The planning for the 2020 season has already started. "The first event we will attend is in Norway at Gardermoen where I will start with my licence runs. Depending on the weather and how it goes, we will see what happens. But at least we will attend the races in Sweden this year. The first goal is to pass my licence and after that I will do my best to get experience and get to know the car." And future plans? "Of course it is the plan for 2021 to do the full FIA European Top Fuel Championship, and in the long run it would be amazing to have two championship medals in two different motorsports. But we have a long way to go before I will start thinking about that."
And of course there are also some people and companies who made this Top Fuel dream reality. "I would like to thank my husband and family who always support me, no matter what I come up with, my great team who believe in me, and of course my sponsors, Lantz Metal, Maskinia and Olderin Maskin. Without them this would be impossible. The 2020 season will be amazing and I am so happy and grateful for all the support and cheering I get from people in the sport."