Tierp Arena battleground for exciting EDRS Pro Nordic MC finale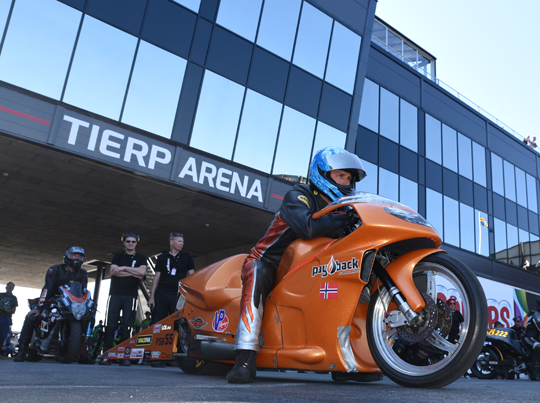 The Summit Racing Equipment Internationals is the fourth round and grand finale of the 2018 EDRS Pro Nordic Motorcycle Championship. Two months after the championship kicked off at Tierp Arena, the EDRS Pro Nordic MC is back at this state-of-the-art drag race facility. Marcus Christiansen (Super Twin Motorcycle), Thomas Lysebraate Olsen (Pro Stock Motorcycle), Mathias Bohlin (Super Street Bike) and Rikard Gustafsson (Top Fuel Motorcycle) enter the final round as the leader in their respective categories. But with many points still to win or lose, almost anything is possible. Peter Östlund and Jami Oksanen are the leaders in EDRS Pro Nordic MC Super Comp Bike and Super Gas Bike, but especially in Super Gas Bike the top three are still close together.
The EDRS Pro Nordic Motorcycle Championship has had a great 2018 season with excellent races at Tierp Arena, Alastaro and Gardermoen. For the fourth race of the season the riders head back to Tierp and with the largest and most competitive field of this year in almost all classes, the grand finale will be exciting. With 100 bonus points for the riders who attended all four races, there are many points to win, with some major changes in the points standing as a result.
Deeply involved in drag racing, the highly regarded American company Summit Racing Equipment have affiliated themselves as the primary sponsor of the Tierp race and with, including the sportsman classes, more than 320 competitors on the entry list, the Summit Racing Equipment Internationals will be one of the biggest European races ever and a great end to an exciting 2018 EDRS Pro Nordic MC season.
Super Twin Motorcycle, number one for Marcus Christiansen?
Marcus Christiansen is the man to beat in Super Twin Motorcycle this season. The young Danish rider started the season with a runner-up finish at Tierp and took two consecutive wins at Alastaro and Gardermoen.
In the title race Christiansen has a 112 points advantage over former champion Samu Kemppainen from Finland, and strange things must happen if the Dane is to not secure his first championship in the final race of the season.
Anders Hörnström, Svein Olaf Rolfstad, Lasse Leponiemi and Greger Johansson are the numbers three to six in the championship and are only separated by 53 points.
Rolfstad proved his great form at Gardermoen and will definitely try to repeat his record setting numbers and gain some positions in the championship.
Although the title is out of reach for them, there are many more riders on the 19-bike (!) entry list who can win at Tierp. Vesa Lipponen, winner of the first Tierp race, is only one of them. But also Jaska Salakari, Harri Piensalmi and last year's runner-up Roman Sixta have the speed to win a race. The same is true for Per Bengtsson, but the Swede will use the race to test some things for next year. Special attention will go out to Takeshi Shigematsu. The Japanese rider with the nickname Crazy Tak is one of the stars in American Super Twin racing and with 6.021 seconds the quickest Super Twin rider in the world, a title Salakari will be hunting for at Tierp. Shigematsu will be riding Juha Hintukainen's bike at Tierp.
Trond Jostein Høiberget, Kristin Hegre, Erling Opheim, Vidar Ravnsborg (all from Norway) and Teemu and Torsti Kettula and Ismo Mäenpää (all from Finland) might not be among the favourites to win the race, but can always surprise and bump one of the top six championship contenders out of the elimination ladder. With eight riders, Finland is leading in Super Twin Motorcycle, but with five riders Norway is a good number two. Sweden is represented with three riders, and Denmark, the Czech Republic and Japan each have one rider at Tierp.
Top Fuel Motorcycle, a new title for Thomas Pettersson?
Looking at the championship standing after three races, it would be easy to say that Rikard Gustafsson will claim the 2018 EDRS Pro Nordic Top Fuel Motorcycle Championship. The Swede has a 98 point lead over second placed Thomas Pettersson. But Gustafsson is not on the Tierp entry list and will miss the 100 bonus points. This will hand the title to 2016 champion Pettersson.
Sverre Dahl and reigning champion Jan Sturla Hegre are the numbers three and four in the championship, but they also had to skip one race and will go for a race win and will not be able to catch Pettersson. Peter Andersson is the second Funny Bike in the 4-bike field.
Pro Stock Motorcycle, second title for Thomas Olsen?
With seven entrants, Pro Stock Motorcycle has the best field this season. Thomas Lysebraate Olsen will go for his second consecutive title. The young Norwegian rider is leading the championship, but after some problems earlier this season, there was a fair chance that he couldn't take part at Tierp. This would reduce Olsen's title chances. The Norwegian Federation (NMF) came to help and so Olsen will not only be able to race at Tierp, but he will also claim his second title. Timo Savolainen is the number two in the championship, and although the Finnish rider is on the entry list, he might have to miss the final after suffering severe engine damage at Gardermoen.
Kalle Lyrén had his first race of the season at Gardermoen, was in a class of his own in Norway and won the race. The former champion is the favourite for the Tierp win and that might hand him the runner-up position in the championship. It's also great to see Janne Koskinen back in action.
After some great test runs at Alastaro, the young Finnish rider decided to come to Tierp and with the help of multiple FIM champion Fredrik Fredlund, Koskinen will go for a race win. Tierp will also see the welcome return of Kenneth Holmberg. The Swecomposite rider had so much bad luck with engine damages the last two seasons, that he had to skip several races. Hopefully Holmberg is back to form and can finish the season with a good result. Thomas Andersson and Bo Thorselius might not be among the favourites, but with Thorselius in the final at Gardermoen it was once again proven that in drag racing anything is possible.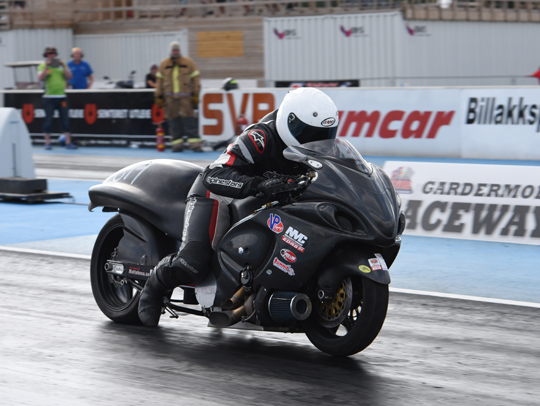 Super Street Bike, first title for Mathias Bohlin? 
Super Street Bike once again stepped up to the next level this season and with several riders dramatically quicker than last year, it makes the 2018 EDRS Pro Nordic SSB Championship spectacular. With no fewer than 17 entrants for Tierp, the grand finale will be another highlight of the season with probable new record setting elapsed times. After the first race of the season Mathias Bohlin was the big surprise, but soon the Swede became the man to beat in Super Street Bike. Bohlin won two consecutive races, reset his personal best almost every race and was only defeated by Mogens Lund in the Gardermoen final.
Because Lund lost so many points at Alastaro, the reigning champion is 96 points behind Bohlin in the championship, and although an upset is possible, it would be strange if Bohlin does not claim his first title.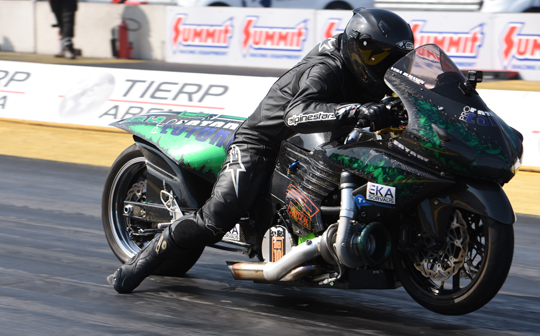 Vesa Ruhanen is only 20 points behind Lund in third position, while Alex Hope is fourth, only 18 points short of the third podium position.
Robert Nilsson, Mark Hope, Ida Zetterström and Anders Blanck are the numbers five to eight in the championship and all will be looking for new personal bests and at least a semifinal finish to end the season on a high. After his terrifying crash at Gardermoen Kim Hilander will of course not be able to race at Tierp, but it's great to see that the rider from Åland will be at Tierp to support his girlfriend Ida Zetterström.
Bianca Nilsson made some major progress in her first SSB season and will try to come close to her father Robert's elapsed times. Roberth Häggblom and Micke Ölen can always surprise, while Arvid Gerdtsson skipped Gardermoen but is back in action at Tierp. The same is true for former champion Björn Friström, while Dag Wagenius rejoined the EDRS Pro Nordic MC at Gardermoen and is back at Tierp for his second race of the season. Nichlas Sverin, Nils-Ola Andersson and Tommie Johansson will have their first start of the season in the EDRS 'no slicks, no wheelie bar' category. One thing is for sure, Super Street Bike is always exciting.
Super Comp Bike is for Peter Östlund?
After Emil Östlund last year, Super Comp Bike will again have a champion with the name Östlund. You don't have to be a fortune teller to predict that Peter Östlund will be the 2018 EDRS Pro Nordic MC Super Comp Bike champion. The Swede is leading the championship with a 90 point margin over Anders Gerdtsson, who skipped the Norwegian round of the championship. Because the numbers three and four in the title race, Gardermoen winner Tomas Jonsson and Tierp Internationals winner Ulf Fridolfsson also missed one race, they will not get the 100 bonus points and can't catch Östlund who scored points in all three races.
This opens the door for Kimmo Rantala, the number five in the championship. The Finn attended all races and can gain some positions when the 100 points are added to his final score. Super Comp Bike has a healthy 16 entrants at Tierp, three from Finland and thirteen coming from Sweden. Among the Swedish competitors an interesting name as Pro Stock Motorcycle rider Kalle Lyrén will also take part in Super Comp Bike and can go for a double win at Tierp.
Super Gas Bike, two Finns or?
In Super Gas Bike the title race will go down to the wire. Jami Oksanen was the winner at Tierp in June and Gardermoen, but Alastaro winner and Gardermoen runner-up Jenni Pekkarinen is only five points behind in second position.
Ellen Ødegaard from Norway is chasing the two Finnish riders and is only 40 points short of the leading position. Iiro Reinola is in fourth position, but the reigning champion is another 37 points behind Ødegaard and will need a win and some bad luck for the top three riders to claim another title.
Super Gas Bike has ten entrants at Tierp, four from Sweden, four from Finland and two from Norway. Among the Finnish riders an interesting rookie with the name Fredlund. Joel Fredlund, son of multiple Pro Stock Motorcycle champion Fredrik Fredlund will make his EDRS Pro Nordic MC competition debut on one of the Sweet Cheek Racing Super Gas Bikes.
Qualifying for the EDRS Pro Nordic Motorcycle Championship in Top Fuel Motorcycle, Super Twin Motorcycle, Pro Stock Motorcycle and Super Street Bike will start on Friday 24th August, while Super Comp Bike and Super Gas Bike will have their first qualifying runs on Thursday 23rd August.
Summit Racing Equipment Internationals, Tierp Arena, August 23-26, entry list:
http://www.dragracing.eu/event_details.asp?c=y&id=407