First event done at Kauhava new raceway in Finland
Tomas Nurminen took win in JD-class and earned good points and traditional shower in price seremony.
The very first race in Kauhava was successful and round 4 from finnish championship delighted racers and public.
The work started in January and it has been fruitful and Finland got new international measures filling drag racing track. The construction work was done during this summer to Kauhava, LSK Business Park, to former military flight school area. Track was finished by co-operation with LSK Business Park and Finnish Hot Rod Association (FHRA) in record time.
First official race day was on Saturday 11th August in windy but although dry and partly sunny weather. It was very historical day because last time there has been a track opening in Finland to drag racing it is almost 30 years ago, in 1989. By opening this new track, we wanted to secure Finnish statue in drag racing as great power and to have major events to Finland. City council chairman Janne Sankelo opened this event with his speech and did welcome drag racing warmly. City council member Veli-Matti Lillbacka also wished all drag racing friends very welcome and hoped for the racers fast drives.
FHRA chairman Lasse Koskinen had a thankful speech for Kauhava`s nice and warm welcoming. All locals have been supporting this project.  The grand opening and first racers was Jaska Salakari with his Super Twin Bike.  Big and nice moment in our racing history! Drag Racing got new home from Kauhava.
First race day went of to get the pace to racing mode. Track is new to all, officials and drivers. Still many did good times and pb-times and improving round by round. Obviously track crew had done good job and traction was in shape.
Final day, Sunday, was cooler than previous day and elimination started as usual by national anthem. Eliminations went really smoothly, and the finals could be raced in good schedule.
It was all Nea Verronen´s day and she took nice win in Jr Bike-class.
Roni Tekoniemi was compeeting hard and took RunnerUp place in Junior Dragsters.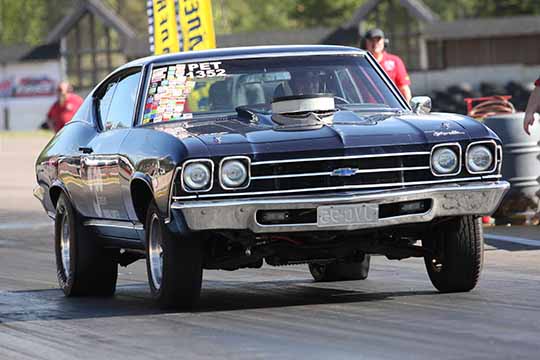 Very good driving and the Winner in Pro ET went to Jarno Salonen with his BB Chevelle.
Tony Vaahtera took RunnerUp place in Pro ET with his blown Mustang.
Rerport: Kettil Rautio