Busy weekend at Sundsvall Raceway comming up
Mid Sweden Nats Finals is next up in the Summit Racing EDRS Series in Sweden, and to participate in that event, you have to go to Sundsvall Raceway this weekend, 10th-12th of August. This is one of the best race tracks in the country.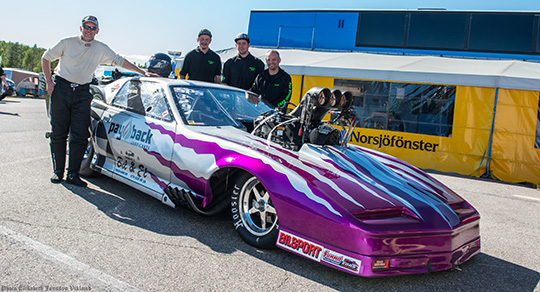 Kenneth Lingvall, winner in Super Pro ET at the first of the two events at Sundsvalls Raceway in the Super Series. Is he the one to get the most points, to be be in the Finals at Tierp Arena in a few weeks? That´s something that we know after this weekend. 
Except from crowning Summit Racing EDRS Series winners, there is also going to be two more drivers crowned in the Summit Racing Super Series of Super Pro ET and Pro ET. This is the second event at the track where the driver with best points in the two events this summer is going to the big battle at Tierp Arena in a few weeks, to fight about the 4000 $ that is the winner Award. Else there also the Swedish Champion of Competition Eliminator and Stock/Super Stock. Jr dragsters have one of their Swedish Championship races here as well this weekend. So, a big racing weekend is coming up at one of Swedens best tracks. Don´t miss this, folks!
The organizer SHRA Sundsvall is also looking forward to the fact that Drag Racing in Sweden celebrates 50 years this year (more information about this in the program, check out the link).
Program: https://indd.adobe.com/view/e1784b9b-58c6-499c-b45b-d6516d828f60
Classes: Pro Modified, Top Doorslammer, Competition, Stock/Super Stock, Pro Street, Super Comp, Super Street, Super Gas, Street, Super Pro Street ,
Super Pro ET, Pro ET  Jr Dragster, Super Street Bike, Super Comp Bike, Super Gas Bike, Jr Drag Bike
Results: www.dragracing.eu
Photo cred: Elisabeth Johnsson Viklund