Part two of the EDRS Pro Nordic MC starts at Gardermoen Raceway
The EDRS Pro Nordic Motorcycle Championship is at the halfway point and with Gardermoen Raceway in Norway, the riders kick off part two of the season. After two exciting races Marcus Christiansen, Rikard Gustafsson, Mathias Bohlin, and home favourite Thomas Lysebraate Olsen are the leaders in their respective categories, but just as at Tierp and Alastaro they will meet tough competition.
With the traditional and highly regarded Drag Challenge at the great and fast Gardermoen Raceway, the EDRS Pro Nordic Motorcycle Championship visits the third track and third country in the series. The first two rounds at Tierp Arena and Alastaro offered excellent racing and many personal bests, and as the Norwegian track has a great reputation for being extremely fast and smooth, don't be surprised to see records fall again. With a healthy entry in almost all EDRS Pro Nordic Motorcycle Championship classes, the 2018 Drag Challenge promises to become one of the best ever. Especially as for some riders it's their last chance to come back in the title race before they head to Tierp Arena for the grand finale, four weeks later.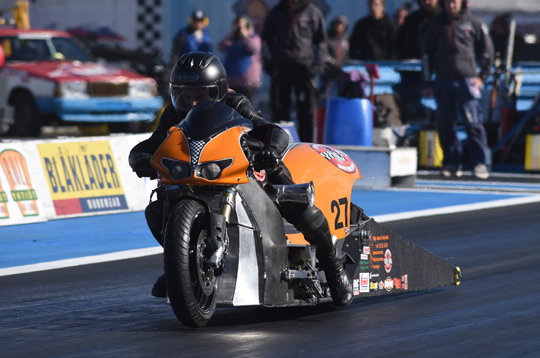 Super Twin Motorcycle
With, at the time of writing, 14 entrants, probably 12 of which are capable of winning the race and all of the title contenders at present, Super Twin Motorcycle will once again be extremely close and the category many spectators will be focused on. After winning the Alastaro race and his runner-up finish at Tierp, Marcus Christiansen from Denmark is leading the championship.
The two Finnish riders Samu Kemppainen and Lasse Leponiemi are in second and third position, but with Anders Hörnström and Greger Johansson only 12 and 23 points short of the number three position, there is still plenty to fight for. The strong Finnish delegation is completed by Harri Piensalmi and Teemu and Torsti Kettula.
The home country Norway is represented by no fewer than five riders. Svein Olaf Rolfstad showed his speed at Tierp and Alastaro, but was not consistent enough to score many points, thus the home favourite is only eighth in the championship. Trond Jostein Høiberget surprised at Tierp and will definitely try to impress at his home race again.
Kristin Hegre is once again the only female rider in the class, while Vidar Ravnsborg and Erling Opheim will have their first outing in the 2018 EDRS Pro Nordic MC at their home track. Last but not least there is Roman Sixta, all the way from the Czech Republic. Last year's runner-up in the championship skipped the Finnish race but is back in action in Norway. Of course it's very sad to see that Hans Olav Olstad will have to miss the Gardermoen race after his engine explosion at Alastaro.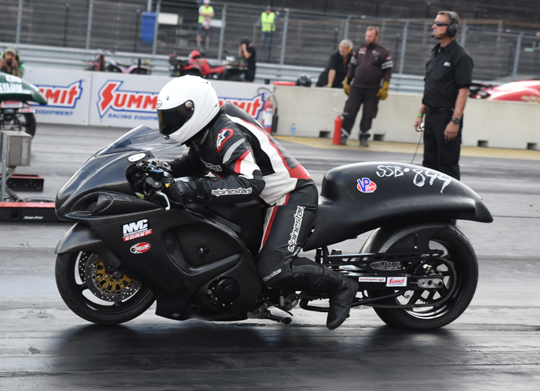 Super Street Bike
There are also 14 entrants in Super Street Bike at Gardermoen and the big question of course is whether anyone can beat Mathias Bohlin. The Swedish rider surprised with a win at Tierp, but proved at Alastaro with his second consecutive victory that it was no coincidence. Bohlin reset his personal best several times and is still undefeated this season. Vesa Ruhanen from Finland also reset his personals best, was the runner-up at his home race and is in second position in the championship. Alex Hope from the United Kingdom is third, while Mogens Lund is fourth at the halfway point of the season. The reigning champion from Denmark is the only rider in the field with a 6-second run to his credit, but has not been so lucky thus far in eliminations this season. Lund will have to score a win to come back in the title race and to have a chance to retain his title.
Mark Hope is the second rider all the way from the United Kingdom at Gardermoen. Robert Nilsson is always a force to be reckoned with, while his daughter and rookie SSB rider Bianca is improving every round and can surprise the favourites.
Also from Sweden come the two Team 817 teammates Roberth Häggblom and Micke Ölen, while two other teammates, but from Åland/Finland, Kim Hilander and Ida Zetterström, can surprise, as the female rider proved with a great semi-final Finnish at Alastaro.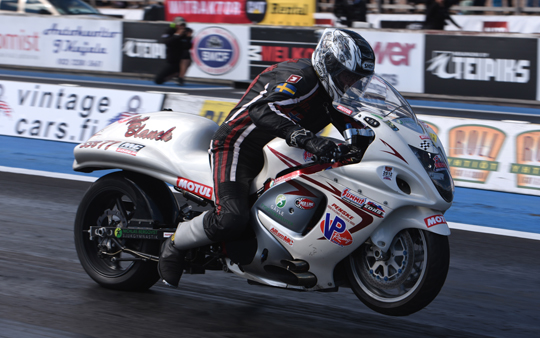 Norway is represented with three riders. Anders Blanck competed in the first two races, but for Dag Wagenius and Svein Ove Braendhagen it's their first EDRS Pro Nordic MC appearance of this season and it's great to see them back in the championship.
Pro Stock Motorcycle
Pro Stock Motorcycle has an encouraging number of five entrants at Gardermoen. Thomas Lysebraate Olsen is leading the championship. The reigning champion was the quickest and fastest rider this season and he will definitely be looking for revenge in his home country after he had retire on Sunday in Alastaro with a front shock absorber failure.
Timo Savolainen from Finland will try to repeat his Alastaro victory, but the two championship contenders will meet tough competition from former champion Kalle Lyrén. The Lyrén Motorsport rider had to skip the first two rounds of the championship, but will try to bounce back with a win. Tobias Steen is the second rider from Norway, and just like Bo Thorselius from Sweden, this will be his first EDRS Pro Nordic race of the season.
Top Fuel Motorcycle
In Top Fuel Motorcycle, championship leader Rikard Gustafsson will try to reset some track records. The Swedish rider has been in a class of his own so far this season and will go for three wins out of three races. Sverre Dahl proved his speed at Tierp and might be Gustafsson's most important challenger, but never underestimate Jan Sturla Hegre.
Especially on his home track Hegre will do his very best to beat Gustafsson. Last but not least there is Thomas Pettersson. It will be difficult for the Swedish Funny Bike rider to beat the Top Fuelers, but consistency might be the key factor.
Super Comp Bike
So far Super Comp Bike has 11 entrants at Gardermoen. Six riders are from Sweden, one from Finland, one from Denmark and three from Norway. Anders Gerdtsson is leading the championship, but the Swede is missing on the entry list, and that gives the number two Peter Östlund, the number four and winner at Tierp Ulf Fridolfsson, and fifth placed Kimo Rantala the opportunity to make up some ground.
Tony Andersson, Peter Svensson, Emil Östlund and Tomas Jonsson are four riders from Sweden we saw in the first half of the season and they are back for more. New to this year's championship is Michael Jensen from Denmark, while the Drag Challenge is also the first EDRS Pro Nordic MC race of the season for Norwegian riders Stian Horne, Asle Malvik and Kathrine Wagenius.
It's great to see the popular Norwegian female rider and daughter of SSB rider Dag Wagenius back in action, as study obligations make it impossible for her to run a full championship.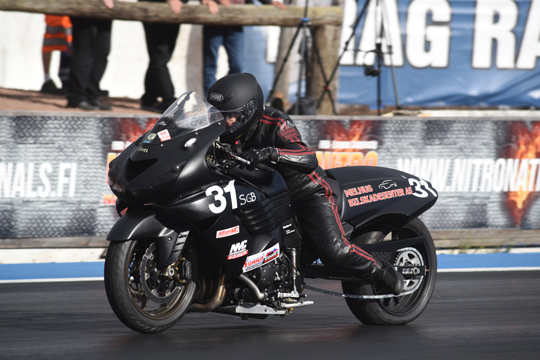 Super Gas Bike
Super Gas Bike has nine entrants and with the top four of the championship present, it will be an interesting battle. With Ellen Ødegaard from Norway leading the championship and Alastaro winner Jenni Pekkarinen (Finland) in second position only two points behind, the female riders rule at the halfway point of the season.
Jami Oksanen, winner at Tierp, is the number three, while reigning champion Iiro Reinola is fourth. Arne Lund, Per Morten Horne, Linda Horne, Mikkel Jensen and Jomar Larsen will all have their first EDRS Pro Nordic MC outing of this season at Gerdermoen.
Qualifying for the EDRS Pro Nordic Motorcycle Championship in Top Fuel Motorcycle, Super Twin Motorcycle, Pro Stock Motorcycle and Super Street Bike will start on Friday July 27, while Super Comp Bike and Super Gas Bike will have their first qualifying runs on Thursday July 26.
The more information about the EDRS Pro Nordic Motorcycle Championship and the points standings after two races: www.edrspro.com.