A new-start at Sundvall Raceway gave a lot of personal best
Sundsvall's Raceways, event number 1 this season, a sunny and pleasant event with lots of qualification rounds and a smooth and good flow over the booth days.
136 teams came to the Summit Racing EDRS Event at Sundsvall Raceway and had a great time at the track. The news this year is that Kjell Pettersson prepare the track and he is doing a great job. The track was in such conditions that many personal bests were produced in several classes. Next event at Sundsvall Raceway is 10th to 12th of august.
Summit Racing EDRS Series Classes Results:
Class:                           Q1:                                  Winners:                              RU:
Top Doorslammer        Anne-Britt Nilssen         Stefan Carlsson                     Tony Johansson
Competition                 Jens Eklund                     Jens Eklund                            Mathias Stenström
Stock/Super Stock       Anders Eriksson            Anders Eriksson                     Per Fagerström
Super Pro Street          Bent Thyr                        Kenneth Lingvall                   Tord Norberg
Pro Street                     Christian Hedman          Lars Berglund                        Mats Åkelund
Street                            Marcus Gustafsson          Marcus Gustafsson               Terje Sæterhaug
Super Comp                 Mikael Nilsson                 Elin Aarvik                              Matilda S-Andersson
Super Gas                     Håkan Mattsson              Håkan Mattsson                    Christer Uhlin
Super Street                 Isak Lagg                           Isak Lagg                                Uffe Lundgren
Jr Dragster                    Celina Hanssen               Wilma Andersson                Fanny Andersson
Super Pro ET                Karl Leo Norum              Kenneth Lingvald                Tord Norberg
Pro ET                           Frode Halvei                     Peter Häggström                  Linnéa Malmberg
Super Street Bike        Dag Wagenius                  Niclas Severin
Super Comp Bike         Emil Östlund                   Emil Östlund                          Tomas Jonsson
Super Gas Bike             Johan Ekström                Niclas Sedergren                  Camilla Skålvik
Jr Drag Bike                  Dennis Adsell                  Tryggve Kjörstad                   Anna Rosander
Top Doorslammer  Stefan Carlsson  

Competition  Jens Eklund 
Stock/Super Stock Anders Eriksson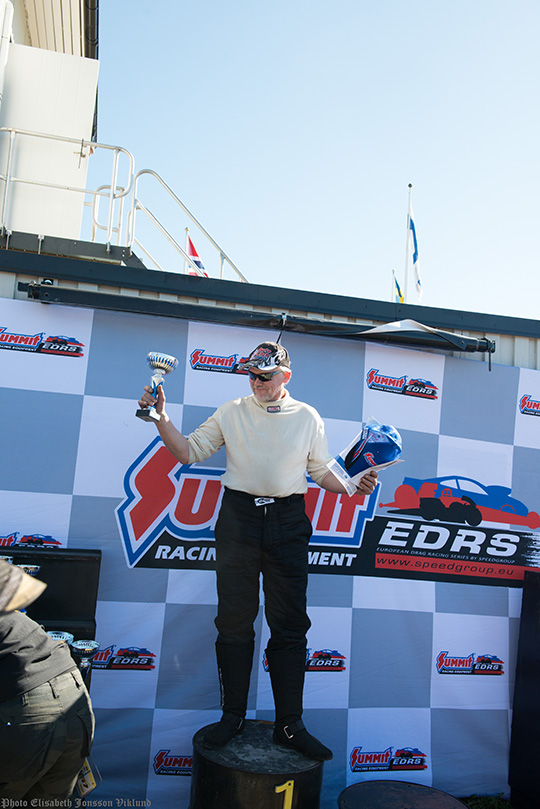 Super Pro Street  Kenneth Lingvall
Pro Street Lars Berglund
Street Marcus Gustafsson
Super Comp Elin Aarvik
Super Gas Håkan Mattsson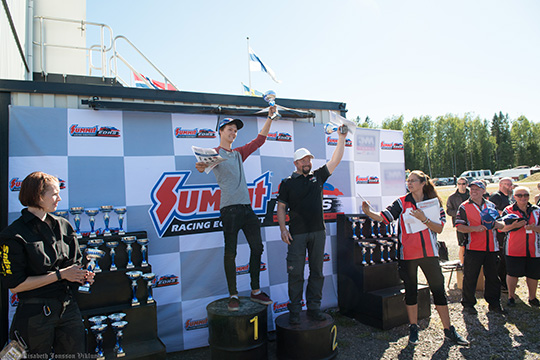 Super Street Isak Lagg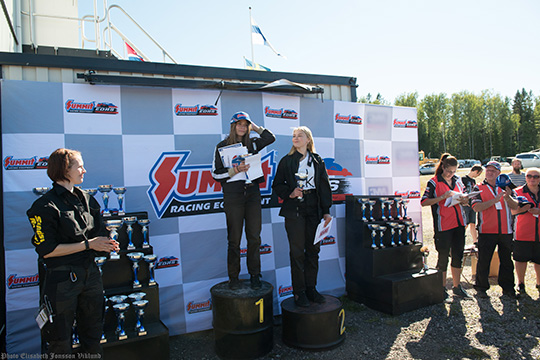 Jr Dragster  Wilma Andersson
Super Pro ET Kenneth Lingvald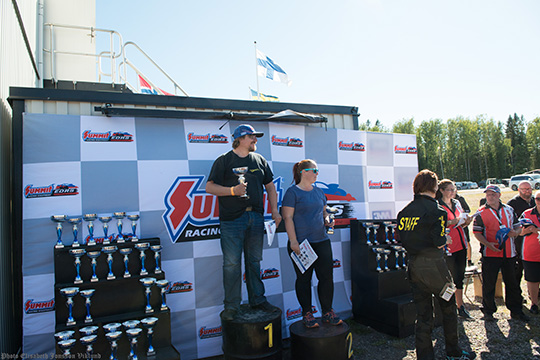 Pro ET Peter Häggström
Super Street Bike Niclas Severin
Super Comp Bike Emil Östlun
Super Gas Bike Niclas Sedergrend
Jr Drag Bike  Tryggve Kjörstad
Photo cred: Elisabeth Jonsson Viklund
Results: www.dragracing.eu/results