Tight racing at the last event at Alastaro Circuit
A windy but sunny last Nitro Nationals weekend at Alastaro Circuit offered good racing for the Summit Racing EDRS Series racers. There was tears falling at the end of the event, as this  seems to be the last big race at the track. Spectators and crew was invited to take a walk at the startline and track before the pricegivingceremony to get a last feeling of tracktion.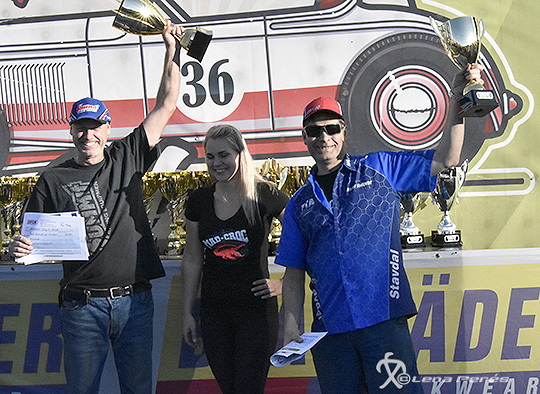 In Pro Modified Jimmy Ålund took the win over Michael Gullqvist in the finals. Both drivers had solid 5 second runs during the event but in the finals Gullqvist had to shut off with a time of 6.55 against Jimmys 5.92 seconds. Jimmy also took the win in Pro Stock, which is the first time ever in FIA history where anyone won in two classes on the same afternoon. Amazing performance.
Daniel Hållestam won the Pro Street class against Ossi Oikarinen, in his cool Coca Cola Plymouth '59 station wagon. He had borrowed Annica and Angelica Larssons crew chief to this event and that went very well.
In Stock/Super Stock Rick McCann beat Kai Suilo with a 9.98 against 10.02.  Rick keeps his top position in the Summit Racing EDRS Series.
Jr Dragster had no competitors from outside of Finland, Alisa Ritola from Vilppula took the class win. One day she might take over Anitas seat in a Top Fuel dragster. She is now in tenth place in the Summit Racing EDRS Series Division Central.
In Super Gas Bike Jenni Pekkarinen from Helsinki took the win over Teenu Kekola. That win has Jenni now in the lead in the table with 14 points over Jami Oksanen.
In Super Comp Bike, Toni Suokas won over Hannu Koskela in a tight race and landed straight into the #10 in points. This was his first race in the series so far and same to Hannu who now is in the 12th place.
Jr Dragbike rider Eemeli Helkkala pulled a quick start on Jaakko Miettinen and took the holeshot win with Jaakko being the quicker driver. Eemeli is still at the top of the points just ahead of Samuel Rundström so far this season.
This weekend Piteå and Haapsalu is up and  is a tight schedule in the series for our talented racers. Good luck everyone.