EDRS Pro Nordic MC test runs at Alastaro
The second race in the Finnish Championship series took place in the middle of June at the sunny Alastaro Circuit, and between the runs we could see many riders from the EDRS Pro Nordic Motorcycle Championship making test runs and even set new records.
One of absolutely biggest surprises was when Fredrik "Fredde" Fredlund came to ride on a Pro Stock Motorcycle, although he'd announced taking a break from racing. Fredde rode on Janne Koskinen's bike, because Janne and his team, Sweet Cheek Racing, had asked him some advice on testing the bike. They needed an experienced rider who could check that the vehicle is running again without problems after they've repaired it due to Janne's accident last year.
And the bike seemed to run perfectly as Fredde made a nice 7.267s / 293.00 km/h and 1.09s 60ft, despite the fact that the bike's and rider's weight was total 310 kg, in other words 30 kg overweight! Afterwards Fredrik said that the bike was quite easy to control, almost better than his own bike. Nevertheless, a kind of uneasy thing was that the bike is built for a much shorter rider than he, and that's why he didn't feel quite comfortable in the saddle.
And then Janne Koskinen sat in the saddle. He started a bit carefully, but already on Saturday in his last run he made a promising 7.295s / 291.62km/h. On Sunday Janne kept running on the same way. He did many really good runs and finally set his own new record at 7.241s / 291.90km/h. And even in this run the bike was still 17 kg overweight. And in fact, he didn't even use the maximum power of the engine. Janne explained after the test runs that right now his main purpose is to learn and get used to the bike and not to set personal records.
During the whole weekend the best run was made by Vesa Ruhanen on his SSB Kawasaki. On Saturday he first had heavy traction problems, but then he found the right set up. He did a nice, clean run and made a 7.072s / 322.58km/h. It was Vesa's new PB and at the same time the world's quickest time by an SSB Kawasaki! And of course, his next goal is now a 6-second time.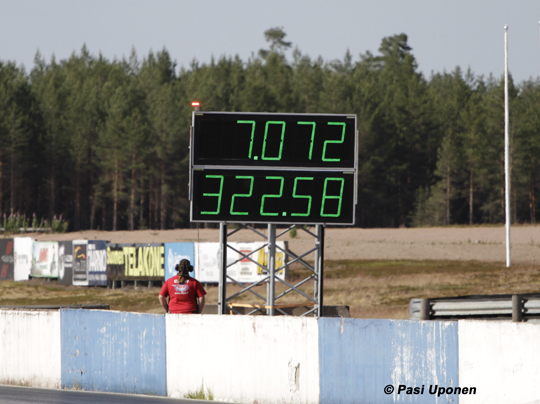 A couple of Super Twin Top Fuel Motorcycles were on the track, too. The first one was Samu Kemppainen's. Samu had come to get a new start after the opening round of the EDRS Pro Nordic MC series where all didn't go so well. Here at Alastaro he started really fine, but in the end of the run he couldn't stay in his own lane, and the next run the bike dropped a cylinder. Finally, the third run showed that Samu is back in business and he made 6.588s / 333.34km/h despite the visible heavy tire shakes at first.
Another Super Twin on the track was Ismo "Ipa" Mäenpää's bike that was ridden by Aku Lantto. Actually, Aku has a new bike under construction and it's going to be quite similar to the record bike of Jaska Salakari, but unfortunately they couldn't manage to get it ready for the EDRS Pro Nordic Motorcycle Championship this season.
In the meantime Aku is racing on Ipa's bike, e.g. at the FHRA Nitro Nationals. At first they thought Aku could ride a couple of test runs over the 1/8 mile, so he could learn the bike, but unfortunately due to the technical problems, their test runs ended up earlier than they'd wished. However, Aku was quite happy with it, all saying: "This is what it's all about. I'm glad that we could find the problems now, so we've got plenty of time to fix them before the Nitro Nationals."
Text: Pasi Uponen
Photos: Pasi Uponen and time slip photo by Pyry Reinola