EDRS Pro Nordic Motorcycle Championship kicks off at Tierp Arena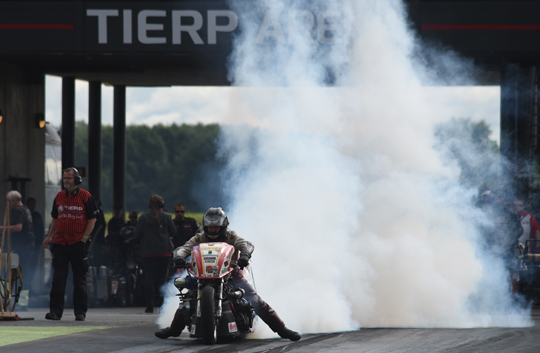 Only a few days to go and the EDRS Pro Nordic Motorcycle Championship kicks off with its traditional opener, the Tierp Internationals at Tierp Arena. Stability is what teams and promotors want and so the most prestigious motorcycle championship of Northern Europe once again counts six different categories and will be decided in four races. Tommy Grimes Jr., Thomas Lysebraate Olsen, Jan Sturla Hegre, Mogens Lund, Emil Östlund and Iiro Reinola are the 2017 champions and until a few weeks ago the great news was that they would all be back at Tierp to start their title defence. Unfortunately, The Beast Dragbike Team had to withdraw their entry as Grimes has to deal with some health issues and can't come to Europe. Looking at the entry lists, the five defending champions will get nothing for granted and will meet tough competition.
After the traditional kick off at Tierp Arena, the teams travel to Finland for the second race of the season at Alastaro Circuit. This race will be a special one as it will be the last race at this historic and special place. From 2019 the new track in Kauhava will be the new home for the FHRA Nitro Nationals. Gardermoen Raceway in Norway is host to round number three and for their finals, the riders will go back to Tierp Arena for the Scandinavian Internationals, once again the fourth and last race of the EDRS Pro Nordic Motorcycle Championship. There are also no changes in the categories as the 2018 EDRS Pro Nordic MC will include once again Top Fuel Motorcycle, Super Twin Motorcycle, Pro Stock Motorcycle, Super Street Bike, Super Comp Bike and Super Gas Bike.
Super Twin Motorcycle
Super Twin Motorcycle is always exciting, and when you have 14 of these spectacular machines on the entry list, almost all capable of winning the race and the championship, the Tierp Internationals and the title race can only end in a thriller. With six riders from Finland and four from Norway, these two countries are leading in Super Twin Motorcycle. Sweden is next in line with two riders, while Denmark and the Czech Republic are represented by one rider. Tommy Grimes Jr. was last year's record setting champion and the plan was that the America rider would be back with Per Bengtsson's team and bike, 'The Beast', to defend his title and make it two in a row. But a few weeks ago the team had to announce that they had to withdraw their entry as Grimes has to deal with some health issues and was unable to come to Europe. Grimes and the team hope to be back later this season and go for some race wins.
After a consistent and great season, Roman Sixta finished in second position, and the rider from the Czech Republic is back for more. Consistency was Samu Kemppainen's major problem last year and as the 2016 champion finished third in the title race, the Finnish rider will be out for revenge. Greger Johansson was last year's number four and the best rider from Sweden in the championship standing.
But there are more favourites. Anders Hörnström, also from Sweden, was the surprise winner last year at Tierp in his first race with the ex Jay Turner machine. Although Hörnström couldn't repeat that success, he will undoubtedly be a force to be reckoned with.
But Marcus Christiansen is probably the rider most feared by his competitors. The Dane could only take part in the last race of the season at Tierp and immediately impressed with a win and stunning numbers. Christiansen won his first trophy of this season only one week ago when he finished as the runner-up at Santa Pod.
Svein Olav Rolfstad is always among the favourites and the same is true for Hans Olav Olstad, who returns to the track after a one year break. Olstad will be in the winning mood as he was the winner of the first FIM round a week ago at Santa Pod. Also from Norway come Trond Jostein Høiberget and the only female Super Twin rider, Kristin Hegre, mother of Top Fuel Motorcycle champion Jan Sturla Hegre. Apart from Kemppainen, the Finnish colours will be defended by an extremely strong delegation including Torsti and Teemu Kettula, Lasse Leponiemi, Vesa Lipponen and Harri Piensalmi.
Pro Stock Motorcycle
There are four entrants from three different countries at the start of the season in EDRS Pro Nordic MC Pro Stock Motorcycle. Thomas Lysebraate Olsen won his first ever Pro Stock Motorcycle title last year. With some new parts in the engine, the Norwegian team want to improve their performance and retain the title. Timo Savolainen finished in second position for the second consecutive year last season and will do everything he can to finish one step higher on the podium. And don't look for the familiar yellow and black colours, as the Finnish Pro Stocker is dressed in red this season.
Kalle Lyrén, the 2016 champion, didn't have the season he'd hoped for. The Swede crashed at the opening race of the season and had to skip rounds two and three. Lyrén impressed at his come back at Tierp at the end of the season by running great numbers, proving that he hadn't lost his faith. Lyrén wanted to go for a new title this season, but as he is not only still waiting for parts, but also lacking time, Lyrén had to withdraw his entry and will join the championship later this season. Kenneth Holmberg skipped the last part of last season, but is back for another double programme with the EDRS Pro Nordic MC and the FIM series. The Swecomposite rider had his first outing of the season at Santa Pod and scored a number one qualifying position. Bo Thorselius from Sweden is the last rider on the Tierp Arena entry list. After his crash at Alastaro last year, Janne Koskinen is still looking for some extra funding to get his bike back on the track. Hopefully we will also see Robert Karlsson back in action later this season, but the former champion has some other forms of motorsport on his calendar and might be lacking time.
Top Fuel Motorcycle
With four entrants, Top Fuel Motorcycle doesn't have the biggest field so early in the season. Jan Sturla Hegre is the reigning champion, but with Rikard Gustafsson the rider from Norway will have one of the quickest and fastest motorcycles of Europe in the other lane. At Santa Pod Gustafsson last weekend reset the European Top Fuel Bike speed record to 250.55 mph! Thomas Pettersson was the 2016 champion and last year's runner-up. The Swedish Funny Bike rider will need his consistency to beat the far more powerful Top Fuel Motorcycles of Hegre and Gustafsson. Last but not least Funny Bike rider Peter Andersson will also try to score with consistency and reliability.
Super Street Bike
With many familiar names on the entry list and last year's frontrunners back in action again, Super Street Bike will definitely be spectacular again. Last year the 'no wheelie bar' category stepped up to a new level with numerous personal bests and record numbers. Mogens Lund from Denmark is the reigning EDRS Pro Nordic MC SSB champion and will definitely be the man to beat at Tierp.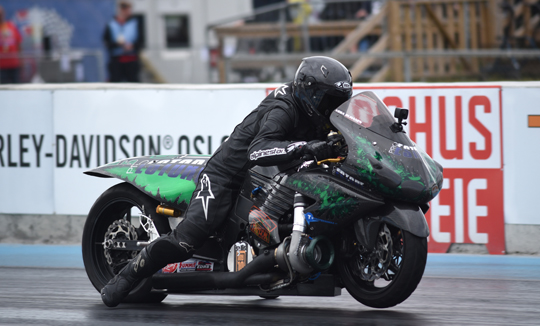 Anders Blanck was last year's runner-up, with Vesa Ruhanen in third position. With riders from Denmark, Norway and Finland, there were three riders from three different countries in the top three! But former champion Björn Friström can go for the title as well.
From Åland/Finland come Kim Hilander, last year's number four in the championship, and the only female rider so far on the entry list, Ida Zetterström. All the way from England come Mark and Alex Hope. Alex was racing Pro Stock Motorcycle last year and finished third in the EDRS Pro Nordic MC. This season the two brothers will both compete in Super Street Bike. Robert Nilsson proved his great form last year several times and it's great to see that his daughter and 2016 EDRS Pro Nordic MC Super Comp Bike champion Bianca Nilsson steps up to SSB now as well. And the even better news is that Bianca Nilsson is not the only rider stepping up to a higher category, as we also see Micke Ölen (from Super Gas Bike) and Arvid Gerdtsson (Super Comp Bike in 2016) on the Tierp SSB entry list. The list of competitors from Sweden is completed by Roberth Häggblom and Mathias Bohlin, while Kimmo Pulakka is the fourth Finnish rider in Tierp.
Super Comp Bike
In Super Comp Bike there are 12 entrants at Tierp Arena, where Emil Östlund will start his title defence. Kimmo Rantala from Finland was last year's runner-up and will try his very best to beat all eleven Swedish competitors. With Tomas Jonsson (last year's number three) Peter and Rasmus Östlund, Peter Svensson, Tony Andersson and Ulf Fridolfsson there are some familiar SCB names at Tierp, but with Anders Gerdtsson, Thomas Nordin, Andreas Ramkvist and Peter Rundström there are also some riders we didn't see in last season's EDRS Pro Nordic MC 8.5-second index class.
Super Gas Bike
Super Gas Bike starts the season with seven entrants. Iiro Reinola will try to win his second consecutive title. Apart from Ellen Ødegaard (Norway), last year's number six in the championship and Jani Blom, all other names are new compared to the 2017 championship standing, and that is always a good sign. Jomar Larsen is also from Norway, Niklas Ekstrand is the only Swedish rider so far, while Reinola will be accompanied by his countrymen Jami Oksanen and Jenni Pekkarinen.
Link to the Tierp Internationals entry list: http://www.dragracing.eu/event_details.asp?c=y&id=389