The Main Event 2018 on track and from the pits
The 2018 FIA European Drag Racing Championship kicked off with The Main Event at Santa Pod Raceway. What a great season opener it was with four Top Fuelers in the 3.9 seconds, one Pro Modified car in the 5.8 seconds and another four in the 5.9 seconds several times. In Top Methanol and Pro Stock there were great elapsed times as well, plus a surprise winner in Top Fuel and a first time finalist in Pro Stock. It seems like we have a great season ahead of us. The new all concrete Santa Pod Raceway track was of course subject of many discussions and everybody had their own opinion about it. Even the track management openly declared that there were still many improvements to make. But the spectators got three days of drag racing they could only have dreamed of. All qualifying and eliminations results were published on Dragracing Europe during the event, and all details can always be reviewed in the excellent live coverage on Eurodragster.com. In this article we look back at some highlights and other interesting things that happened during The Main Event at Santa Pod Raceway.
In Top Fuel Antti Horto and Duncan Micallef immediately set the pace on day one of qualifying with stunning 3.904 and 3.920 seconds elapsed times. On day two Liam Jones joined his teammates with 3.905 seconds, making the top three an all Rune Fjeld Motorsport affair. With Anita Mäkelä back to championship form with 3.957 seconds, no fewer than four drivers broke the 4-second barrier on the first two days of the new season.
In eliminations Mäkelä was the only driver who could repeat her qualification form with another two 3.9-second runs, with her semifinal 3.908 seconds at 310 mph as the highlight. Most of the other drivers struggled with the changing track conditions and suffered tyre shake or lost traction.
Stig Neergaard made the most of it, won a first round pedal fest to see Jones pull a red light in the semifinal. In the final Mäkelä and Neergaard both ran into problems and broke the blower belt, but as the Dane had more speed, the number six qualifier crossed the finish line first and was the surprise winner.
Pro Modified was spectacular as well. On the first day of qualifying Michael Gullqvist stormed to a stunning 5.86 seconds, only 0.03 seconds short of his own European record. But with another four drivers in the 5.9 seconds and the number eight qualifier still recording a 6.10 seconds personal best, the competition in Pro Mod was exciting.
Jimmy Ålund came closest to the reigning champion with 5.91 seconds, with home favourite Andy Robinson third (5.92 seconds) and David Vegter with a string of four consecutive 5.9-second runs and a best of 5.93 seconds in fourth. Kim Kristiansen's 5.94 seconds, the Danes first 5.9-second run, handed him the number five qualifying position.
In  contrast to the Top Fuel class, the top two qualifiers in Pro Modified were also the quickest drivers in eliminations. Gullqvist recorded 5.91 seconds in the quarter finals to defeat Vegter in a close semifinal with 5.92 seconds. Ålund proved his consistency with 5.91 and 5.93-second wins over Fredrik Fagerström and Jan Ericsson. In the final Gullqvist stepped up to 5.904 seconds to start the new season with another race win.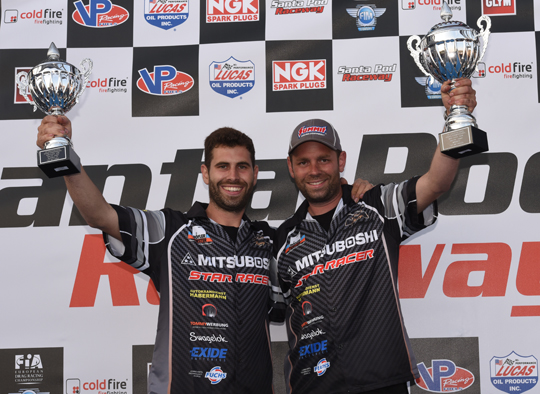 From the very first run it was loud and clear that the two Habermann brothers were the men to beat in Top Methanol at The Main Event. Dennis Habermann stormed to a stunning 5.32 seconds at 270 mph in his first qualifying attempt, while Timo was not far away with 5.36 seconds.
Jonnie Lagg was back to form with 5.41 seconds, making the top three an all dragster affair. Jürgen Nagel was the first Funny Car in the field in fourth position, while Sandro Bellio was struggling with severe tyre shake and couldn't do better than 5.85 seconds, where 5.4-second runs were the Belgian team's target.
In eliminations the Habermann brothers were in a class of their own and both advanced to the final. In the first round of eliminations Dennis Habermann improved on his qualifying performance with a stunning 5.306 seconds at 274 mph, but in the final it was Timo's turn to improve into the 5.30s with 5.301 seconds to take the win over Dennis, who still recorded a great 5.37 seconds.
In Pro Stock there were only four entrants at Santa Pod, but once again it was proved that you don't need a large field to have an exciting race. Bengt Ljungdahl was the number one qualifier with 6.64 seconds, with Stefan Ernryd second (6.664 seconds), Michael Malmgren third (6.669 seconds) and Robin Norén fourth (6.71 seconds), making the difference between the top four only 0.07 seconds!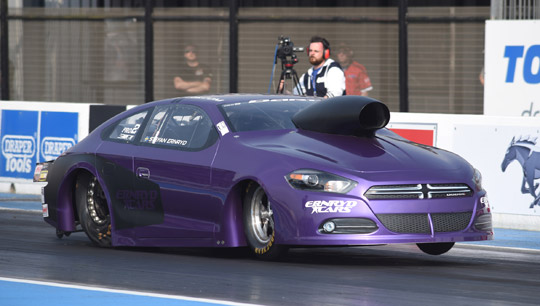 In eliminations Ernryd stepped up to 6.603 seconds to advance to the final, while Norén reset his personal best to 6.65 seconds and saw Ljungdahl pull a red light. In his first Pro Stock final Norén couldn't surprise Ernryd, as last year's runner up repeated the 6.603-second semifinal run to claim the win.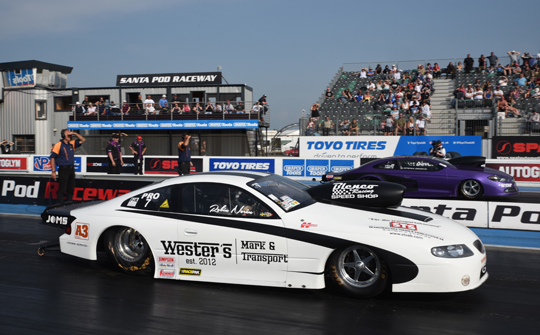 The FIA European Drag Racing Championship teams are on the road again. Unloading the trailer, to pack again after a few days with hopefully everything still in one piece. One race down, five to go.
Mikael Kågered Racing
Stig Neergaard
Michael Gullqvist
Wheelspin and tyre shake, many teams struggled to find the right setup for the new Santa Pod track
Stig Neergaard
Stefan Gunnarsson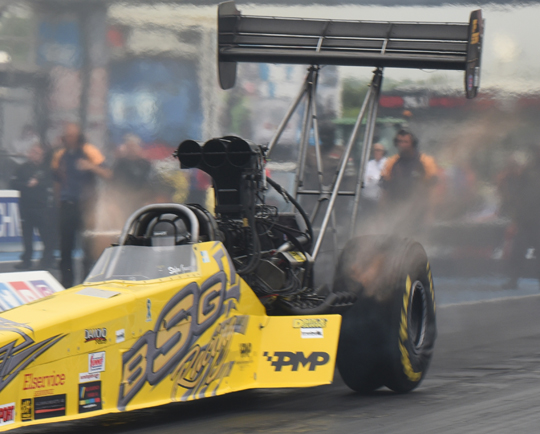 Bruno Bader
The cockpit of a Top Fueler is not that comfortable
but good enough for a powernap when you are waiting for the start
Anita Mäkelä and Stig Neergaard still kidding when making ready for the final
The winning team
The Top Fuel drivers at work in the pits, Jndia Erbacher folding the chutes
Anita Mäkelä pleasing a young fan with a new team T-shirt
while Duncan Micallef is cleaning his car
But warming up the engine is also one of the routine jobs for a Top Fuel driver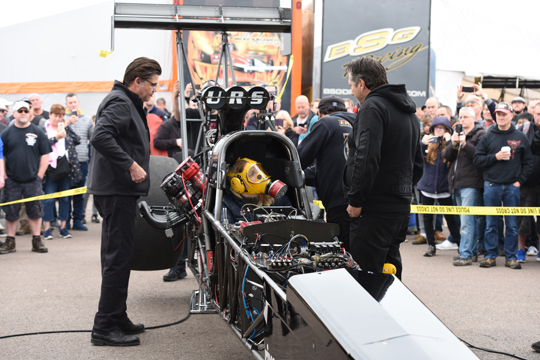 The crowd gathering every time when a Top Fuel car fires up the engine
David Vegter getting ready for his next run
What makes drag racing so different from almost all other forms of high level motorsports – fans can have a chat with the drivers and nobody cares
A last minute change to the setup of Duncan Micallef's car
Jan Ericsson had a good weekend with new personal bests, a semifinal finish and almost breaking the 6-second barrier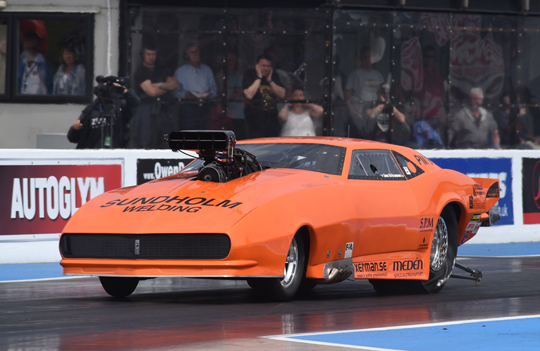 The setting of the wheelie bar was not at its best when Anita Mäkelä made a launch on the test day before The Main Event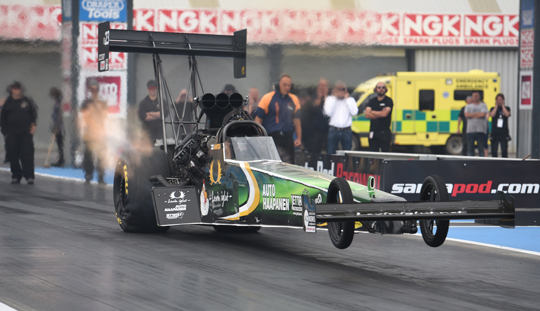 Stefan Ernryd had some spares with him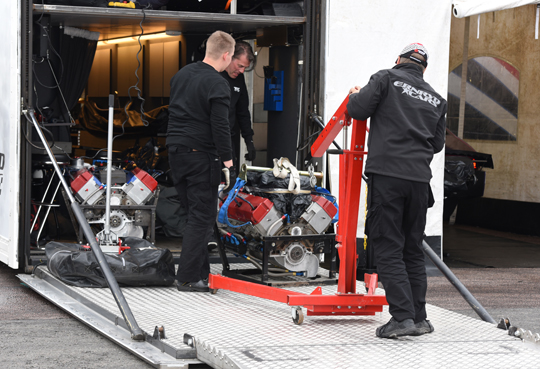 Robin Norén had a great weekend with a new personal best and his first Pro Stock final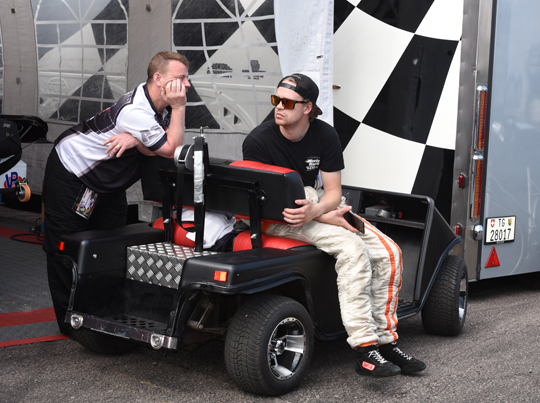 The Gray Motorsports engine in Norén's car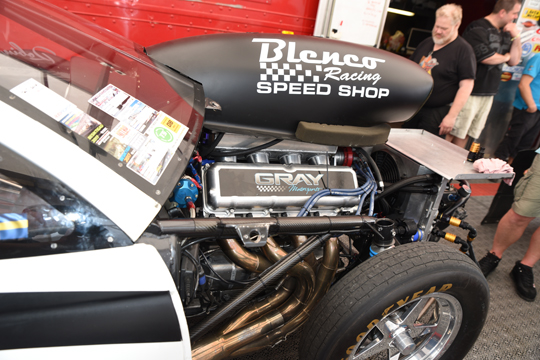 Anita Mäkelä's mascot, the chicken. At the start of the season it's still white
but that won't last for long when you treat it like this. The flying chicken
That's a better place
Do they know this at home?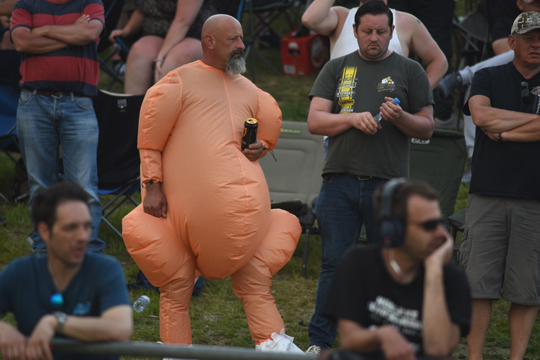 Half-track wheelie for Jürgen Nagel
Drifting burn out
Dick Koster from Post & Dros Racing Engines & Parts will once again support the teams with his trackside service this season. Koster can answer all questions about Racepak and MSD products and solve the problems teams sometimes have with all the data. He also has spare parts with him and when ordered in time, he can take parts with him to the track. The first race of the season is always a busy one for Dick, and the 2018 Main Event was no exception
There was a huge interest in the pits tours for students where they were told about the secrets of a drag race car. It would be great to see at least a few of them back in one of the teams in the near future
Kim Kristiansen is racing the beautiful ex Marc Meihuizen Pontiac Firebird. Joeri Woudenberg was the tuner when the Dutchman raced the car, remained involved with tuning advice and is still servicing the engines of the Pontiac. At The Main Event Woudenberg was back on track and it paid off as Kristiansen reset his personal best several times, with his first 5.9 seconds as a highlight. Woudenberg (left on the picture) is convinced that there is even more to come from Kristiansen and the Firebird
Grandstand tickets were popular
There was some confusion when a Top Fueler showed up with the name Lantz on the side. Some people thought that it was a comeback for Peter Lantz as a driver. But no, Lantz Järn & Metall AB is a company from Sweden and sponsor of Björn Mårtensson, and Peter Lantz is still crew chief for Stefan Gunnarsson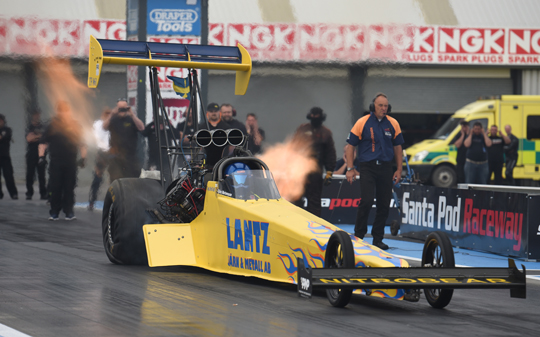 One of us is looking in the wrong direction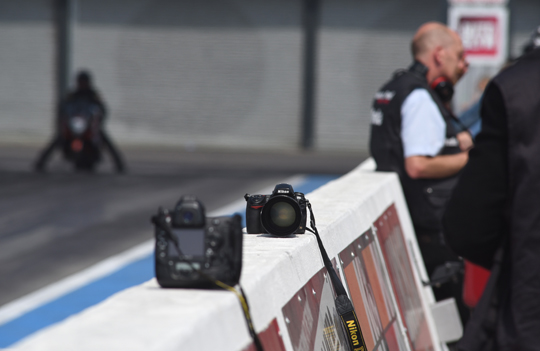 In September we are back for the European Finals, but first we are on a trip that will lead us to Sweden, Finland, Germany and again Sweden