A sunny Spring Nats at Tallhed is completed
Spring Nats, Orsa, was more like a Summer Nats. Lovely sunny weather, happy racers and a great track crew that made a superb race weekend. Maybe some racers were a bit rusty as it was one of the first races of the season but now everything will get even better.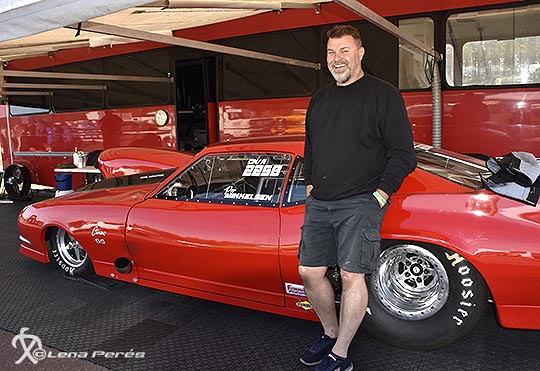 In Competition there was just one participator, Per Mikkelsen and family came all the way from Denmark to make his license runs in the class. He is taking up racing again after pausing a few years. Welcome back Per and team.
In Super Pro Street we could see another oldie doing a comeback. Hans Knuters from Insjön took a win against Kenneth Lingvald. When he didn't drive himself, he was coaching his daughter Anna in Pro Street.
Anna ran a break-out in the finals against Daniel Hållestam in his beautiful Coca-Cola Plymouth 1959, who went onto take the win.
In Super Comp, the Norwegians ruled. Five girls and one male battled it out for the winner cup. Mari Udtian took the win against Veronica Sörensen. Mari was supported by her sister Maja and parents. Maja who is taking a break from driving a Top Fuel dragster this season. The Super Comp dragster Mari is driving celebrated 21 years this year. Hipp Hipp Hurray!
News from the Larsson family in nearby Mora is that Angelica has now stepped up to the Street class this season. Good start, she made it all the way to the final against Helena Olsson, who won the class. By the way, Angelica started her drag racing carrier exactly ten years ago at this very track, Tallhed Raceway.
Angelicas mother Annica Larsson stays put in Super Gas and where she gives the boys a match. In the semi-finals she met Christer Uhlin and the race was very tight. Both drivers pulled break-out but Angelica the leas and she won the race. She also went to the finals, against Bent Arild Ström who managed the win.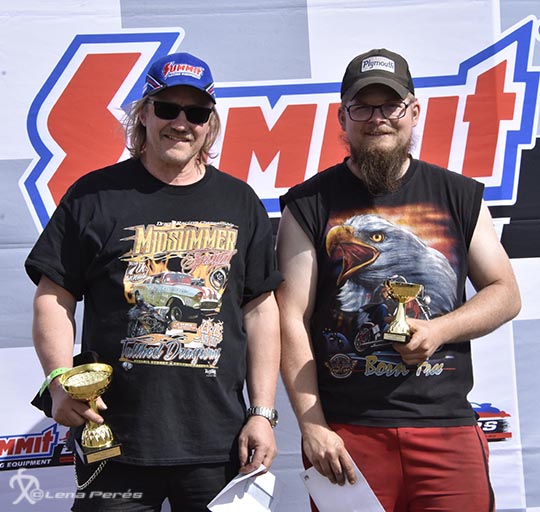 Pro ET Winner Thomas Olsson  and Runner Up Lucas Telling
  Jr Bike Runner Up Samuel Rundström and Winner Seth Friström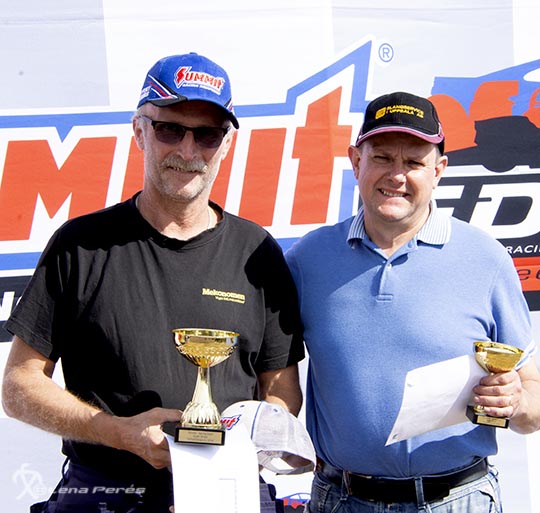 Super Comp Bike Winner Tomas Jonsson  and Runner Up Peter Rundström
Jr Dragster Winner Mats Arntzen Wanvik  and Runner Up Felicia Olsson
Stock Super Stock Winner Thomas Strand  and Runner Up Jonas Bengtsson
Winner Super Street, Isak Lagg
There was also a comeback in the Super Street class. Jessica Gustafsson came to Tallhed to race together with her two sons John and Mike who races in Junior Dragster. She says that if she can make some time she is going back to racing again this summer.
In all, this was a great race weekend and next race here at Tallhed is during the midsummer weekend. But before that we'll meet you all at Tierp Arena.
Summit Racing EDRS Series Classes Results
#1 Qualifier:                        Winners:                                    RU:
Stock/Super Stock             Thomas Strand                        Thomas Strand                       Jonas Bengtsson
Super Pro Street                 Kenneth Lingvald                   Hans Knuters                          Kenneth Lingvald
Pro Street                             Johan Källberg                        Daniel Hållestam                   Anna Knuters
Street                                    Helena Olsson                         Helena Olsson                        Angelica Larsson
Super Comp                        Veronica Sörensen                 Mari Udtian                            Veronica Sörensen
Super Gas                            Arne Åström                           Bent Aril G Ström                   Annica Larsson
Super Street                         Isak Lagg                                Uffe Lundgren                         Isak Lagg
Pro ET                                   Lucas Telling                        Thomas Olsson                        Lucas Telling
Jr Dragster                           Mats Arntzen Wanvik        Mats Arntzen Wanvik            Felicia Olsson
Super Comp Bike                Tomas Jonsson                    Tomas Jonsson                       Peter Rundström
Jr Drag Bike                        Seth Friström                         Seth Friström                         Samuel Rundström
Results: http://dragracing.eu/results.asp